Discover more from Hawaii Bulletin
Island innovation in focus. Hawaii-based science, technology, startups and entrepreneurs, featuring local leaders, creators, educators, and more.
Over 5,000 subscribers
A Bundle of Teslas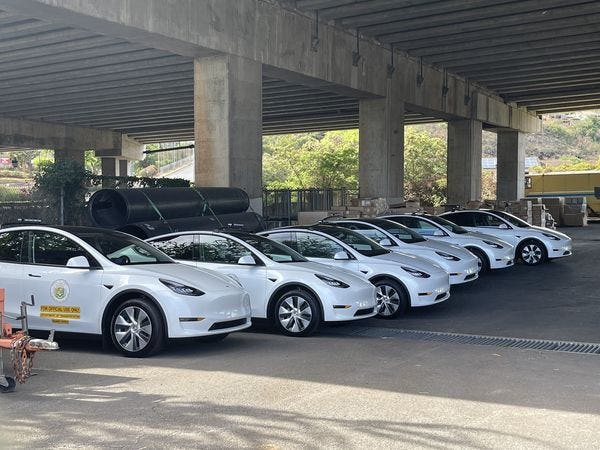 It sounded like a scoop: a fleet of shiny new Tesla vehicles with Hawaii state government emblems tucked under a freeway overpass in Aiea. My friend's email to me had the subject line, "Your tax dollars at work."
I went down to check them out myself, and sure enough, I found a row of Tesla Model 3 electric vehicles, apparently assigned to the Highways Division of the state Department of Transportation.
With perfectly reasonable EVs available from companies like Nissan, Kia, Ford, and government fleet stalwart Chevrolet, why were we tempting state workers with cars built by weird billionaire Elon Musk that can go from 0 to 60 miles per hour in under four seconds?
My curiosity piqued, I went to the DOT website, clicked "Contact Us," and asked for an explanation. I then decided to forgot all about it, because who expects to hear back from a government agency?
Six minutes later, I got a reply from Shelly Kunishige, DOT Communications Manager.
Rather than lavish her with praise for such a quick response, I quickly returned fire with more questions.
Out of the gate, I learned about the state's ambitious transportation electrification program. And while the DOT did purchase electric vehicles outright, most are acquired through an all-inclusive leasing program that only charges the state by the mile.
Why not use cheaper electric vehicles than Teslas?
They were the cheapest. The cost per mile for a Tesla is $1.49. For a Nissan Leaf, the cost per mile was $1.67, and for a Chevy Bolt, cost per mile was $1.73. The cost comparisons and the service contract we used to procure the EVs is all available online.
How many electric cars does the state currently use?
To my recollection, we had 4 EVs prior to the start of the service contract. In the first order under the service contract we picked up 43, which included one EV for the State Energy Office. As we put the EVs into service we'll be taking an ICE (internal combustion engine) out of service.
Cost wise, how do EVs compare to ICEs in the state motor vehicle fleet?
The closest we could get to an apples to apples comparison:
The estimated annualized cost of an ICE in HDOT's light-duty fleet is $7,765 per vehicle, per year. This includes cost of the vehicle/maintenance and gas (based on a cost of $2.50 per gallon).
The estimated annualized cost of an EV obtained through the service contract is $6,850 per vehicle, per year. This includes vehicle/maintenance, installation of chargers and electricity cost.
Note that the per-mile cost for the EVs differs in this comparison from the one on the website, which also includes the statutory insurance and telematics.
Which state government offices can take advantage of the service contract (and nab a Tesla)?
The service contract is available to a variety of executive branch, county, and UH agencies and is a cost effective way to begin conversions of vehicle fleets to zero emissions without upfront capital costs.
The contract is available for all types of vehicles, light duty and buses to heavy equipment, as long as the technology is available on the market. The contract is also open to all makes and models available on the market.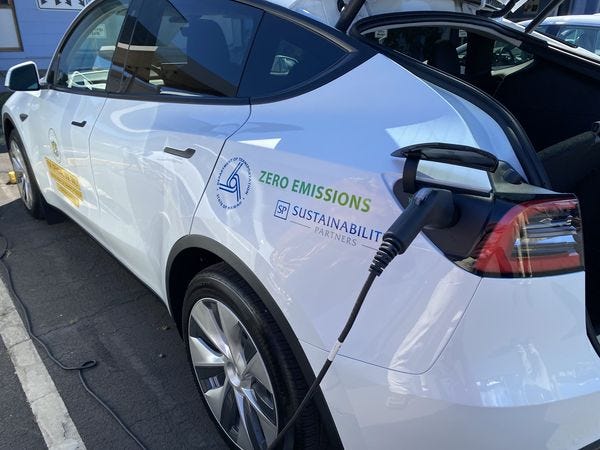 EV charging. Photo courtesy Hawaii state Department of Transportation.
According to the DOT electric vehicle fleet website, the ten-year contract is with Sustainability Partners, based in Chandler, Arizona, and came after extensive research.
The department looked at pilot projects in New York City, California, and Indiana, noting that maintenance costs alone are 50 percent less for EVs compared to gas-powered vehicles.
For Oahu alone, the Highway Division spent $609,000 on maintenance for its light-duty fleet, or $3,111 per vehicle, last year. Those four EVs they started with? The maintenance cost for all of them was $55.
And believe it or not, it's not just about the money.
The DOT says each EV replacing an internal combustion engine vehicle will save an estimated 8,700 pounds of carbon dioxide every year. That's 374,000 pounds of carbon dioxide -- equivalent to burning 91 tons of coal -- that will not be released into Hawaii's skies in the next year alone.
For once, a government operation makes me breathe a sigh of relief.