Blue Startups hits lucky number 13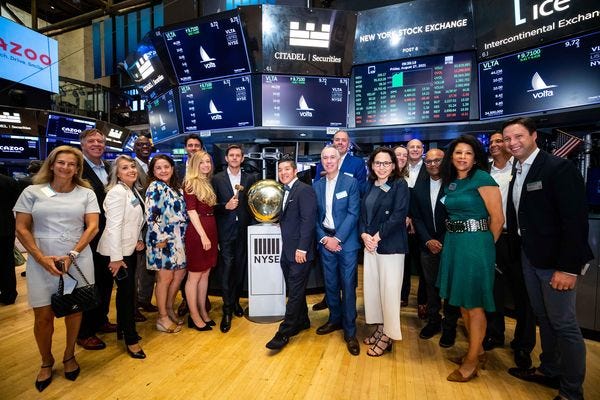 Just days after Blue Startups launched its thirteenth cohort of startup companies — three of them from Hawaii — the accelerator also saw its first unicorn graduate on the New York Stock Exchange. Volta (NYSE:VLTA) was part of the very first batch of companies nurtured by Blue.
The accelerator was founded nearly a decade ago by Tetris entrepreneur Henk Rogers, his daughter Maya, and Hawaii Angels managing partner Chenoa Farnsworth, named one of the Top 20 accelerators in the U.S.
Full disclosure: I'm a big fan.
I got a chance to talk with Chenoa after she returned from New York. Before I tell you about that, though, some history. (Skip to "Chenoa Says" if she's the only person you want to hear from.)
Blue and Me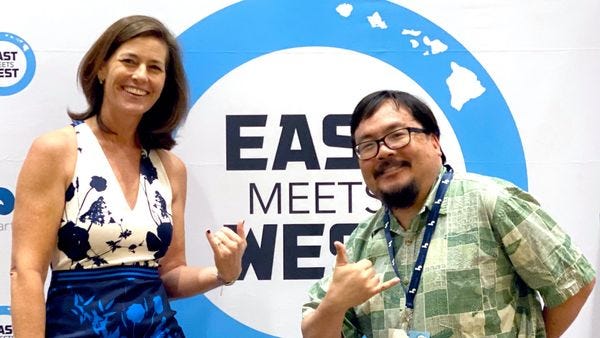 As someone who's been obsessed with the development of an innovation ecosystem in Hawaii (despite its broad reputation of being a bad place to do business), Blue Startups was a bold move. It invoked the same glowing vision of initiatives past, presenting Hawaii as the perfect nexus between Asia and North America and an ideal proving ground with its diverse cultures, demographics, and geographic isolation.
We'd heard it all before in 2012. (We'd heard it all before in 1982.) But instead of fading away, they kept pushing.
Today, Blue Startups has a dozen cohorts under its belt, each indeed a solid mix of Hawaii, U.S., and international companies. The accelerator says those 99 companies have together raised over $330 million in follow-on funding, and 70 percent of its portfolio companies have been acquired or are still active.
I wrote quite a bit about Blue Startups over the years. Then, in 2015, I ended up in the program as part of Smart Yields, which was accepted into cohort six. Although I was, by all accounts, a terrible cofounder, I was nonetheless excited to go see what good work Blue Startups does from the inside.
Ultimately, I kept my (awesome) day job, another cofounder started his own extremely successful local technology company, and our intrepid CEO continues plugging away at opportunities today. In the mean time, I've kept a close eye on Blue Startups, supporting them when I can, including (at least on paper) as a mentor.
I attend as many events as I could, and marvel each time at the creativity, energy, and vision of each colorful combination of people and ideas. Cohort after cohort of big dreamers getting the funding and guidance to scale up and make a difference.
Blue and the Pandemic
One of the core benefits and draws of any accelerator is the chance to bring a group of brilliant-slash-crazy people together and see not only what each team can do, but what magic can happen when one's chocolate falls into another's peanut butter.
But when the pandemic hit, and everything shut down, Blue Startups was forced to run its twelfth cohort as a remote, virtual cohort.
Cohort #12 was still a success, even without the in-person collaboration, San Francisco tour, and sold-out demo day. And things looked pretty good in the spring of 2021, so Blue Startups invited the next group of companies to apply for a return to an IRL program.
Lucky Cohort #13

Cohort #13 was limited to eight companies (some cohorts have been nearly twice as large). By the June 1 deadline, over 520 companies had applied. The final eight are:

This cohort, Blue Startups also brought on a "growth-stage" company: NMG, which builds curated media channels through relationships with leading luxury hospitality and residential partners, and provides a qualified, controlled advertising environment to qualified consumers.
Chenoa Says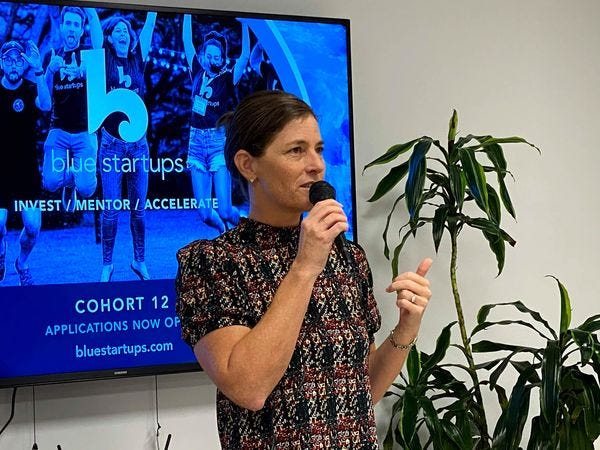 Chenoa Farnsworth answering questions when Cohort #12 applications open.
Q: Are you excited to be returning to an in-person cohort? What do you think you missed the most? And, do you think the resurgence in Delta variant might change your plans again?
I would call it a hybrid cohort. Everybody is here in the office. We made sure everyone coming in is vaccinated. Most of the mentoring is online.
I definitely missed having them here. For Cohort 12, we white-knuckled through that experience. We did it, and did as good a job as you can do. As (program manager) Ashley McShane said, "That cohort was all the work and none of the fun." It's just as hard, but you're not getting to hang out on the weekend, getting to know each other. You want to bond with people here, Interact with each other, learn from each other. Hang out, have barbecues, the social stuff. So this Cohort is getting that benefit as well.
As for COVID, The last two weeks, Hawaii's has gone ballistic. Now whether we are going to San Francisco is an open question. I went into this cohort thinking that we're absolutely going. My cohort's bugging me every day, I'm checking with our mentors in San Francisco every day. It'll have to be a last minute decision. What's pretty clear is that the demo day here will have to be online, which is unfortunate.
Q: What's the founder mix this round?
In our "Go To Market" cohort, three are from Hawaii. We have a company from Mongolia, and several others with international roots: Tokyo, Taiwan... The Mongolia team is very experienced in their own right, educated internationally, savvy. They've got 16 engineers. They have one founder here, another coming this week. Another one of our founders is from Argentina.
Q. I know you can't pick favorites, but do any of the latest round of cohort members have personal resonance with you or stand out at this point? Something especially timely or clever?

Vanta Leagues, an esports company, is interesting. They're putting together the Little League for esports. Providing kids coaching and a safe place to game online. It's very on trend. All these kids now can get scholarships and join teams like any other sport. It was started because one of the founders' kids was being cyber-bullied. Their team is all over the place. One founder is here, another outside Boston. The three of them are all West Point graduates.

GiveSpace has two female founders, one here in Hawaii. They enable charitable giving during checkout process for ecommerce companies, starting with a Shopify integration. They're figuring out all those mechanisms to make it easy for businesses and helping to create more authentic connections. It's really clever, there's a lot of growth potential there. They have competitors, but a good vision of what they want to do.
Q: Tell me about NMG. They're an existing, I assume profitable company. What are they doing in Blue Startups? What can you offer each other?

They're in our Growth category. I like to say that we never want to see a Hawaii company get big and successful without us. We want to be part of that story. And NMG started long before Blue Startups was around.
They were focused on print media for so long, but they made the transition to video, and do in-room video, hotel magazines, and have built a national footprint of advertisers, high-end advertisers. They're already in a lot of rooms here (in Hawaii).
What has happened for them recently, as an organic growth company, was that they hit a sweet spot with the in-room media. They opened an office in New York, and they're getting a lot of traction nationally. They were able to generate VC from BuilderVC. And we've known Jason (Cutinella) forever, he's a Blue Startups mentor.
As a Growth stage company, they can come and go as they want, but don't have to be here all the time. Of course Jason is still playing a big tech mentor role.
Q. What are you and your fellow accelerator programs seeing as trends as we move into a second year of pandemic related changes?
On the venture side, it's been interesting. The market is so hot right now, to the point of being overheated. Valuations are crazy, transactions are off the charts, we haven't seen so much follow-on funding. It's really frenetic in its pace.
Public markets are hot, and that drives a lot of activity in the venture market. But speculative markets are going crazy, it's unexplainable.
Normally, somewhere, you'd see a slow down. They say VCs don't work in the summer. We haven't even seen that.
The question is, is this 1998, 1999? Is this the spring of 1999? Where are we in this bubble? Is it popping in two months or two years?
It's going to pop. But money is flowing. Get the money now. We need to prepare companies to get across the finish line, or prepare for the long winter.
Volta Goes Public
Image: NYSE/Volta
Q: Finally, let's talk about Volta. During our cohort I remember visiting their production facility in San Francisco. Sounds like they've come a long way since then.
It's super exciting. We've had other exits, but this our first public company. It was great getting to go to New York, I was the only person from Hawaii there.
They go all the way back to the beginning of the story. Started here in Hawaii. Blue Startups and Hawaii Angels were Volta's first funders. And it wasn't just funding, (then-angel investor) Chris Wendel went on to become a cofounder.
Today, there's three other employees I know who have been there from the beginning, but I don't know anybody else. I'm meeting everybody else for the first time in New York. The team has OGs there, and one says to me, "Oh man, you've out OG'd me!"
Q: What does this IPO mean for Blue Startups?
It'll be interesting. Once you have your first public company in your portfolio, it gets easier. You get more attention. It benefits everybody associated with Blue Startups.