Drive Electric Week powers up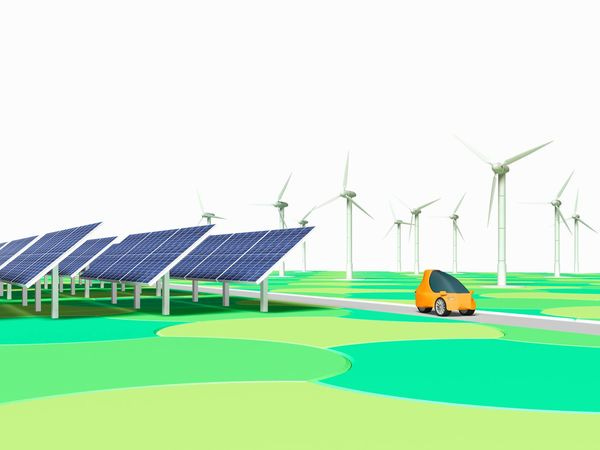 My first car was a 1977 Chevy Nova. It set off car alarms just driving down the street, and seemed to burn a quarter tank of gas on one trip into town. I'd be surprised if it got ten miles to the gallon.
As much fun as that car was, it wasn't exactly a great investment, and it was definitely not a friend to Mother Earth. (The three family minivans that followed were probably not that great, either.)
Today, we all know better.
Not all changes being made to protect the environment are popular. I miss freely given plastic shopping bags (even though I've accumulated an overflowing box of reusable bags), and I really hate paper straws. But I spent last weekend on Mokuleia Beach, watching dozens of honu swimming in the surf, and I know deep down inside that I'm being stupid, and that these changes are worth it.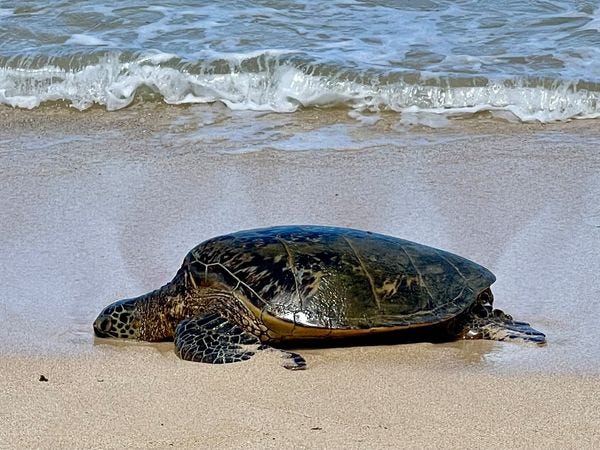 A honu came ashore to rest right in front of me while I was staying at Mokuleia.
And between the historic high gas prices seen this summer, and the extreme weather events devastating communities around the world (which, yes, are exacerbated by our voracious appetite for fossil fuels), every decision now calls for global perspective. What should we make things with? What do we do with things we no longer need? And what kind of car, if any, should we drive?
For electric vehicle enthusiasts, the answer to that last question is clear. And during "National Drive Electric Week," kicking off today, they're going to tell everyone.
Drive Electric Week in Hawaii
In Hawaii, there are more than 16,000 electric vehicles registered statewide. And the growing popularity of EVs is obvious along any street, with Teslas, Priuses, Nissan Leafs, and other electric makes and models well represented.
The Hawaii Auto Dealers Association estimates that EVs along with plug-in hybrids represent 7.6 percent of the cars sold this year to date. That gives Hawaii the second highest EV market share nationally, behind only California.
But 16,000 out of 1.2 million registered vehicles is just a drop in the bucket.
To accelerate EV adoption, groups like the Blue Planet Foundation, the Hawaii EV Association, Drive Electric Hawaii, and Hawaiian Electric are taking the lead locally to evangelize EVs with a series of events and promotions.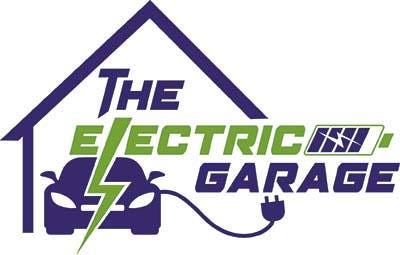 Yesterday, Hawaiian Electric launched "The Electric Garage," a new blog for EV owners and would-be EV owners.
"Hawaii's off to a solid start and we want to make sure we keep our foot on the accelerator," writes Alan Yonan. "If we're going to meet the state's goal of becoming carbon net-negative by 2045, electrifying ground transportation needs to be front and center."
The name of the blog purposely echoes "The Electric Kitchen," one of the utility's most popular community engagement projects.

This morning, several advocacy groups came together to assess "The State of EVs in Hawaii." Kathleen Rooney, Director of Transportation Policies and Programs for the Ulupono Initiative, opened the session with the broader goal of decarbonizing our entire transportation sector.
The event also covered various programs underway to address charging infrastructure in Hawaii, and energy and sustainability policy priorities for the 2022 legislative session.
If you missed it, the video should be posted online soon. I'll update the web version of this article when it's online.

On Tuesday, Sept. 28, Drive Electric Hawaii is hosting a trivia night. You can bet the questions will have a pro-EV, pro-environment slant. You can bring a team or come as you are to meet some new people, and yes, there will be prizes for the top three teams.
Want to play? You can register here!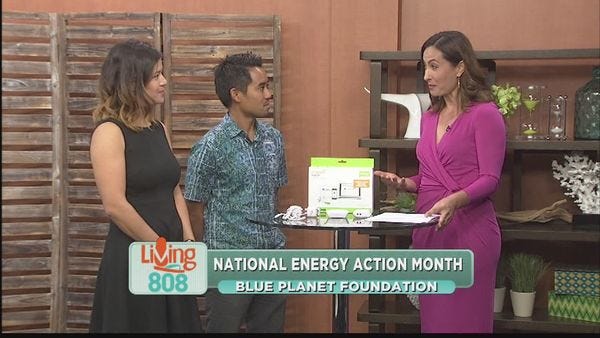 On Wednesday, Sept. 29, Aki Marceau will be featured on KHON's "Living 808" morning show to talk about Drive Electric Week in Hawaii.
Aki is the Director of the Electrification of Transportation program at Hawaiian Electric, though I first met her five years ago when she was with the fledgeling Energy Excelerator — today the Elemental Excelerator, which celebrated its 20th portfolio company exit in July and launched Hawaii's first climate technology fund earlier this month.
And on Saturday, Oct. 2, an event for anyone who's considered upgrading to an electric vehicle. "Will an EV Work For Me?" will feature a panel of EV owners with different living and charging situations, as well as an EV sales consultant and other EV experts.
This event will also have a prize drawing for attendees: a free EV rental.
You can register here.
Next Stop: Charging Stations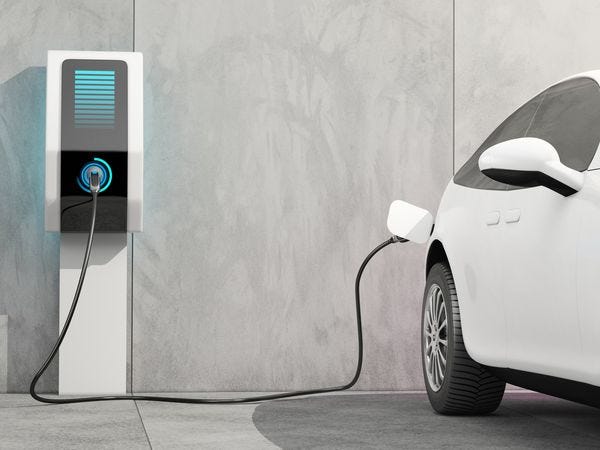 As EV owners know, one of the biggest hurdles to overcome when considering an electric vehicle is "range anxiety." Even living on an island, where traveling over 100 miles usually means you've made a loop or two, it's natural to worry about your battery running low.
EV charging stations are widespread, but not widespread enough. Hawaiian Electric estimates that more than 3,600 public charging stations will be needed by 2030.
The utility currently owns and operates 25 fast charging stations across Hawaii.
Obviously, for there to be more EVs on the road, there need to be more charging stations at workplaces, shopping centers, parks and multi-unit dwellings.
To help Hawaiian Electric assess where the demand for charging stations is strongest, they've launched an interactive webtool called Charge Up Hawaii.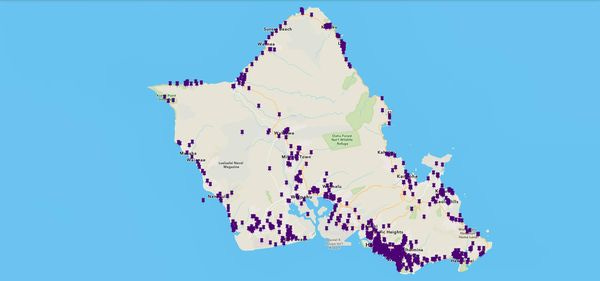 Visitors can drop a pin to suggest a location for a future EV charging station. And visitors to the site who complete the survey will be eligible to participate in a $100 gift card drawing.
"As more and more drivers make the switch to electric vehicles, we need to ensure there are sufficient EV charging solutions to support that growth," Aki said in a press release. "This webtool is a great opportunity for us to hear from our customers as we work to strategically locate EV chargers to maximize their benefit."
To suggest a charging station location, visit ChargeUpHI.com.
And to learn more about National Drive Electric Week in Hawaii, visit NDEWHawaii.com.

ICYMI: A Bundle of Teslas
Image Credits: Hiroshi Watanabe/Shutterstock, Sergii Iaremenko/Shutterstock.