Discover more from Hawaii Bulletin
Island innovation in focus. Hawaii-based science, technology, startups and entrepreneurs, featuring local leaders, creators, educators, and more.
Over 5,000 subscribers
Don't Miss Lunch at 220 Grille [Updated]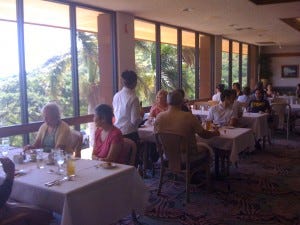 One of the more interesting restaurants in Honolulu exists only a few weeks out of the year. 220 Grille specializes in "Hawaii Regional Cuisine," offering great food and service on the slopes of Diamond Head. Yet everything on the menu costs less than $10. How? By putting students to work.
220 Grille is a learning laboratory for students enrolled in the Culinary Intermediate Cookery Class at Kapiolani Community College. The students gain real experience in the kitchen and in food service by serving real customers. So not only can you enjoy fantastic dishes at incredible prices, but support local education at the same time.
Technically, a student operation means you're more likely to see kitchen mistakes and service stumbles than in a commercial restaurant. But I've not been disappointed.
The menu offers a good set of appetizers and sandwiches, and the entrees sound fabulous: Pasta Primavera with Assorted Mushrooms for $6.95? Miso Glazed Grilled Salmon with Sesame Honey Ginger Slaw for $8.95? Dungeness Crab Boil for $9.50? How can you go wrong?
But if you want to indulge, you'll have to move fast. The 220 Grille restaurant will be open for only one more week, through Wednesday, Oct. 7. And you'll want to arrive early (it's open from 11 a.m. to 12:45 p.m.), as the most popular dishes sell out fast. 220 Grille is located in the Ohia Building, Room 220. There are maps of the KCC campus here.
UPDATE: For an even richer dining experience, there's also the adjacent Ka 'Ikena (pictured above), which features table service for lunch and dinner. Prices are notably higher than the casual dining at 220 Grille, but still competitive against other local fine-dining options. Reservations are required, call (808) 734-9499.
If you miss out... you'll have to wait until next semester!
Mahalo, Shari, for the heads up!