Discover more from Hawaii Bulletin
Island innovation in focus. Hawaii-based science, technology, startups and entrepreneurs, featuring local leaders, creators, educators, and more.
Over 5,000 subscribers
State, mural artists join forces in 'NFTs for Good'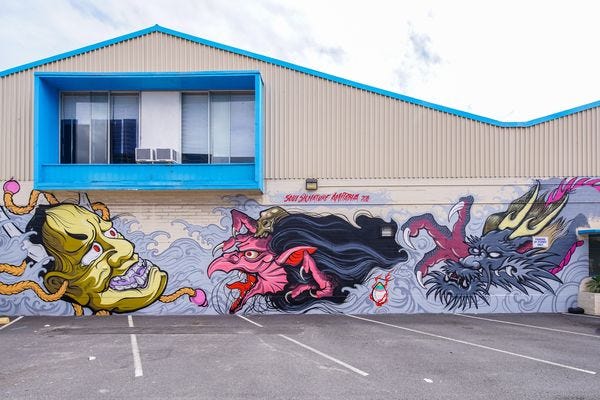 Five local artists behind some of the famous murals in Kakaako will sell their colorful creations as NFTs, or non-fungible tokens, to help raise funds for a community beautification project in Kalihi.
There's a lot to unpack here.
An unlikely collaboration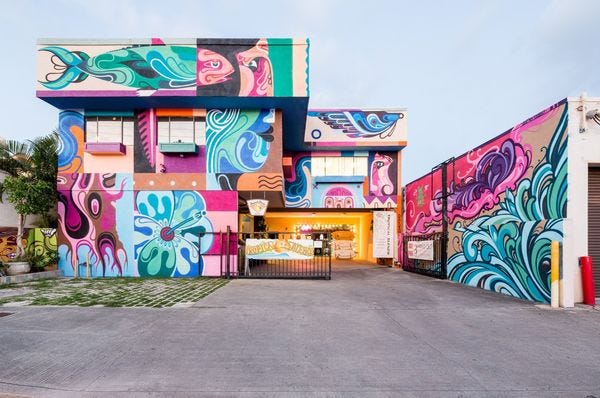 Murals on Tropical Blends on Pohukaina Street by Reka and Lucky Olelo.
The digital art sale and fundraiser, which launches December 1, is a partnership between three very different organizations.
The art and artists come from Worldwide Walls — formerly known as POW! WOW! — a non-profit organization of contemporary artists that use murals and other creative works to foster art appreciation, art education, and community outreach.
Founded by Jasper Wong, Worldwide Walls is indeed global, with programs in over a dozen locations, including Washington, D.C., Hong Kong, Japan, Korea, and Israel.
The sale and fundraising platform will be MakersPlace, an invite-only online marketplace to create, sell, and collect rare digital artworks. MakersPlace uses blockchain technology to ensure every digital creation is unique and authentic. (More on that later.)
And the innovative, forward-thinking entity that connected Jasper and his fellow artists with MakersPlace to create the "NFTs for Good" initiative is the Hawaii state government.

Mural by tattoo artist Lucky Olelo.
The Digital Currency Innovation Lab (DCIL), to be more specific, itself a partnership between the Hawaii Technology Development Corporation (HTDC) and the Division of Financial Institutions (DFI) within the state Department of Commerce and Consumer Affairs (DCCA).
This involvement might be surprising to those who are familiar with Hawaii's reputation as a tough place to do business and as being 'unfriendly' to Bitcoin and other cryptocurrencies under its current regulatory regime.
Of course, the whole point of the DCIL is to help shape future Hawaii policy and help Hawaii lawmakers think differently about digital currency.
I'm a Community Engagement consultant for the DCIL, so you might have guessed that I think "NFTs for Good" is great. Even though I barely understand NFTs, and even though they're much riskier and more volatile than Bitcoin.
NFT 101
A non-fungible token, or NFT, is a token (digital item) that is unique and irreplaceable. NFTs are frequently compared to baseball trading cards, or rare stamps, or original artworks.
Unlike a Bitcoin, which has the same value as any other Bitcoin (and can be exchanged for another asset based on that value), an NFT can have any value. A digital baseball card could be worthless, or could be worth a million dollars. It's relative, based on what someone is willing to pay.
What gives an NFT a chance at being worth something is the "non-fungible" part, and that's where blockchain comes in.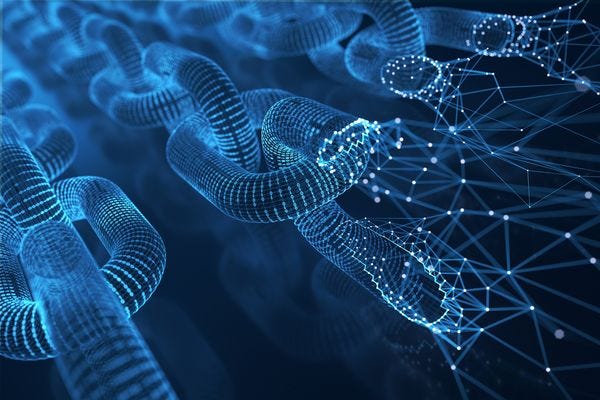 Blockchain is the underlying technology behind Bitcoin and other cryptocurrencies. A blockchain is a (usually) decentralized, shared, and mathematically auditable ledger of transactions or assets. Blockchain can be used to track and transfer assets and is virtually impossible to manipulate.
Thanks to blockchain, an NFT can be owned and authenticated, bought, sold, or traded.
You might say that a digital baseball trading card could easily be copied, posted on the web, and shared indefinitely. And you'd be right. But with blockchain, a "one true card" could be declared, and hopefully become valuable.
If it sounds a little iffy, it is. While the global NFT market has seen $2.5 billion in sales this year alone, there's been several NFT market crashes and there are plenty of scams. (Not that crashes and scams don't happen in conventional financial markets, too.)
Who gets to declare that something is authentic and unique? Who "holds" the NFT, or the blockchain ledger that tracks it. That's where marketplaces like MakersPlace come in. This video should take you the rest of the way: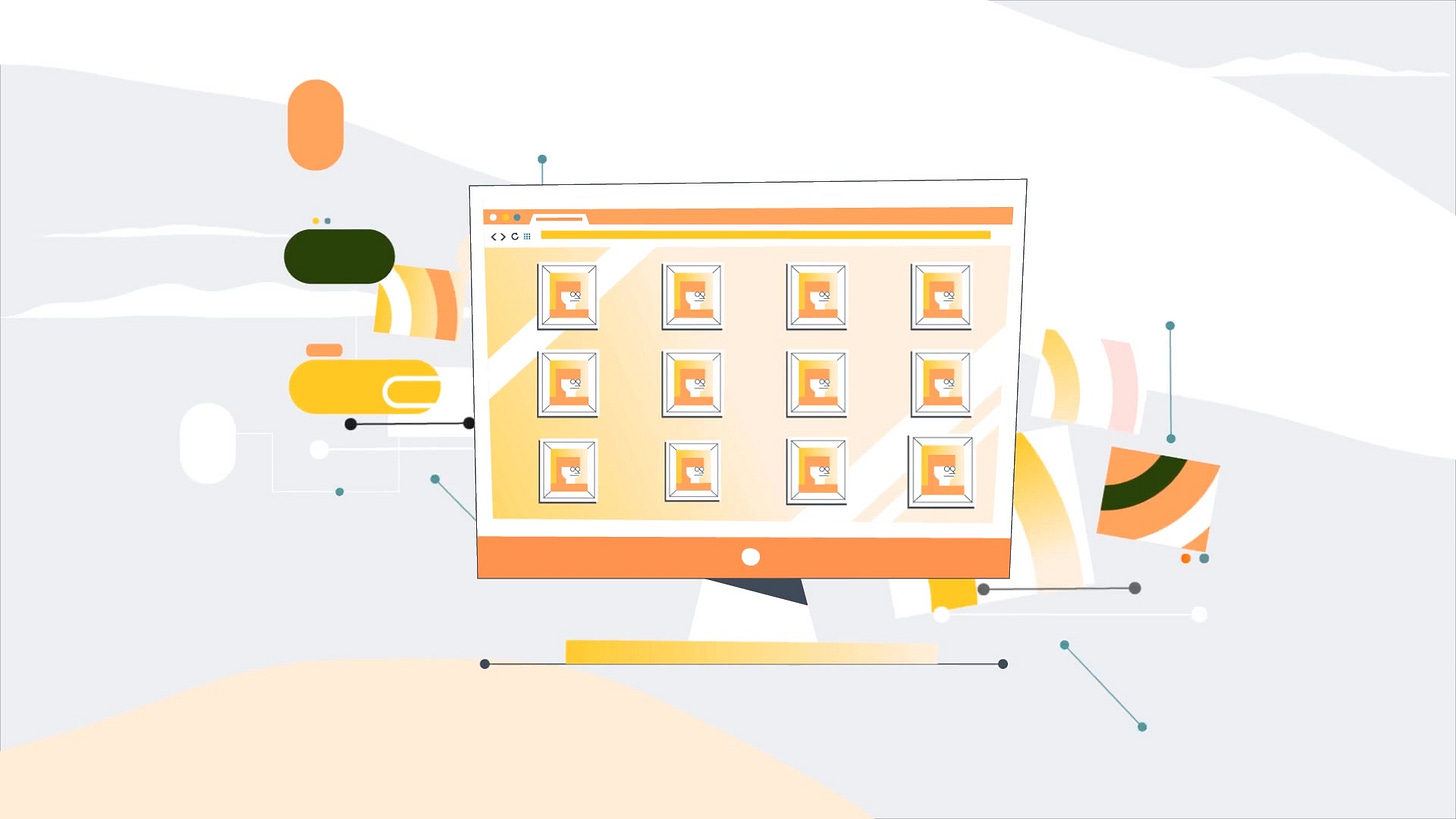 The nifty details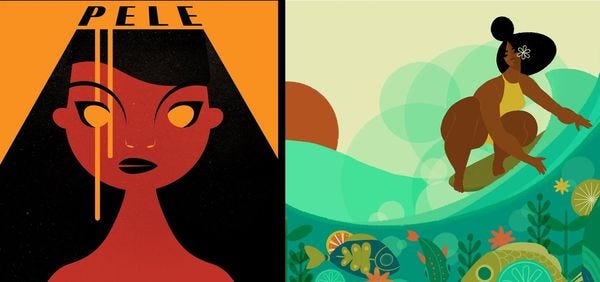 Art by Kailua's Shar Tuiasoa of Punky Aloha Studio.
Here's how the "NFTs for Good" initiative will work.
The local artists selected to participate are Jasper Wong, Lucky Olelo (Soul Signature), Shar Tuiasoa (Punky Aloha Studio), Aaron "Woes" Martin (Silent Stage Gallery), and Matthew Kawika Ortiz and Roxanne Ortiz (Wooden Wave).
Worldwide Walls and MakersPlace will together select digital works to make available in a special online gallery, which will go live on December 1. There, collectors can buy and own these signed, authenticated artworks (using cryptocurrency or plain old credit cards).
Up to 10 percent of the purchase price will then go toward a community beautification project in underserved neighborhoods next year. Specifically, Worldwide Walls plans to adorn public housing, community centers, and schools with new murals, primarily in the Kalihi-Palama area.
Want to receive updates? Fill out the form at the bottom of this page.
Quotables
Jasper Wong, Worldwide Walls:
This is a fantastic opportunity to elevate promising artists in Hawaii and showcase their creations to a global audience of art collectors and enthusiasts. The best part of it all is how we are coming together and using the power of technology to work with communities in expressing themselves, especially during the pandemic.
Jasper Wong, Worldwide Walls
Georja Skinner, Creative Industries Division & Creative Lab Hawaii:
"We need to embrace this new era of digital art creation and ownership. Through the DCIL, we look forward to exploring for our creatives how new technologies like NFTs can be used to grow global export opportunities for Hawaii's creative entrepreneurs and help our artists remain competitive in this rapidly changing media landscape."
Ryoma Ito, MakersPlace Chief Marketing Officer:
MakersPlace is thrilled to be part of this collaboration with Worldwide Walls and the State of Hawaii. Our mission is to empower the world's most creative minds and we are achieving this through our NFT-based platform and our rapidly growing community of 85,000-plus people, while at the same time, helping Hawaii's non-profits.
Images courtesy Worldwide Walls and Getty Images.