Tapping thoughtful travelers to make positive change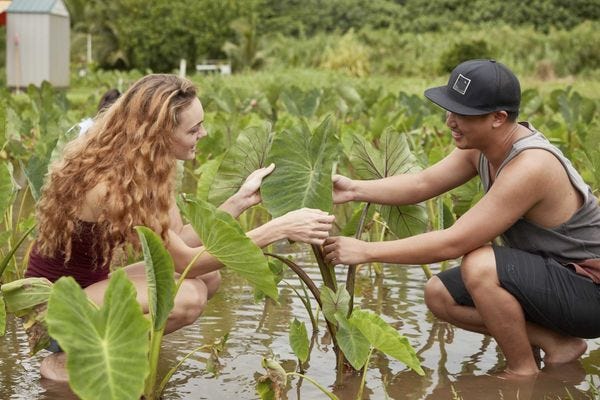 To receive my articles directly via email, please subscribe for free. Like what you're reading? Please share Hawaii Bulletin with your friends!
UPDATE 10/12: The application deadline has been extended to Tuesday, Oct. 19 by 4:00 p.m.
When the pandemic shredded Hawaii's tourism industry, our economy very nearly collapsed. As many as a quarter of our businesses shut down, and our once enviable employment rate flipped into one of the nation's worst unemployment rates.
This near-death experience, however, didn't prompt a renewed appreciation for tourists. In fact, an annual state survey found Hawaii residents as ambivalent as they've ever been about the state's key industry.
The 2021 HTA Resident Sentiment Survey found just over half of respondents said tourism has brought more benefits than problems, the lowest number since the first survey in 1998.
The survey found the usual suspects blamed for our souring attitudes toward tourism: overcrowding, traffic, environmental damage and rising costs. But it also highlighted an increasingly obvious answer.
When Hawaii residents were asked how tourism could be better managed, the highest percentage of residents (88 percent) said that it is extremely or somewhat important to "educate visitors and residents to mālama (care for, protect) the islands and each other."
Building a better tourist
The last year has been one of reflection and reckoning by both Hawaii residents and Hawaii lovers around the world.
Many people, including me, hoped the pandemic would be the wake-up call we needed to make substantive changes to diversify our economy. Suffice it to say, that didn't happen.
Instead, as visitors returned, media outlets were overflowing with stories of rising tensions between locals and tourists, exhortations to cancel "corona vacations" in the islands, and think pieces about whether it's ethical to visit Hawaii in its fragile state.
The Movers and Shakas program, to some controversy, hoped to convert remote working digital nomads from tech-hub escapees into volunteers and resources for local non-profits.
And just last month, Hawaiian Airlines — which builds its fortunes bringing tourists to Hawaii — introduced an in-flight video called "Travel Pono" to exhort its millions of passengers to help protect Hawaii's natural and cultural resources and local communities.
The core paradox of Hawaii is that the same things that make it special are what are most under threat by the crowds that flock here to experience them. And it's been studied since mass tourism reached our shores nearly a century ago.
There's reason to be hopeful, though, as momentum seems to be shifting at the highest levels to ensure that Hawaii's culture and future are preserved along with its tourism-based economy.
Amid all these sweeping declarations, however, how does a small taro farm or individual hula teacher fit in? As industry thinking shifts at the top, can this new focus on preserving and perpetuating Hawaiian culture be accommodated at the grassroots level?
Hospitality plus technology adds capacity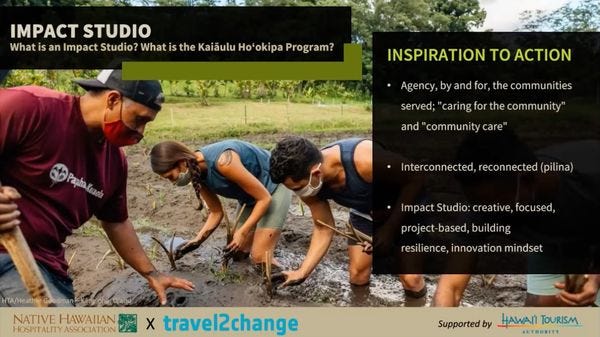 Tuesday, Oct. 19 is the deadline for cultural practitioners with regenerative experiences to share to join the Kaiāulu Hoʻokipa impact studio at Travel2Change.org.
Two local non-profit organizations are now joining forces to help Native Hawaiian groups and individuals become part of this movement to capture some of the massive energy and resources of tourism and invest it in preserving, perpetuating, and growing Hawaiian culture.
And both groups have been focused on regenerative tourism for some time.

The mission of the Native Hawaiian Hospitality Association, founded in 1997, is to shape the future of Hawaii tourism by utilizing Hawaiian cultural values as the foundation for business development and leadership.
"All of the previous work that NaHHA has been conducting over the years has really been centered around Hawaiian cultural values, education, and capacity building for Hawaii's entrepreneurs, providing resources and tools to help build them up better to engage with the visitor industry as employees, contractors, and vendors," said Mālia Sanders, Executive Director of NaHHA, during an information session on Friday.
"So much has happened during the pandemic, and it certainly made NaHHA more mindful of the values we speak so much about," she added. "How can we leverage partnerships to converts the ideas and concepts of mālama into something more actionable?"
"That became the catalyst for exploring a partnership with Travel2change," Sanders explained. "They had booking platform, had statewide reach, and understood the value of mālama."

Travel2change connects travelers with volunteer and charitable giving opportunities that support local communities. Established in 2011, Travel2change aims to make it easier for visitors to participate positively in the community by contributing their labor, talents, or money.
Listed cultural activities include hula, lei making, beach cleanup hikes, working in a botanical garden, and historic site and nature walks. The site also offers kayak, canoe, and snorkel outings and yoga classes.
"This idea of supporting local is not a new one," noted Travel2change vice president Mondenna "Mondy" Jamshidi Kent. "Starting ten years ago we wanted to, by design, support dollars cycling in our local community on top of an economy based in restoration, ʻaina based activities and Hawaiian cultural preservation."
"We have to give back more than is taken from our environment and community," Kent said. "How can we take inspiration and turn it into action?"
Both NaHHA and Travel2change have separately worked with and received support from the Hawaii Tourism Authority, and the HTA is now supporting them in establishing Kaiāulu Hoʻokipa.
Kaiāulu Hoʻokipa is a collaborative, six-week impact program which offers the best both organizations have to offer to Hawaii organizations and community groups that are looking to play a larger part in the regenerative tourism movement.
"Through this program, tourism serves as a keeper of culture by providing hands to engage in the work, and culture serves as a keeper of tourism by providing tourists the opportunity to put mālama into action," Sanders explained.
Hawaiian hosts wanted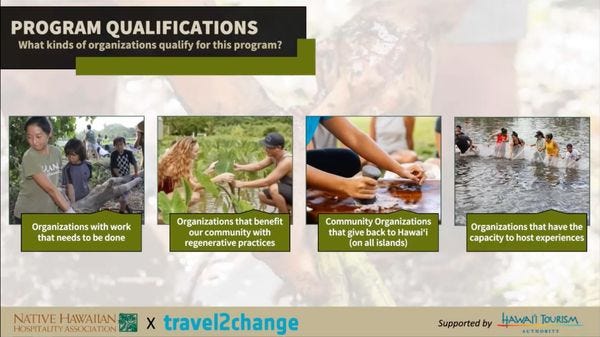 If you give back to Hawaii, have work that needs to be done that benefits the community with regenerative practices, and can host experiences, Kaiāulu Hoʻokipa is for you.
Participants in the pilot cohort, kicking off later this month, will receive NaHHA's signature Hoʻokahua Hawaiian cultural training, basic business training from Holomua Consulting, guidance in developing their experience offering, and promotion on the Travel2change platform.
"If you've heard of accelerators and incubators, this is a bite-sized version of that — it's more project based," Kent explained. "We want to support what you're doing already with additional volunteer support and donations."
The hope is to help build capacity among cohort members to host regenerative experiences for both visitors and residents in a manner that supports and advances the vision of the local community.
Both Kent and Sanders stressed that anyone offering or supporting authentic Native Hawaiian cultural experiences should apply.
"It's okay if you don't have every single detail put together, we know that this is a workshop and we're going to be working on it together," Kent said.
In addition, being an official non-profit is not a requirement, as organizers know it's a difficult process. For-profit groups are welcome, although there are more stringent requirements.
"There are a lot of cultural practitioners that haven't had the time to incorporate a nonprofit but they're out in the community teaching malihini and kamaaina alike."
"Just because you are an entrepreneur, you should not be discouraged to apply," Sanders added. "If this opportunity isn't for you, NaHHA may have others."
From moment to movement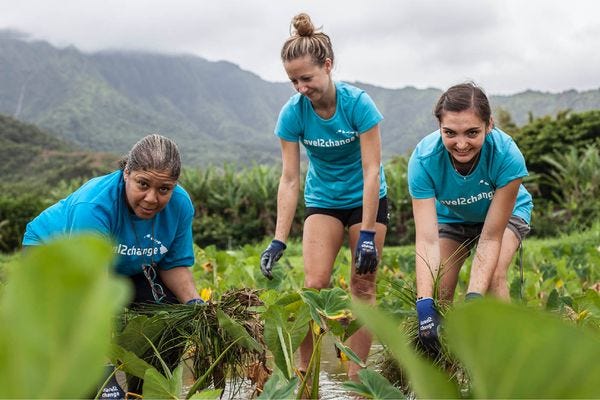 "There's quite a shift going on globally as well as locally in our economy, and we can do our part to support economic opportunities for people who are doing this great work," Kent said. "Ma ka hana ka ʻike, you learn by doing, and that can be extended to our guests, and with that, you gain this manao iʻo, embodied knowledge, that you can practice at home, wherever home is for you."
Sanders similarly urged potential applicants to think about it, but then do it.
"Make the values of the Hawaiian culture something that you put into action —that is the most important way to take care of your place," she said. "Hone the values of what you truly believe and are passionate about, and know them so well that you can turn it into a verb.
"We talk so much about aloha and mālama, kuleana, hoʻokipa... these words are always tossed around and they're always around us, but we really have to get better at putting these words into action."
Extended deadline
Applications for the pilot Kaiāulu Hoʻokipa cohort are open now at travel2change.org/apply with an application deadline of Tuesday, October 19, 2021 at 4:00 p.m. HST.