Things are looking up at Mana Up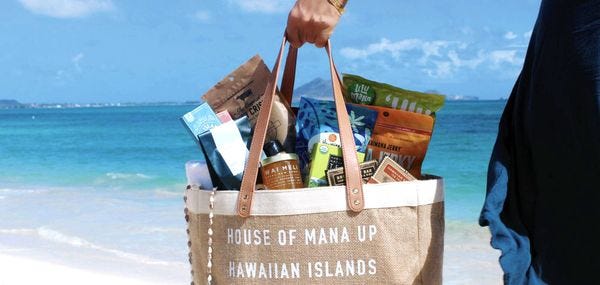 To receive my articles directly via email, please subscribe for free. Like what you're reading? Please share Hawaii Bulletin with your friends!
Hawaii's tourism industry, which drives the largest segment of Hawaii's economy, took a beating during the pandemic. Daily passenger arrival counts, which regularly exceeded 30,000 in 2019, dropped precipitously. Beaches and streets were empty. Businesses closed. Employees were laid off.
Hawaii's appeal turned out to be remarkably resilient, however, and as travel opened up again this year, tourists returned en force, with over 30,000 people again arriving daily in July, even with Hawaii still closed to international visitors.
The near-death experience of COVID-19, however, has everyone again asking how Hawaii might become less dependent on tourism... especially as residents display a renewed sensitivity to the impact the tourism industry has on Hawaii's environment.
Made in Hawaii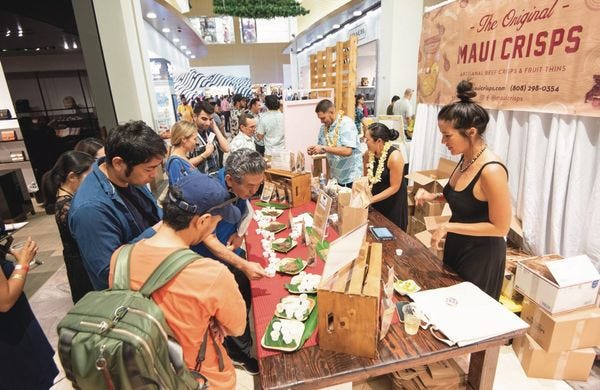 The Marketplace at the Mana Up Showcase.
Mana Up, a Hawaii brand accelerator founded in 2018, sees a path forward that still serves the global demand for all things Hawaii, but does so in a sustainable and culturally empowering way.
Instead of putting all our energy toward bringing people across the Pacific to experience the islands in person, Mana Up sees a world where Hawaii entrepreneurs and businesses export tangible tokens of the aloha spirit from Hawaii to the rest of the world.
Mana Up has worked with dozens of Hawaii-based companies across five cohorts over the past three years. They run the gamut from food products to fashion to household goods.
The accelerator's mission is growing the local economy and employing local people, with a goal of nurturing 100 new Hawaii product companies into generating at least $10 million in annual revenue.
In order to assess and share its progress toward this goal, the brand accelerator has just issued its 2021 Economic Impact Report.
High Scores

Here are some of the metrics that caught my eye in the report:
48 percent, or nearly half, of Mana Up's cohort companies are Native Hawaiian enterprises.

Most of the companies are owned by Asian Americans and Pacific Islanders and led by women founders, 68 percent and 63 percent respectively.

Total annual revenue across the Mana Up portfolio was $43.4 million in 2020, representing a 17.6 percent median growth rate over the previous year. Most, or 53 percent, grew their revenues despite the pandemic.

60 percent of all portfolio companies locally source raw ingredients for their products. 55 percent manufacture their products entirely in Hawaii.
But you can read the report for yourself. (Hint: enter your email address on the summary page to receive the full PDF document.) I wanted to hear how Mana Up co-founders Meli James and Brittany Heyd felt about their program's performance.
So Say Meli and Brittany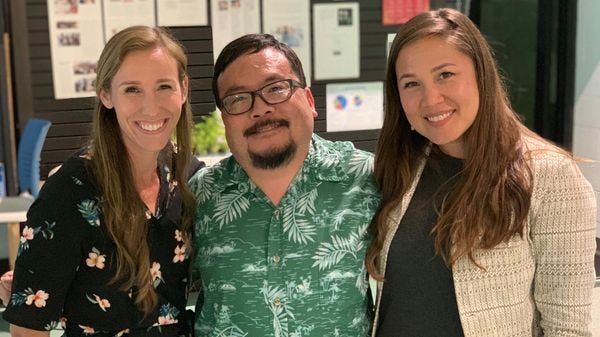 Random fact: I met Brittany Heyd for the first time at the same event Meli James did: a Sultan Ventures holiday party in December 2016.
Q. You've accomplished a lot in just a few years. The numbers are impressive, even despite the pandemic. What do you think are the main takeaways from your Economic Impact Report?
Meli: When people see what's possible through reports like this, there is more interest in the industry and more companies are created. With these tangible examples, people are seeing that success is possible, and are inspired to start their own businesses. Of the 130 applicants for Cohort 6, 14 percent of them started their business during 2020, the highest application count and the highest percent of new companies in the application pool.
Brittany: This industry shows promise of diversifying the economy, leveraging global interest in Hawaii, global love for Hawaii, but not relying solely on tourists coming to the islands. Two data points help demonstrate this point: 53 percent of our companies grew in revenue, and more than 69 percent of companies had their primary source of revenue from ecommerce, up from 40 percent in 2019. And this is in the midst of tourism being almost absent in 2020.
Meli: By being focused on this local products industry, we're able to understand how the puzzle pieces connect. For example, what grants or service providers are perfect fits for a local manufacturer? We are still adding existing resources to the network so they are best utilized, but also new ones are being created where there is need.

The Economic Impact Report highlights a number of Mana Up companies.
Q: What does your experience with Mana Up tell you about Hawaii's relatively small manufacturing industry?
Meli: One of the key insights is the potential of value-add food and beauty products. The key value proposition for the consumer is that it contains Hawaii ingredients, and so it makes sense to develop the manufacturing close to where the ingredients are. These products then have a longer shelf life and higher price points, which can make it economically viable to produce from Hawaii.
Brittany: This also supports food security and farmers by giving them another revenue stream. For example, the value-added producers can buy the 'seconds' from the farmers that can't go to the supermarket.
Meli: And key initiatives will help this industry to grow, like the new value-add center in Wahiawa.

The founders of Mana Up's fifth cohort.
Q. Is there something about these crazy times that present specific opportunities for Hawaii makers?
Meli: Many customers have shifted to e-commerce and are willing to buy online from small businesses.
Brittany: Our companies have special access to a Shopify program where they have dedicated resources to helping them establish an online presence and grow through e-commerce. They're able to leverage this global trend of consumers of all ages buying online.
Q: Have you seen any real-world examples where these local companies are able to scale up or reach new markets with your program and network?
Brittany: We're proud of the integration we can facilitate with local corporations. Hawaiian Airlines is one example, pairing their customer base of Hawaii locals and Hawaii lovers with Hawaii entrepreneur stories, cool local experiences, and ways for them to enjoy Hawaii, both in flight and from home all year long.
Meli: As we have created a strong relationship with Hawaiian Airlines and established working relationships with the entrepreneurs, Hawaiian Airlines is more likely to integrate their products and services throughout their flights and other offerings.
Brittany: They are confident that the entrepreneur is getting training and support to help them be successful.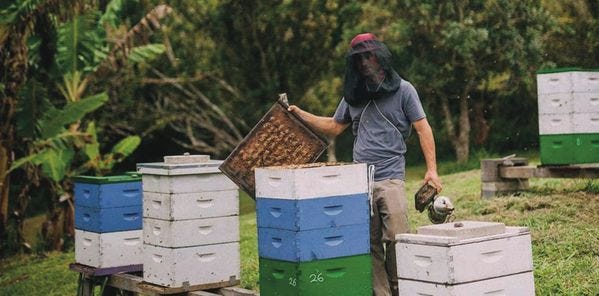 Wai Meli Honey founder Kawika Sebag at his Pa'auilo farm.
Q: What does your report say about what is possible for Hawaii companies?
Meli: People have been calling for diversification for a long time, and we're excited to see this success in the midst of a scary and challenging year. If this is what is happening in 2020, what can be possible as we recover?
Brittany: This report only covers 47 companies. There are thousands more out there in Hawaii. By creating more visibility, channels, and interest in Hawaii products, this industry can bring new dollars into the state, grow the pie, and add billions more in GDP to the economy.
Recommended Reading
Want to hear more from Meli and Brittany? Check out my latest Honolulu Star-Advertiser column, "Hawaii brand accelerator takes local companies global."