Discover more from Hawaii Bulletin
Island innovation in focus. Hawaii-based science, technology, startups and entrepreneurs, featuring local leaders, creators, educators, and more.
Over 5,000 subscribers
Designers to Share Strategies for Success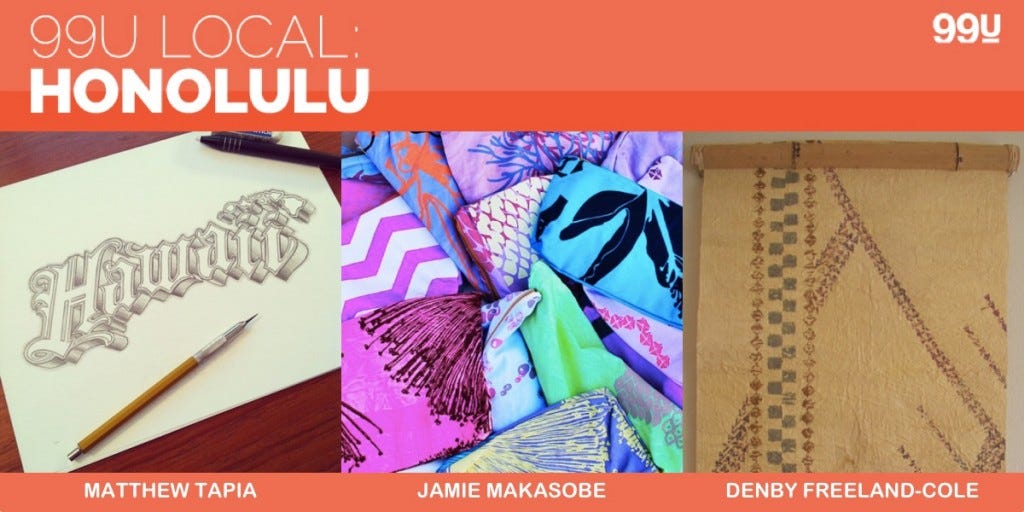 Honolulu is one of 28 cities around the world hosting an "insightful and intimate" series of talks offering advice on how to turn ideas into reality. The first 99U Local Honolulu event is being hosted on Thursday by design group AIGA Honolulu along with art and design collective Interisland Terminal at Kakaako Agora.
99U is a marketing consulting firm turned daily web magazine, book series, and conference affiliated with the Behance network, all under the umbrella of digital media company Adobe.
Building on the success of the annual 99U conference, which is a showcase of talks dedicated to shifting from idea generation to idea execution, this week brings 99U Local. The local program took shape earlier this year with the launch of a 99U Ambassadors program, which selected hosts in more than two dozen cities (including Chicago, Hong Kong, and São Paulo).
"This is not a conference," notes the main website. "It is a casual, intimate, local 99U-style experience in your city."
99U Local Honolulu, like its sister events, will feature three curated talks about "how to kill it in your creative career," offering practical advice from exceptional local creatives. The three speakers here will be:
Matt Tapia: A self-taught graphic artist whose lettering and designs have been featured by national brands like Maxim and Nike as well as in several local publications. He honed his craft in Honolulu and New York and does work for a wide variety of clients, while building a strong following online and across social media and taking on side projects like contributing to Pow Wow Hawaii.

Jamie Makasobe: Cofounder of fashion collective Kealopiko, she started out selling T-shirts from the back of a pickup truck on the Big Island to having her work featured in high-end boutiques, hotel shops, and native bookstores. Originally from Kaneohe and now a resident of Keaukaha, Makasobe works with the mantra "fashion with Mana'o," creating designs inspired by natural and cultural history.

Denby Freeland-Cole: a Maui-based visual artist who has combined her passion for the environment with her art. A graduate of Punahou School who went on to earn a Master's degree in Education in the Pacific Northwest, she is a member of a new generation of kapa makers, using traditional Hawaiian methods to create fabrics with patterns and prints, evolving the practice into a modern art form.
"Come for the road-tested, no-bullshit advice," 99U Local organizers write. "Stay for the drinks, food, and networking!"
99U Local Honolulu will kick off at 6 p.m. on Thursday, Sept. 17 at Kakaako Agora (441 Cooke Street). Space is limited, so advance registration online is recommended. For more information on this and future 99U events in Honolulu, join the 99U Local Honolulu group on Meetup.com.
http://www.meetup.com/99U-Local-Honolulu/events/222513746/