Abercrombie & Schatz and Fast Fashion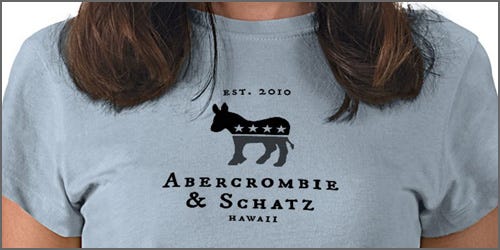 To island democratic voters, "Abercrombie & Schatz" sounds like the ticket to a brighter future for Hawaii. But for many people, "Abercrombie & Schatz" also sounds like a clothing line.
On Saturday night, as it became obvious that former U.S. Rep. Neil Abercrombie was going to trounce former Honolulu mayor Mufi Hannemann to clinch the Democratic ticket in the race for Hawaii governor, Abercrombie fans were flooding Twitter with cheers, congratulations, and predictions of the success of the pairing of Abercrombie with Brian Schatz, who easily won the democratic primary for Lt. Governor.
Once the names "Abercrombie & Schatz" started to reverberate, several Twitter comments compared them to a popular apparel and lifestyle brand. It wasn't long before someone asked about "Abercrombie & Schatz" shirts.
We were off and running.
As Abercrombie's victory speech still echoed in the air, I whipped up a T-shirt design emulating the A&F style (swapping the democratic donkey for the A&F moose) and put up an online store. At the same time, local designer Valentino Valdez (he of the custom Twitter shirts) had whipped up his own design. Fellow Twitter user Danielle Lum quickly volunteered to get them printed locally.
All this before the final election numbers were posted.
The next morning, these Twitter-inspired "Abercrombie & Schatz" shirts were featured on KITV's morning news. By Sunday afternoon, the first batch of shirts featuring Valdez's design were printed and available for $10. And by the time the sun had set, I had set up AbercrombieandSchatz.com to serve as a directory of "Abercrombie & Schatz" goodies.
There's more coming, too. L.P. "Neenz" Faleafine, social media director for the Abercrombie campaign, tweeted that other people are printing their own shirts with the same theme, also priced at $10, with all proceeds to go toward the campaign.
Valdez noted that the proceeds of the shirts he created with Lum would also be donated to the campaign. The designs I posted to online printing sites Cafepress and Zazzle have no markup, meanwhile, but will obviously benefit Cafepress and Zazzle.
This fun shirt exercise was just one of many displays of energy and creativity inspired by these most recent elections, and I loved how quickly it happened via social media tools. Indeed, many are crediting the Abercrombie campaign's use of social media for part of its success on Sunday. Hannemann may have had the numbers, but Abercrombie had engagement, and as I noted last April, there's a significant difference.
"Abercrombie & Schatz" sounds more catchy, anyway.
UPDATE: Neenz says the T-shirts she said were coming were the same shirts Lum was printing. Small world!