Discover more from Hawaii Bulletin
Island innovation in focus. Hawaii-based science, technology, startups and entrepreneurs, featuring local leaders, creators, educators, and more.
Over 5,000 subscribers
Inouye, Akaka Get Low "Digital I.Q." Scores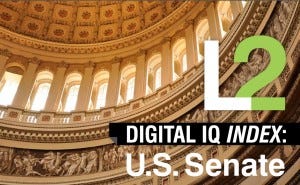 Hawaii's representatives in the U.S. Senate, Sen. Daniel Inouye and Sen. Daniel Akaka, have less than stellar "Digital I.Q." scores, according to a new study by researchers at George Washington University and New York University.
"Digital I.Q." was defined as "an individual's online competence including his or her presence on websites, social media following and sentiment, digital marketing aptitude and search engine optimization skills."
While Sen. Inouye wields immense influence in the Capitol, he was found to have a "Feeble" digital IQ of 64, giving him the third-lowest score... ahead of only Sen. Jack Reed of Rhode Island and Sen. Thad Cochran of Mississippi. Sen. Akaka didn't fare much better, with a "Challenged" digital I.Q. of 78.
Overall, the study found that Republicans have an edge over Democrats, with Sen. John McCain (R-Ariz.) topping the list with a score of 156. He lead a pack of seven colleagues that were given a "genius" rating.
It's an interesting trend, considering that Hawaii's own Pres. Barack Obama is often credited as being the first national candidate to tap the power of social media. In fact, Obama's rival, Sen. John McCain, is now the social media superstar. Despite famously declaring "I don't email" in 2008, he now has over 1.7 million Twitter followers and has earned more than 630,000 "likes" on Facebook. The study rated him tops, declaring him and six other senators as "genius."
Both Sen. Inouye and Sen. Akaka seem to have active Facebook pages. The Sen. Inouye page has 1,320 fans, and the Sen. Akaka page has 1,490 fans. I'm also pretty sure Sen. Inouye is on Twitter. There's an unverified @Daniel_Inouye account that at least seems to have related updates, and a @TeamDAN10 campaign account. But it doesn't look like Sen. Akaka does Twitter (although there is an empty @danakaka account).
You can download a PDF of the full report from the Luxury Lab website.
UPDATE (Aug. 28, 2010): The @Daniel_Inouye account is an official account of Sen. Inouye's office, managed by press secretary Peter Boylan. Thanks, TM!