Discover more from Hawaii Bulletin
Island innovation in focus. Hawaii-based science, technology, startups and entrepreneurs, featuring local leaders, creators, educators, and more.
Over 5,000 subscribers
Aloha Tofu Town Celebrates Grand Opening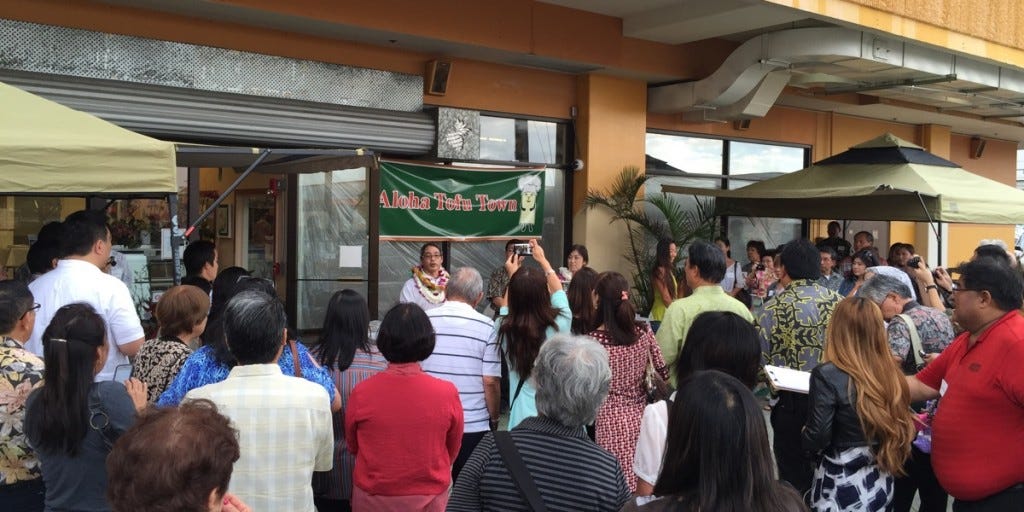 Although Aloha Tofu Town at Dole Cannery had been serving tofu-centric lunches and specialty desserts since its soft opening last month, it celebrated its official grand opening this evening.
The latest enterprise of the Uyehara family -- Paul and Misa Uyehara representing the third generation to run Aloha Tofu -- Aloha Tofu Town now operates a tofu factory, commercial kitchen, lunch counter and company store out of its new 5,000-square-foot Iwilei space.
Today's grand opening featured a blessing, light pupus and live entertainment (including an Okinawan shisa dance by Jon Itomura and his Hawaii Okinawa Creative Arts troupe), and of course a sampling of some of Aloha Tofu's specialties. One of the evening's highlights was a soba making demo by Takayuki Watanabe from Tokyo.
Watanabe was kind enough to abbreviate what would normally be a 40-minute dough kneading process to just a few minutes. Then we watched as he rolled it to be incredibly thin (using a special, $900 rolling pin made by the same manufacturer as Japanese baseball star Ichiro Suzuki's bat), first into a perfect circle and then into a square, folded it, then sliced it into perfect soba noodles. They were whisked away to the kitchen, cooked and garnished, and served within a matter of minutes.
https://www.youtube.com/watch?v=tWHfX5o2BPE
In addition to posting the above soba making demostration video on YouTube, I've posted a full gallery of photos from tonight's Aloha Tofu Town grand opening on Flickr. Here are some highlights: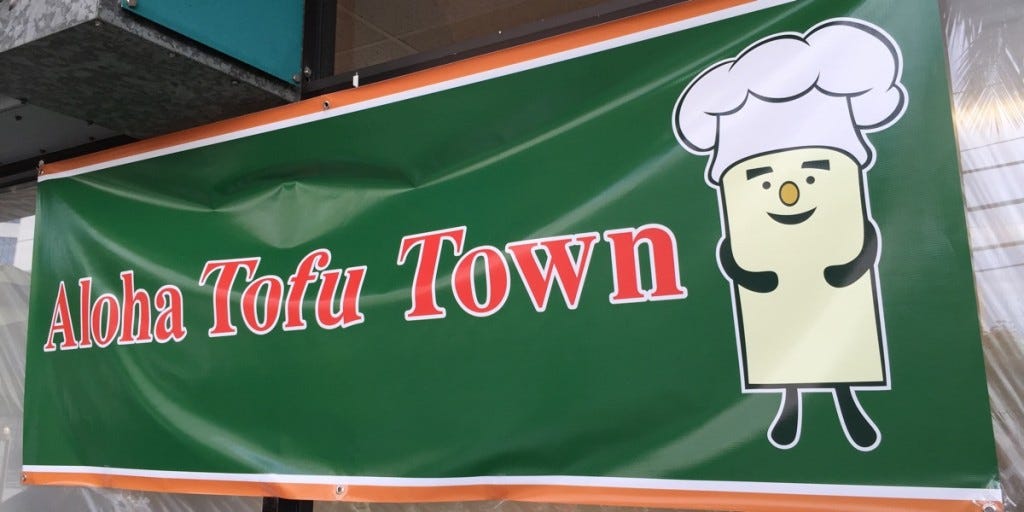 Along with the grand opening, Aloha Tofu Town announced that it was expanding its menu to add Tofu Croquette, Chicken in Soymilk Cream Sauce, Aburage Donburi, Tofu Curry and for dessert, Okinawan Sweet Potato Roll Cake and Green Tea Azuki Roll Cake.
For more information, visit the Aloha Tofu website, or look up Aloha Tofu Town on Yelp.
Thanks to Shari Tamashiro for the history lesson and Noreen from Aloha Tofu for the invitation to tonight's event!