Institute for Astronomy reopens its doors to the community

Mahalo for reading Hawaii Bulletin! You can also add a dash of Hawaii to your social feeds by following me on Instagram at @hawaii, on Twitter @hawaii, on Facebook and on LinkedIn.
At one minute to midnight on Friday, March 25, Hawaii's "Safe Travels" program and its indoor mask mandate ended. After significant pressure, the Aloha State joined the rest of U.S. in taking one of the last major steps toward post-pandemic normalcy.
With the spread of yet another COVID-19 variant — rather, the omicron subvariant BA.2 — it's probably a good idea to keep your face masks handy. But I'm very excited about the return to in-person events this spring.
(Turns out January 2020 was a terrible time to launch a local tech events calendar.)
As a geek dad, the annual Open House hosted by the University of Hawaii Institute for Astronomy was always a high point of the year. And it's finally returning in two weeks, after a two-year hiatus.
Half a century of history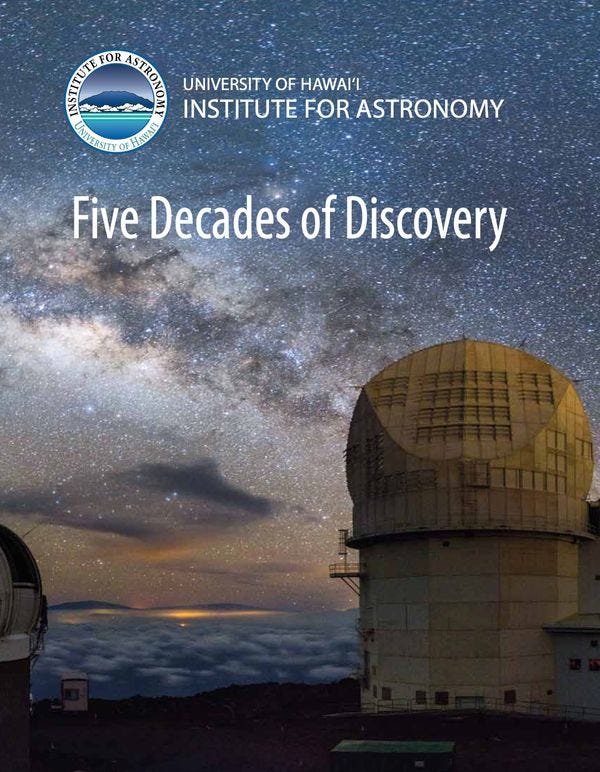 A brochure prepared to commemorate "Five Decades of Discovery."
UH established the Institute for Astronomy in 1967 to manage observatories atop Maunakea and Haleakalā, as well as to house the university's own research into the stars. The Institute celebrated its 50th anniversary in 2017.
While the university's stewardship of Maunakea is now in doubt, UH has established itself as a global leader in astronomical research.
The institute also collaborates with the Department of Physics and Astronomy at UH Mānoa, which offers bachelor's degrees in astronomy and astrophysics as well as Masters and PhD graduate programs.
An important part of the Institute for Astronomy mission, however, is community engagement.
"UH is a land-grant public university, so we are working for Hawaii's citizens, and it's our responsibility to provide education and outreach statewide," explains Roy Gal, a friend and associate astronomer at the institute.
The Institute for Astronomy is part of a wider constellation of Hawaii astronomy organizations (including all observatories and the ʻImiloa Astronomy Center) that collaborate on outreach, often under the auspices of the Maunakea Astronomy Outreach Committee (MKAOC).
Related Reading: New solar telescope begins scientific observations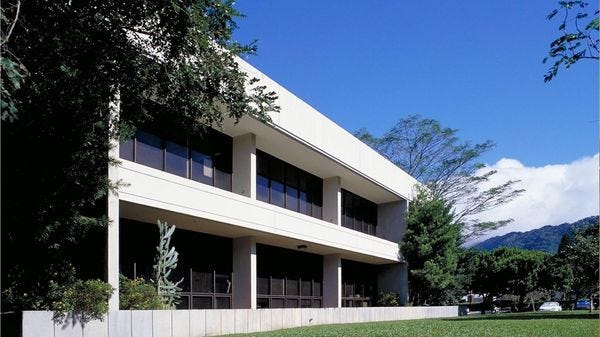 Part of the motivation is to widen the pipeline into astronomy as a field of study.
"We have undergraduate and graduate programs in which we would like to have more local students, and we would like to see more local people — especially Native Hawaiians — in astronomy and related careers," Gal tells me.
He admits, however, that recent headlines "highlight the need for even more outreach, to a more diverse audience, locally."
"I think people generally are disconnected from science," Gal explains. "I think it is fundamentally important that the public understand or at least have an idea of how we are learning about the universe, and that it is something they too can do in their everyday lives."
It's a calling he takes personally.
"I take our kuleana to the people who fund us, on whose land we situate our observatories, and who support us, very seriously," Gal says. "We cannot be takers, we have to give in return."
And Hawaii has contributed immensely to the field.
"Hawaii is integral to worldwide astronomy — about a dozen nations are partners in various observatories — and astronomy is integral to Hawaii, culturally and economically," he says.
Keeping the doors open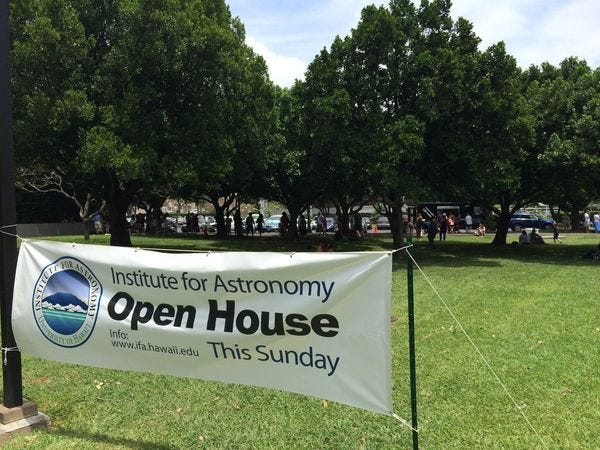 The Institute for Astronomy Open House had been held in April of each year for at least 15 years. But April 2020 was different.
"We had to cancel just as we started planning — we had a shirt design and had chosen a date, and then everything shut down," Gal recalls.
Of course, the Open House wasn't the only outreach the institute conducted, so Gal and his colleagues shifted their focus to virtual events as quickly as possible.
"We hosted some virtual public talks, including virtual stargazing events, and we worked with the Maunakea Observatories to run a series of 'MKO@Home' videos," he says. "There was also a lot of work on Hawaii Island during the volcanic eruption."
A high point was a live YouTube broadcast from Gal's driveway during a planetary conjunction and a lunar eclipse.
"Amateur astronomer Alex Dzierba and I narrated and answered questions for a few hours and we had 10,000 to 40,000 views from all over the world," he recalls. "That actually prompted us to invest in a specific digital telescope that will make these events easier to run."
Ongoing restrictions on University of Hawaii facilities kept the Open House from happening in 2021. But parallel events on Hawaii Island called AstroDay did take place last year.
Open house exhibits and activities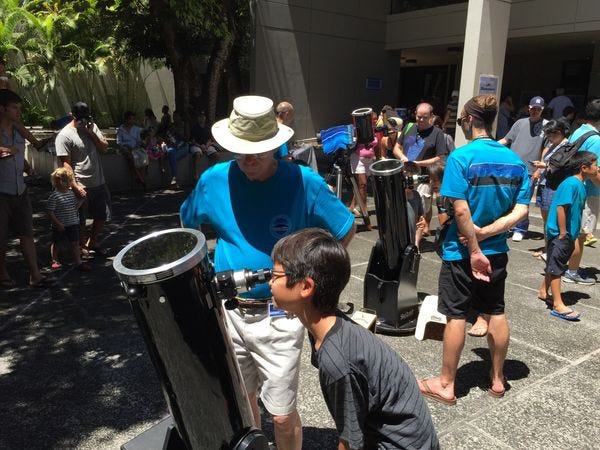 Next month, the public will again be able to visit the UH Institute for Astronomy headquarters for a variety of hands-on activities and exhibits. The Open House will serve as a belated 50th anniversary celebration for the recently upgraded UH88 telescope.
There will be solar telescopes set up for stargazing (because the event takes place during the day, there will only be one star to gaze at). The bottle rockets are always a crowd pleaser. Kids and grown ups can play with light and spectra, construct a sundial, or ask an astronomer (almost) anything. If you prefer to sit in a cool dark room and listen, there'll be a series of astronomy talks as well.
A number of partner organizations will also be there, including ʻOhana Kilo Hōkū, the Hawaii Lego Users Group, the UH Bookstore, Bishop Museum (with a portable planetarium), the Hawaii Space Grant Consortium (firing off straw rockets) and the Hawaii Space Flight Laboratory (showing off CubeSats).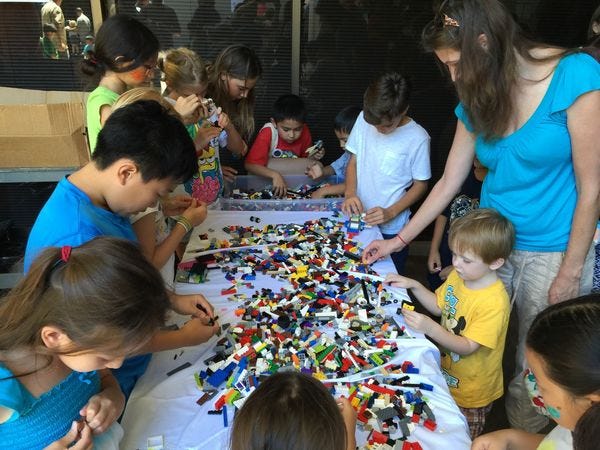 New this year will be:
A lunar rover demo by a group led by Dr. Frankie Zhu, who arrived at UH during the pandemic.

A radio telescope display built by graduate students under Prof. Jonathan Williams.

Collection and microscopic examination of meteorites with Elena Dobrica and Gary Huss from the Hawaii Institute of Geophysics and Planetology.

Pōwehi black hole photos. Pōwehi was the first black hole ever imaged, and Hawaii Gov. David Ige proclaimed April 10 "Pōwehi Day."
Where and when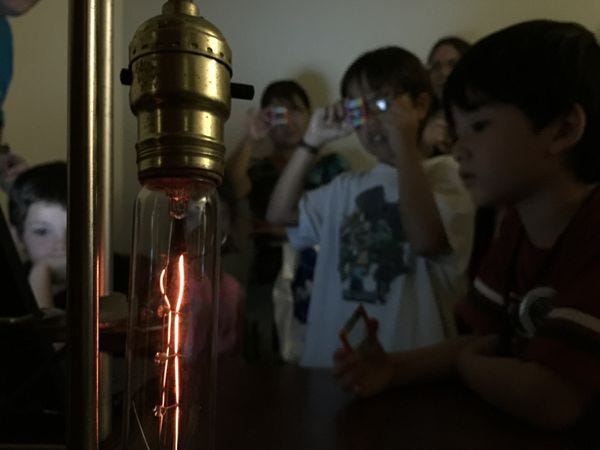 The Institute for Astronomy Open House will take place between 11 a.m. and 4 p.m. on Sunday, April 10, 2022 at 2680 Woodlawn Drive in Mānoa. You can find more information on Facebook.
Bonus event tonight!

If you're reading this on Saturday, March 26, and you're especially eager to participate in a family-friendly astronomy gathering, check out the first ʻOhana Stargazing event tonight in Waimanalo! A partnership between the Institute for Astronomy and ʻOhana Kilo Hōkū, these will take place every two months in various locations across the state.
Header photo courtesy Sami Sarkis/Getty Images.