Hawaii students make history in first autonomous race car events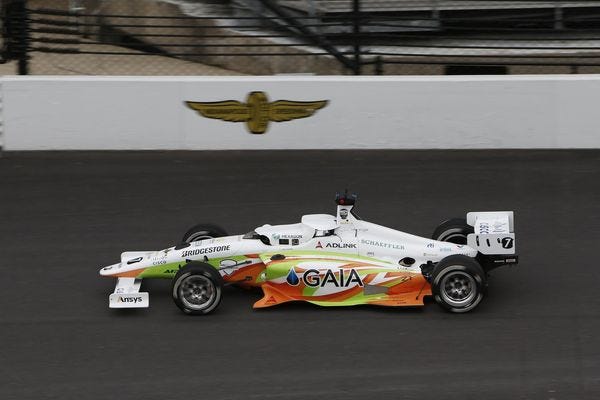 For most of the 20th century, we imagined that we'd soon live in a future with flying cars. Henry Ford himself predicted it in 1940. "Back to the Future," in 1985, promised flying DeLoreans in 2015.
As it turns out, we're still trying to figure out driving in two dimensions, with four wheels still squarely on the ground.
Even the latest tech available to consumers from America's weirdest billionaire seems to have trouble driving in a straight line, prompting regulators to question whether regular citizens should be testing Tesla tech on public roads.
I'm a believer in self-driving vehicles, and all the great things they will bring to our car-centric communities. It makes sense that we learn to walk before we can run. But it turns out that, under controlled conditions, autonomous cars are already racing each other.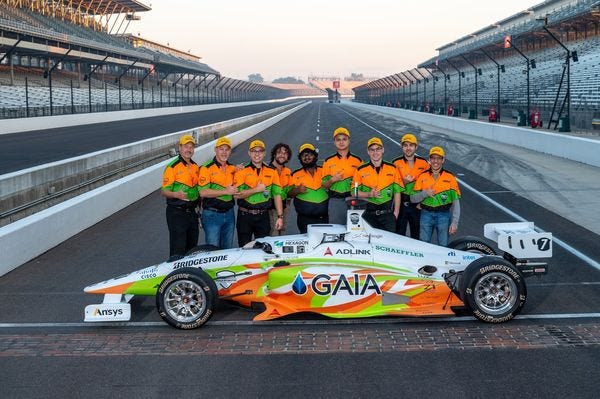 The AI Racing Tech (ART) team at the Indianapolis Motor Speedway in October.
Autonomous car races are a thing
You've probably heard of the DARPA Grand Challenge, the first held in March 2004. As grand as its vision was, and despite state-of-the-art technology, exactly zero of the vehicles completed the 150-mile off-road course. One Hummer made it 7.3 miles. The rest was barely-controlled chaos.
Fortunately, things went better the following year: five vehicles finished the race, even with a more jagged route and three narrow tunnels.
While the DARPA challenges have since evolved (moving underground and into space), the objective has always been the same: to test the limits of autonomous systems to safely navigate the physical world.
And the DARPA challenges — with average speeds of under 30 miles per hour and with vehicles spaced miles apart — have inspired other contests.
The Indy Autonomous Challenge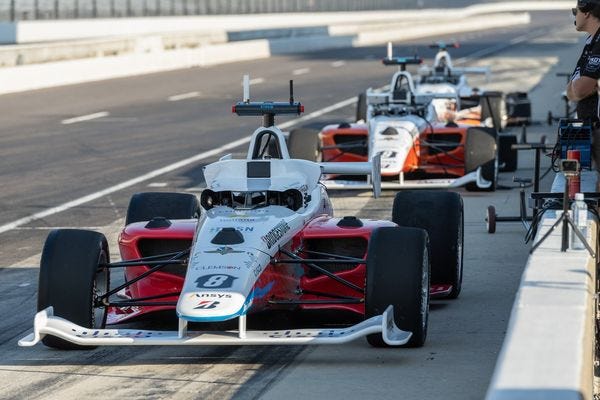 IAC race cars at the Las Vegas Motor Speedway for their CES debut last week.
The famous Indy 500 race has been held in Indianapolis for over a century. The drivers are in "Indy cars," single-seat, open-wheeled, winged race cars that are similar to Formula One cars and can hit top speeds in excess of 230 miles per hour.
(NASCAR, by comparison, tops out at around 200 miles per hour.)
It makes sense, then, that Indianapolis also birthed the Indy Autonomous Challenge (IAC). Its creators specifically cited DARPA in their origin story, noting that "competitions have a long track record of focusing minds and leveraging competing teams and other third-party contributions to overcome complex challenges."
A primary goal of the IAC is to advance technology that can speed the commercialization of fully autonomous vehicles and deployments of advanced driver-assistance systems (ADAS). These enhancements will lead to increased safety and performance in all modes of motorsports and commercial transportation. In addition, the competition is a platform for students to excel in STEM.
The IAC is aimed at solving "edge case scenarios," situations that occur infrequently but under extreme conditions. Problems like avoiding unanticipated obstacles at high speeds while maintaining vehicular control, which certainly have applications on civilian roads.
While the desert course of the first DARPA challenges were long and complex, most of the decision making was done while the competing vehicles — Hummers and SUVs — were stopped. You can imagine how the difficulty rises an order of magnitude when the vehicle is tearing down a track at over 100 miles per hour.
And that difficult technical challenge has drawn the interest of some of the world's top universities and colleges. Schools in Korea, Italy, India, Poland and Colombia, and American institutions like MIT, UC Berkeley, Embry Riddle, Michigan State, Colorado State, Texas A&M, and the University of Hawaii.
Maui and Mānoa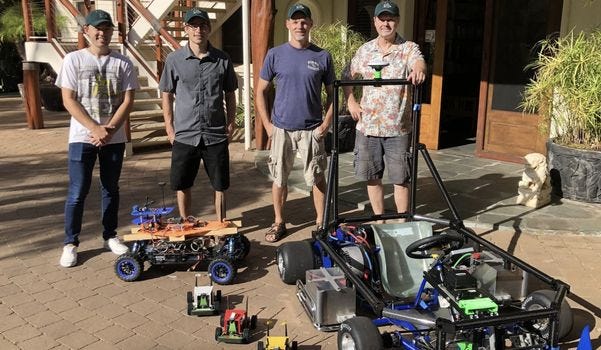 The University of Hawaii Maui College, formerly Maui Community College, is where Hawaii makes its unlikely entry into the autonomous vehicle world. And that entry was spearheaded by instructor and former Silicon Valley engineer Gary Passon.
Passon developed large distributed software and communications systems, secured software patents, and worked as a corporate COO and CTO. He also happens to love racing, from go karts in high school to professional racing following his studies at Purdue.
A few years ago, Passon moved to Maui with his wife Charlene Schulenburg, a Maui native, and wanted to "give back." He founded VectorAero, focused on autonomous vehicles, Artificial Intelligence, robotics, and open source software. And in Spring 2020, he taught a new course at UHMC: ETRO293v, Autonomous Vehicle Technologies.
The hybrid hands-on and technology learning class covered the many elements of autonomous vehicle design and operation as well as provided practical experience with scaled vehicles, go-kart sized cars, and finally full-size vehicles.
As the class progressed, and its potential to compete at the highest level became clear, Passon joined forces with the Robot Autonomy and Navigation (RAN) Lab at UH Mānoa.
Race one, race two
The IAC held the first ever autonomous race car event in October 2021, where nine teams representing 21 universities in nine countries converged on Indianapolis Motor Speedway. And AI Racing Tech — with support from UC Berkeley and UC San Diego — was among them.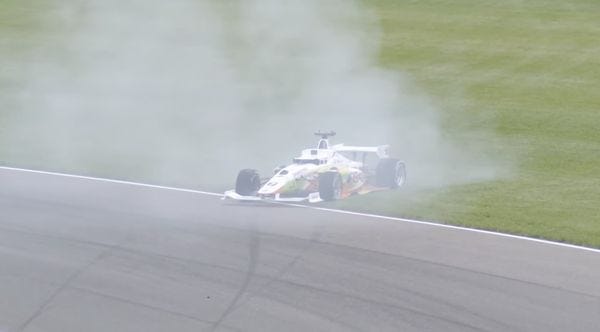 Despite a spinout that landed the car in the grass, requiring a tow, the Hawaii team placed sixth in the competition, and set a team speed record of 115 miles per hour.
The MIT team race car crashed into a barrier. Two other teams were unable to complete a lap.
"On race day, we pushed our car, our code and ourselves to the limits," Chris Battista, UH AI Racing Tech team member and former UH Mānoa research scientist, said in a release. "I'm tremendously proud of everything we've learned and what the team has achieved, and can't wait to see AI Racing Tech back on the track and faster than ever, sometime in the next year."
That second opportunity came last week, with the Indy Autonomous Challenge staging its first head-to-head race in Las Vegas during CES.
Having two autonomous race cars on the track at the same time introduced a significant complication, as they would have to adjust to both the track and another fast-moving vehicle.
Nine teams from eight countries representing 19 universities participated at the Las Vegas Motor Speedway. These were narrowed down to five teams from five countries representing seven universities on the final race day.
AI Racing Tech, unfortunately, did not advance to Friday's competition.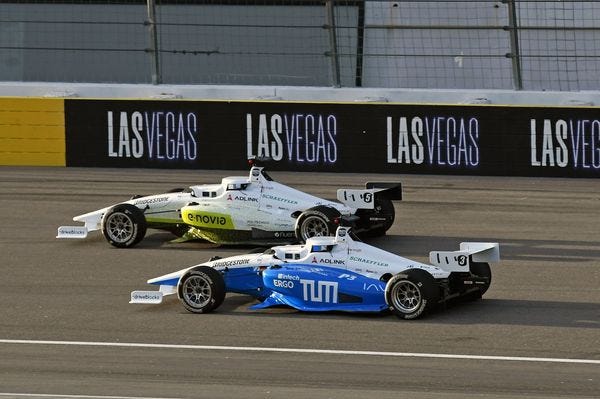 Team Polimove passed TUM at 167 miles per hour to win.
Team PoliMOVE from Politecnico di Milano (Italy) and the University of Alabama took home the top prize, setting the fastest speed record on an oval with a top speed of 173 mph.
A 'last minute' run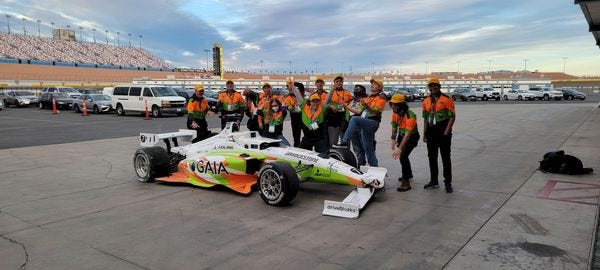 "Although we did not get the chance to compete on race day, we made huge advancements thanks to UC San Diego and some help from our Berkeley friends!"
On the morning of the first day of competition, AI Racing Tech took an opportunity to perform an exhibition run around the track. The car hit 100 miles per hour, but a hardware issue knocked its GPS offline, and the car hit the inner pit wall, ending its chances to race.
"We had suffered some hardware technical difficulties in the qualifying round the day before the finals," Passon tells me. "[We] were making a last minute run on the day of the race only to suffer a GPS dropout at the worst moment and the car contacted the backstretch wall at high-speeds.
"While a number of teams had experienced these the hardware and equipment issues, our timing was such that we were unable to go father in the competition," he says. "MIT also did not make it for a similar reason."
Despite the setback, Passon said the team is still inspired and fired up.
"As one of the smallest universities and programs, we are really proud of the teams competitiveness and resilience against world-class universities and their programs," he says.
"We always felt we could field a competitive entry; the team's confidence only grew as we were able to demonstrate it," he says. "Our resolve is only greater to come back and provide a Top Three finish."
Coming out of Las Vegas with solid improvements to their vehicle controller and perception software, AI Racing Tech is already looking ahead to the next event.
"We have a smaller autonomous event in May in Indiana at Purdue where we will field a fully autonomous racing evKart against other universities," Passon explains. "This gives us a great chance to expand and test our code so we are fully ready for the next IAC event.
"We understand the next rounds of the IAC competition is tentatively scheduled for September 2022, and we hope to return to CES in January 2023 for a multi-car head-to-head showdown."
Passon gratefully acknowledges his research colleagues, his teaching assistants, his students, and AI Racing Tech's many supporters and sponsors, including Maui Robotic Vehicles, a local Maui STEM support organization.