Discover more from Hawaii Bulletin
Island innovation in focus. Hawaii-based science, technology, startups and entrepreneurs, featuring local leaders, creators, educators, and more.
Over 5,000 subscribers
Gallery: Biggest Little Airshow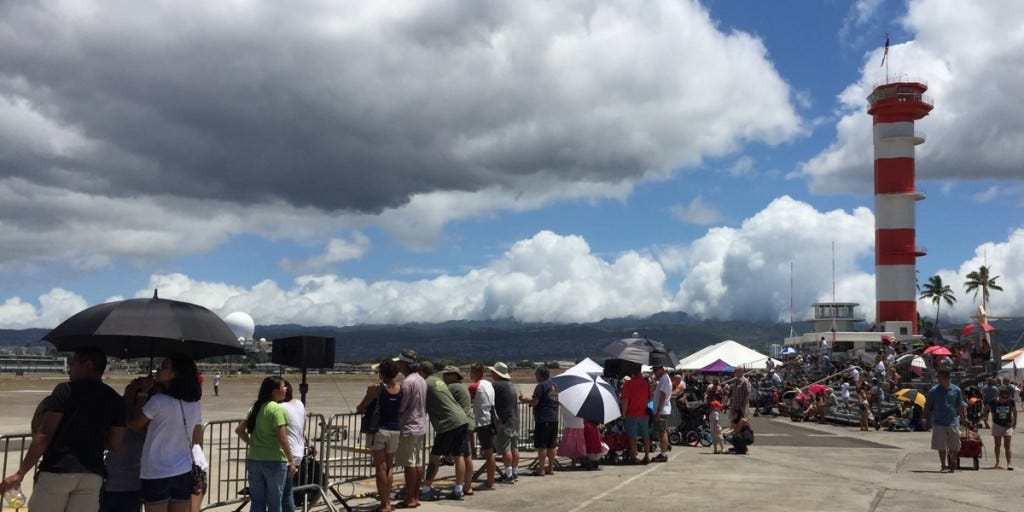 Today was my youngest son Alex's 11th birthday, and thanks to Anne Murata of the Pacific Aviation Museum and Burt Lum and his Bytemarks Meetup Group, we were able to mark the occasion with a memorable visit to historic Ford Island in Pearl Harbor at the 8th annual "Biggest Little Airshow" (which I previewed here a few days ago).
Murata and her museum colleagues (including Executive Director of Operations Kenneth DeHoff) hosted us and two dozen other friends in the VIP tent. There was a good view, drinks, and food, but the key amenity for the day was shade.
We got to watch the radio control airplane demonstrations on the flightline, see several 1:5-scale model planes on display, explore Hangar 79 (which housed full-size aircraft displays as well as booths from local clubs like the Hawaii Lego User Group, Hawaii Drone Club, and Drone Services Hawaii), and finally tour the main museum building.
We were also fortunate to have Nicholas Augusta in our group. A hardcore aviation enthusiast, he ended up serving as unofficial tour guide (after stretching the limits of his museum "family pass"). It turns out that he even loaned a couple of artifacts to the museum for it's Pan Am exhibit: a pilot's cap and wings. He told the story of Capt. Harry Lanier Turner, who was the pilot of a Pan Am Pacific Clipper inbound to Honolulu on Dec. 7, 1941.
To wrap up our visit, I signed up our kids for the museum's flight simulators, $10 per person for a half-hour adventure. Uncle Aaron Landry joined the formation, though he mostly stayed clear of the dogfight to practice carrier landings instead. The quality time in the air conditioned museum was the perfect way to end the day.
Here are selected images from our day on Ford Island, though you can click on any of them to check out a full gallery of over 100 photos that I've posted on Flickr.