Discover more from Hawaii Bulletin
Island innovation in focus. Hawaii-based science, technology, startups and entrepreneurs, featuring local leaders, creators, educators, and more.
Over 5,000 subscribers
Saimin Stories
Today my coworkers and I headed into Kalihi to eat lunch at Boulevard Saimin. This mom-and-pop eatery has been around since 1956, and is a local institution. But when we arrived, there were signs announcing that the restaurant was changing its name to Dillingham Saimin. And on the door, a sign that declared, "We're Not Moving!"
We asked our server what was up. She sighed.
Apparently there was some kind of falling out within the family. And Joan Watanabe, granddaughter of founder Kazuko Tanaka, is taking the family recipes and half the staff to open a new restaurant in Iwilei. Tanaka Saimin will have more than twice the space in the renovated former Weyerhaeuser plant on Nimitz Highway.
Meanwhile, the original location is now called Dillingham Saimin. And our server assured us that the food will still be the same... except for the sushi, as apparently their sushi guru is among the employees going to the new restaurant.
As for the "We're Not Moving!" signs? Twitter user DKmomus noted that a May 23 column by business columnist Erika Engle characterized the new restaurant on Nimitz as an outright relocation. "Incoming tenant Boulevard Saimin will open with a new name," Engle writes, and quotes Watanabe as saying, "We always wanted to move."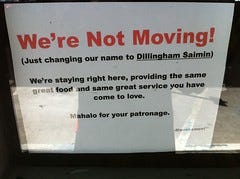 The employees sticking with the Kalihi restaurant obviously disagree.
A check of state business registration records shows that Joan Watanabe filed papers to form Tanaka Saimin on May 7, 2010. And just this past Monday, Boulevard Saimin officially made changes to its management.
Since neither the original nor new restaurant seems to be keeping the Boulevard Saimin name, it looks like Boulevard Saimin is no more, after more than half a century of business. But as my friend Mitchell noted, the upside is that we'll hopefully have two great local restaurants instead of just one.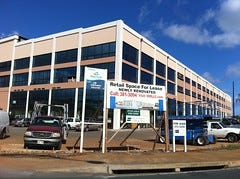 I'm definitely eager to visit Tanaka Saimin, as they'll be among the first tenants to open in the former Weyerhaeuser plant. The structure is a Honolulu landmark that I remember for its smell as much as anything else, and it had sat empty for years. The owners of the Ba-Le food company plunked down $20 million for it last year, and have grand plans to turn it into a thriving center for shops and restaurants.
Here's how the building used to look, captured by Google Street View: