New conference widens gateway to the cybersecurity industry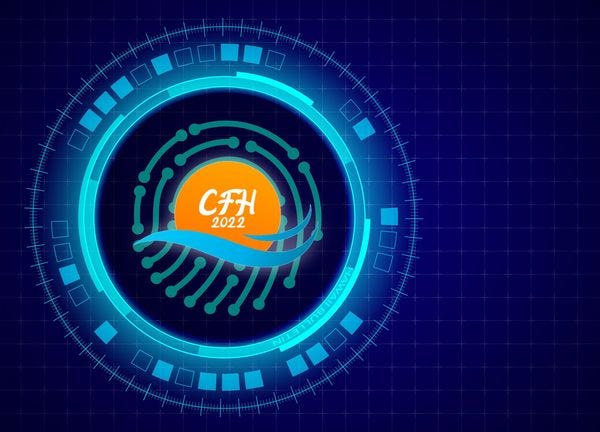 Give the gift of geeky knowledge! If you enjoy what you've been reading, please share Hawaii Bulletin with a friend! If you subscribe via email, forward it to the smartest people you know. If you read online, share a link to hawaii.bulletin.com on Facebook, LinkedIn or Twitter! Mahalo for your support!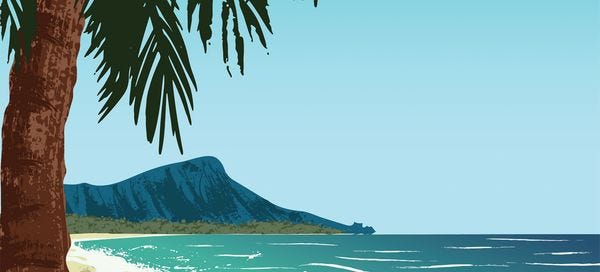 Next month will bring the C5 Forum Hawaii, a kind of "conference of conference organizers" that is setting up a big tent to house a broad mix of cybersecurity groups and individuals.
C5 is an acronym for Command Control, Computers, Communications, and Cyberdefense," explains C5 Forum organizer Dennis ONeill.
An inclusive vision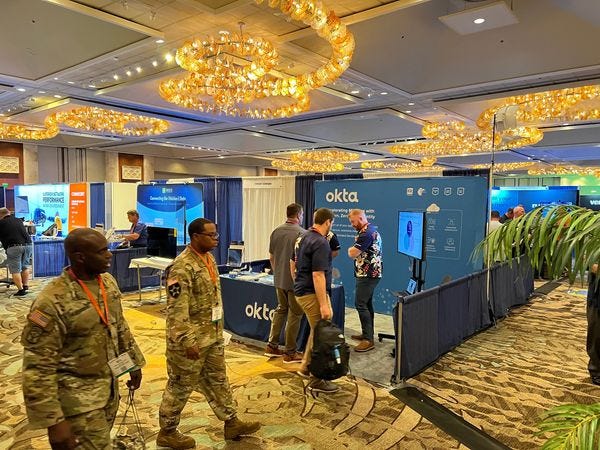 The 2022 AFCEA TechNet Indo-Pacific conference, held in April.
ONeill has a quarter of century of experience in organizing information technology conferences, most of it focused on the mililtary and Department of Defense.
"In my prior life, I would do events at Camp Smith, Schofield, Fort Shafter, smaller on-site events, but they were narrow in focus and didn't have the content than I would have wanted to see," he recalls. "My thing is to bring in great speakers from all over — if you have well-rounded perspective, that brings more meaning to the event."
So two years ago, he decided to strike out on his own and make event management his full-time focus.
"I started my business right before COVID," he says. "Not the best timing."
Nonetheless, he has remained committed to his vision, and the C5 Forum Hawaii, taking place over two days in two Honolulu locations on June 22 and 23, 2022, promises to be one of the largest gatherings of local cybersecurity organizations and professionals.
"My philosophy is to bring in as many community partners as we can, find out what they want to hear about and what's important to them, and then provide the content based on their needs," ONeill explains. "I build events with associations, who are always out in front, to reach a larger audience of like-minded individuals."
He notes that many associations suffered setbacks during COVID, and collectively are in need of exposure, new members, and donations. By bringing them together, the hope is they can all connect, collaborate, and grow.
The community partners for C5 Forum Hawaii include:
The program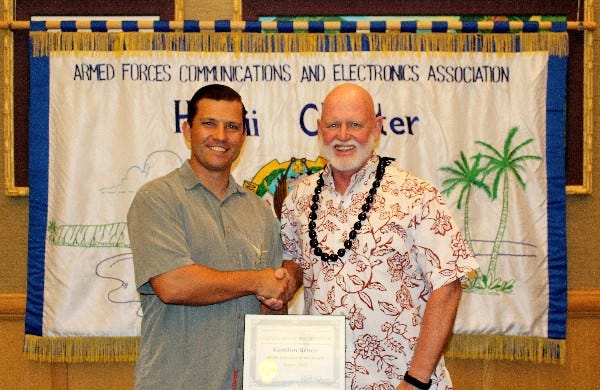 Gordon Bruce was recognized as an AFCEA Hawaii "Executive of the Month" in 2015.
Front and center at C5 Forum Hawaii will be a slate of speakers spanning local and federal government (including military and law enforcement), the private sector, and academia. These include:
Gordon Bruce, Cyber Security Consultant, GjB and Associates

Dr. Gregory Carpenter, Chief Security Officer, KnowledgeBridge International Inc.

Dr. Matthew A. Chapman, Professor, Computer Science & Cybersecurity, University of Hawaii West Oahu (UHWO)

Sam Craig, VP of Product Engineering, Ubiq Security

Dr. Wesley Emeneker, Developer, Maui High Performance Computing Center (MHPCC)

Sudhakar Gummadi, CISO & Privacy Officer, HMSA/Blue Cross Blue Shield of Hawaii

Andrew Lanning, Co-Founder, Integrated Security Technologies

Charles Lerch, CXO, Cyberuptive and Partner & Head of Cybersecurity, HI Tech Hui

Larry Lieberman, Cyber Evangelist, eResilience

Jerry Lyons, Principal Founder, iFortress

Michael Martinez, Cybersecurity Division Director, USARPAC G6

Dave McDonald, CIO/Plans & Programs Naval Computer and Telecommunications, Area Master Station, Pacific (NCTAMS PAC)

John Piccininni, Senior Business Development Manager, Bastille

Dr. Willarvis Smith, DISA Principal Technical Advisor, U.S. Indo-Pacific Command (USINDOPACOM), Chief, DISA Pacific (DISA PAC) Hawaii Field Office

John Zanni, CEO & Board Member, Acronis SCS
"A lot of our topics are going to be cyber-focused, but we do have Dr. [Willarvis] Smith out of U.S. Indo-Pacific Command (USINDOPACOM), who's going to kind of tie everything together with the total overall C5 perspective," ONeill notes.
Among the technical topics to be covered over the two days include big data in the cloud, data protection, incident response, and the military's Cybersecurity Maturity Model Certification (CMMC).
"What I'm hearing now, even from the mililtary, is that they're valuing public-private relationships even more — it's more of a collaborative environment," he says. He points out that a lot of National Guard members have full-time jobs in technology.
"Many of them are working for Google, or Amazon or those companies, and they can bring that experience and real world practicalities into their military positions," ONeill observes. "It's collaboration, it's not top-down, it's all hands on deck."
And ONeill expects many of the most important conversations to take place among attendees between the official sessions at C5.
"Anytime that you can get everybody together and have that ability to network and also share information is a great thing."
Some of O'Neill's favorite attendees aren't even on the program.
"Have you ever gone to an event, and there's someone there who had an audience around him the whole time?" ONeill asked. "That's Reynold [Hioki], he wore two hats with the National Guard and Honolulu county, and now he's the president of ISC2."
A tech vet in the grassroots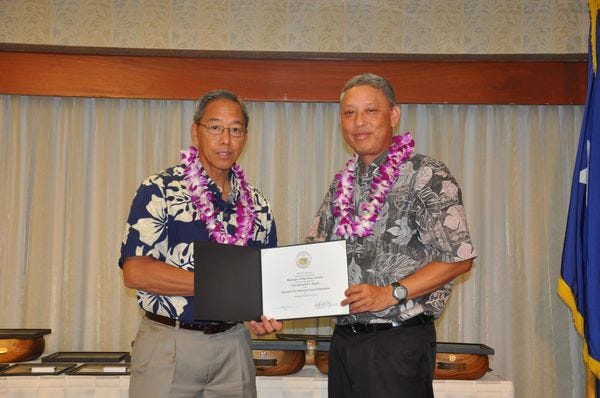 Reynold Hioki, right, is awarded "Manager of the Year" by the state Department of Defense in September 2014.
Reynold Hioki has been in the security business for a long time.
Today, he's the president of the Hawaii chapter of (ISC)², a.k.a. ISC squared, a.k.a. the International Information System Security Certification Consortium, which was founded on the mainland in 1989 and now has over 168,000 certified members. He had previously served as the senior advisor to the Hawaii chapter's graduate student program when he first volunteered with the organization in 2017.
Hioki also worked as a cybersecurity coordinator for the state of Hawaii for more than six years, retiring last year after 13 years in government. Before that, Hioki served in the Hawaii Air National Guard for more than three decades as Chief Information Officer, overseeing anything and everything related to IT and cybersecurity.
Throughout his time in technology and security, community outreach has been his passion. It was his official role with the state, but helping the general public is what continues to drive his involvement — even though he's technically retired.
"Hawaii is on top when it comes scams," he says. "Because Hawaii is Hawaii, where even if we're among the poorest people in the nation, we also do a lot of giving to charities and donations — so unfortunately we're often giving to the wrong people."
He notes that for the average person, the term 'cybersecurity' is sometimes a barrier.
"We did some things with the public libraries, and when we told them we wanted to do a cybersecurity presentation, they said that was way too scary," he recalls. "So we brought it down to 'cyber safety awareness.'"
Hioki is proud of a program that (ISC)² runs at the Lanikila Senior Center, a five-hour workshop to help older residents protect themselves and avoid scams.
"A lot of the stuff we cover comes right off the news — news articles and FBI reports and all that," he says. "We explain to them that they should have passwords on their phones and use good passwords, basic stuff for techie people but not for them."
One scam he sees often is the 'Grandparent Scam,' where fraudsters impersonate someone's grandchildren and says they're in dire straits, begging for money. And being older doesn't exclude them from other types of fraud.
"There was an 80 year old-ish, woman who lost hundreds of thousands of dollars from a dating scam," Hioki notes, an unfortunately effective tactic given the isolation brought about by the pandemic.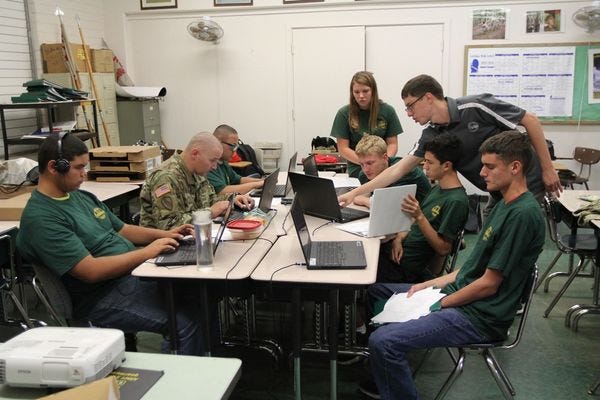 Soldiers from Schofield Barracks teach cybersecurity to cadets from Leilehua High School.
On the flip side, Hioki is also excited by what he's seeing from Hawaii's young people.
"We as parents think our schools are teaching computer science much more than they really are," he notes. "On the other hand, some schools have courses like CyberPatriot and CyberCamp."
These programs are national cybersecurity competitions for middle and high school students which has sparked increasing involvement from local teachers and volunteers, he explains. They will be featured at the C5 Forum.
"If we can get students in this competition, we know that they will be masters of Windows, Unbutu and Linux operating systems, and even getting into data networks and Cisco stuff," he says. "I have seen high school seniors coming out of this thing that know 10 times more than professionals."
From the individual on up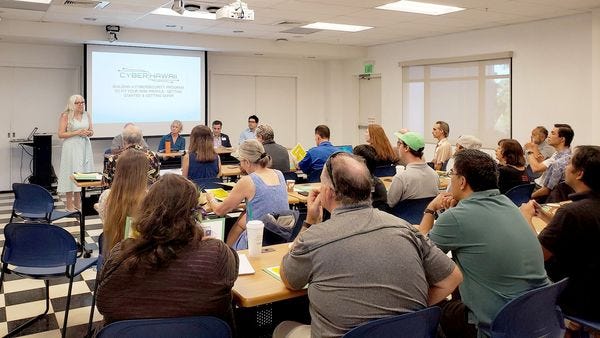 A CyberHawaii "Cyber Defense 101" workshop hosted on Kauai. Photo by Jill Tokuda.
Hioki notes that the C5 forum will have a lot more to offer than "cyber safety" advice on choosing secure passwords.
"When we do community outreach, we're not trying to teach people how to protect their enterprise, because mom and dad or grandma don't have an enterprise, they have a phone," he laughs. "But when we're getting into cyber security, we want to go hard."
"You're Vince Hoang protecting the state enterprise, you're Mark Wong protecting the city and county enterprise, and you're Reynold, six or seven years ago, protecting the state DOD enterprise," he says. "That's where you've got your cybersecurity professionals and firewalls and SIEMS and all these crazy things that come into play."
Among the most persistent threats to security in any organization is human behavior.
"One of the things that I'm excited about is the FBI division talking about insider threats — someone on the inside who criminals get to do their bidding," ONeill says. "I think it's often overlooked, but it's a key component to keeping your network safe."
"I want to get to the people that are the end-users, that are the nuts-and-bolts types, that are working in this every day, so the blue-collar information system and security managers can glean something from the event and use it in a practical way," he adds.
Another focus shared by the participating associations is workforce development.
"All over the country, there are thousands of open positions in cybersecurity," ONeill says. "We need people, but we need people who have some sort of training and knowledge."
Associations like those partnering in C5 Forum Hawaii are perfect resources for that conversation.
"You have a lot of people that have gone the route of cybersecurity as an overall career, and they can speak to people about that, tell them what certifications they need, tell them what is the best educational course to take, and then get trained up and get one of these lucrative jobs that's out there," ONeill says.
"I'm kind of excited that we're working with CyberHawaii, because they do a lot of outreach and community awareness to fill jobs that are out there," he adds.
Where and when

The C5 Forum Hawaii will take place at Fort Shafter (711 Morton Drive, Honolulu, HI, 96819) on Wednesday, June 22, and at the Oahu Veterans Center (1298 Kukila Street, Honolulu, HI, 96818) on Thursday, June 23. Registration is free for members of any partner association, and for anyone with a .mil, .gov, or .edu (including @k12.hi.us) email address. All others, $55 per day.
CPE/CEU credit will be awarded for eligible sessions. In addition to the formal program, there will be an exhibit hall for technology demonstrations addressing cyber and IT mission areas. Complimentary lunch and refreshments will be provided.
For more information, visit C5FH.com.
Wayne Akiyama contributed to this report. Header image by Hawaii Bulletin for C5 Forum Hawaii incorporates a cybersecurity illustration licensed from lvcandy/Getty Images.