Hawaii Five-0 Production Begins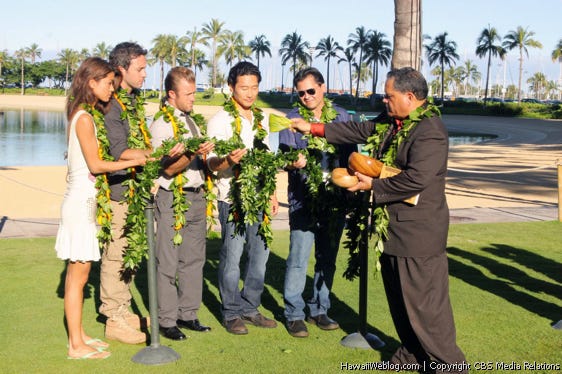 Production on CBS' reboot of "Hawaii Five-0" officially started today in Waikiki. Work kicked off after a traditional Hawaiian blessing at the Hilton Hawaiian Village Lagoon by Kahu Kelekona Bishaw of Bishop Memorial Chapel at Kamehameha Schools. On hand was Daniel Dae Kim, formerly of "LOST," Grace Park, formerly of SyFy's "Battlestar Galactica" reboot, as well as fellow castmembers Alex O'Loughlin and Scott Caan. Honolulu Police Chief Louis M. Kealoha also participated in the ceremony.
The first day of shooting included a solid serving of action, featuring a silver Camaro, a chase scene into the Hilton lobby, and plans to dangle a suspect off the side of a building.
Here's the official CBS release:
HAWAII FIVE-0 is a contemporary take on the classic series about a new elite federalized task force whose mission is to wipe out the crime that washes up on the Islands' sun-drenched beaches. Detective Steve McGarrett, a decorated Naval officer-turned-cop, returns to Oahu to investigate his father's murder and stays after Hawaii's Governor persuades him to head up the new team: his rules, her backing, no red tape and full blanket authority to hunt down the biggest "game" in town. Joining McGarrett is Detective Danny "Danno" Williams, a newly relocated ex-New Jersey cop - a working man in paradise who prefers skyscrapers to the coastline - but who's committed to keeping the Islands safe for his 8-year-old daughter; and Chin Ho Kelly, an ex-Honolulu Police Detective, and former protégé of McGarrett's father, wrongly accused of corruption and relegated to a federal security patrol. Chin's cousin, Kono, is a beautiful and fearless native, fresh out of the academy and eager to establish herself among the department's elite. McGarrett, repairing his relationship with his estranged sister, Mary Ann, vows to bring closure to their father's case. The state's brash new FIVE-0 unit, who may spar and jest among themselves, is determined to eliminate the seedy elements from the 50th state. Peter Lenkov, Alex Kurtzman and Roberto Orci are executive producers for CBS Television Studios. The series will debut this fall and air Monday nights at 10:00 PM, ET/PT on the CBS Television Network.
See Also: First Look at Hawaii Five-0 Reboot