Local Nerd Nets $10,000 Scholarship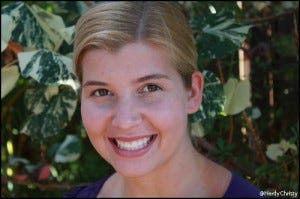 Congratulations to local science blogger Christie Wilcox, author of "Observations of a Nerd," for winning a $10,000 scholarship from College Scholarships.org. Wilcox is pursuing her PhD in cell and molecular biology at the University of Hawaii at Manoa.
The award was announced today, and came after ten days of public voting. Wilcox was the clear winner with over 135,000 votes, taking 58 percent of the total.
"Science is unbelievably cool, and I blog because I think that maybe if the rest of the world saw science how I do, they would think it was pretty cool, too," Wilcox wrote in her winning essay. "And maybe if they did, there would be more scientists doing unbelievably cool stuff for me to blog about!"
The contest was open to bloggers of all stripes. In second place was California-based beauty blogger Christine Mielke, with 91,000 votes or 39 percent. No other finalist nabbed more than two percent of the vote.
Wilcox attributes much of her support to fellow science blogger PZ Meyers of "Pharangula," who has a significant readership. Indeed, in comments posted to today's announcement, some are bemoaning Meyers' huge readership, and suggesting that some of his geekiest fans were using geeky tricks to boost Wilcox's campaign.
But Wilcox had supporters all over the web, and acknowledged that fact in her latest post.
"The outpouring of support from the science community has been overwhelming, and I feel truly honored to have you all standing behind me," she wrote. "Be rest assured that this money will not go to waste. It will be used to continue to support my livelihood (Hawaii's expensive!), scientific research and, of course, science communication efforts like this blog."