Entries Sought for Contemporary Photography Exhibition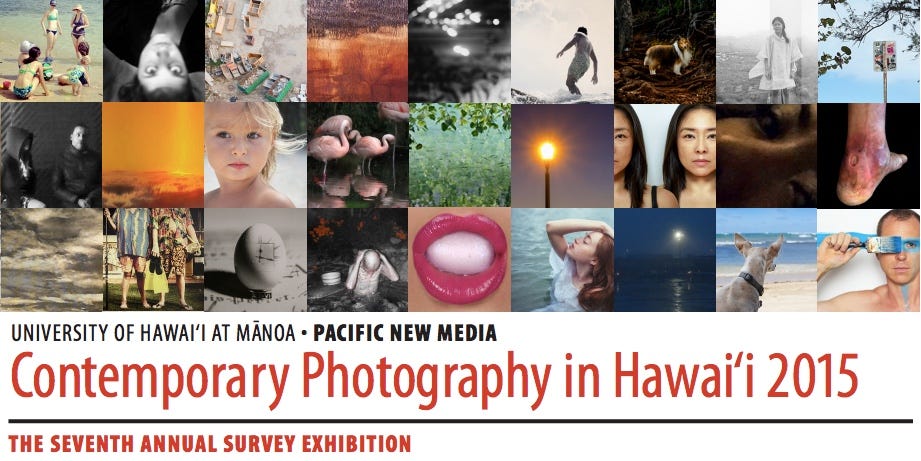 Pacific New Media (part of the UH Mānoa Outreach College) is inviting local photographers to submit their work for their 7th annual "Contemporary Photography in Hawaii" exhibition. And yes, photos that have been posted on Instagram are eligible. I asked.
"It's open to anyone," PNM Director Susan Horowitz tells me. "Last year we had 141 photographers submit images and we showed work by 54 of them."
But can anyone be a photographer?
It wasn't that long ago that the label "photographer" applied to someone with both technical and artistic talent, a back-breaking bag of expensive equipment, and the skills needed to both capture an image and to shepherd it through a multitude of steps in order to share it with the world. In the '80s, a cheap or even disposable camera still required film and someone's help to print the pictures. It wasn't until the advent of digital photography in the '90s when we saw the mass adoption of digital cameras, turning everyday people into avid shutterbugs.
Today, we're awash with image capture devices. Smartphone camera use is surpassing that of "real cameras," with over 300 million photos uploaded to Facebook daily. Daily!
Of course, with picture taking so popular, many are now decrying the "death of photography." We take so many pictures, we might be getting worse at remembering the things we're photographing. The ability to manipulate a photo went from being the realm of a dedicated artist to that of a Photoshop user to that of an Instagram user. Photographers around the world cry, "Get off my lawn!"
But I, for one, embrace the modern proliferation of picture takers. The tools are accessible, but they don't come with talent. And that's fine, because not every cameraphone user aspires to create art. But they could, and that's exciting.

My wife has been honing her artist's eye for years. A few years back, she wanted to get serious about it, and we bought her a brand new Nikon DSLR and enrolled her in a PNM class. She had fun, for sure... but today, that Nikon is sitting on our bedroom dresser. Her camera of choice is her iPhone, and her favorite medium is Instagram.
Her Instagram stream is, to me, a perfect mix of the everyday (from food pics to "proud mom" moments) and the artistic. She's developed a specific affection for leafless trees, and it's gotten to the point where our whole family keeps an eye out for especially striking examples. She uses more than two dozen photography apps to refine and beautify her images with a focus and intensity that is a marvel to see. And yes, her photos have been printed and hung on walls... some by people who aren't even related to us.
To me, she's definitely creating "contemporary photography." And I'm going to encourage her to enter this exhibition.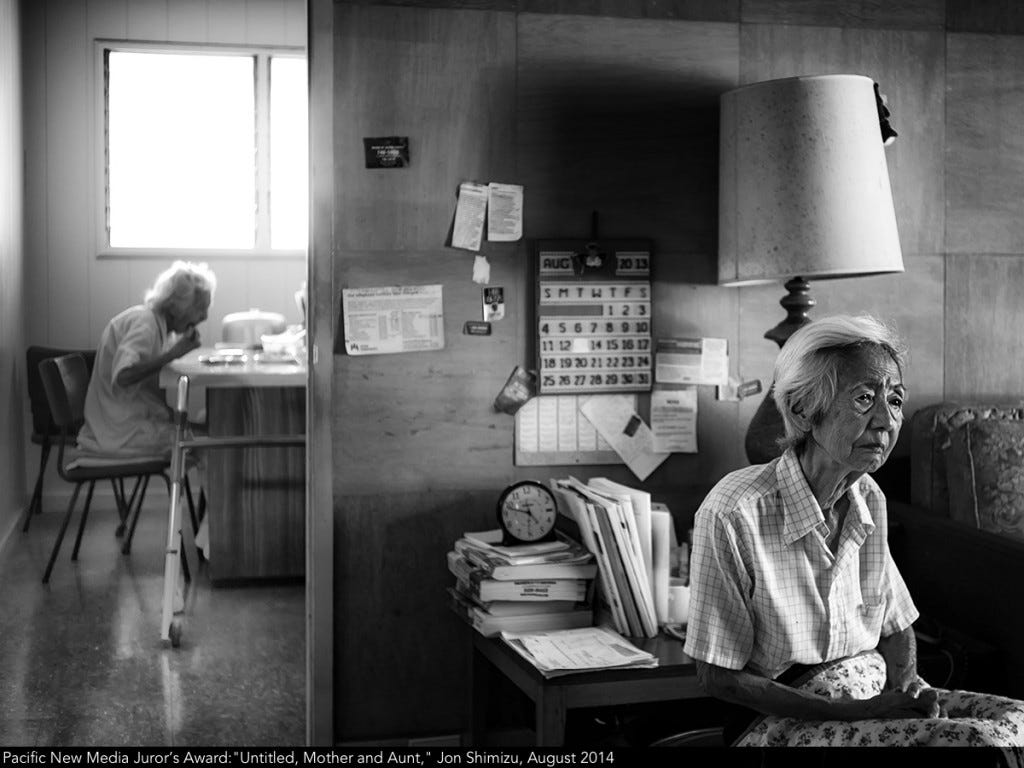 Above is last year's PNM Juror's Award winner by Jon Shimizu. He was using a Leica M-9, which I think is just perfect, since it's an old-school rangefinder film camera wrapped in a digital package. Last year's jurors were Barbara Pope and Franco Salmoiraghi, and you can see the photos from last year's exhibition here.
The eligibility requirements are few:
Images must have been created within the past two years and not previously exhibited in Hawaii.

Photographer must be a resident of the state of Hawai'i. Work must be original.

Selected work must be printed and framed for the exhibition.
The submission deadline for the 2015 exhibition is at 6 p.m. on Friday, Feb. 27, 2015. You can submit up to five entries, and there's a $20 entry fee for the first image and $5 for each additional image.
Photographers selected for the exhibition will be notified by March 7, and will have until March 27 to deliver their framed and strung works. There'll be an opening reception and awards ceremony at The ARTS at Marks Garage (1159 Nuuanu Ave.) on April 3, and the exhibition will run there through April 25.
This year's juror is Elaine Mayes, a fine arts and documentary photographer who has been working in the medium since 1960.Her work has been featured atThe Honolulu Contemporary Museum,The Smithsonian American Art Museum, The Brooklyn Museum, The Met and MOMA.
It all sounds very serious, but if you fancy yourself a photographer, I'd encourage you to enter. So does Horowitz.
"This year we seem a bit slow on entries so it's a good year to submit," she says.
For more information, download the prospectus and entry form (PDF).