Discover more from Hawaii Bulletin
Island innovation in focus. Hawaii-based science, technology, startups and entrepreneurs, featuring local leaders, creators, educators, and more.
Over 5,000 subscribers
Isle Photographer Volunteering in Sendai, Japan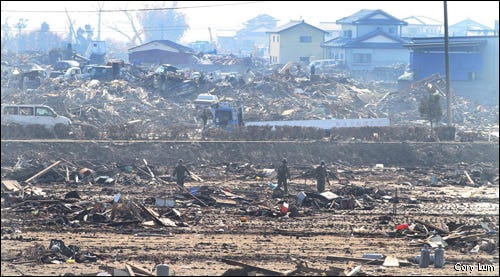 Cory Lum is one of the most talented photojournalists I know. Now, he is on the ground in Sendai, Japan, volunteering in the wake of the devastating earthquake and tsunami that's still making world headlines. You can follow his story, and see his spectacular pictures, at Corylum's Photo Blog. He writes:
the air was really thick and foggy, smells of decay and ocean brine permeated the car as we approached the 'zone of inundation'. many cars were strewn about the vast expanses of rice paddies with an occasional large ship tossed into the horizon. thick viscous mud enveloped dead pigs, ripped off rooftops and twisted guard rails. these scenes appeared like paintings from a twisted surreal Salvador Dali polyptychs, enveloping the viewer in full 360-degree destruction.
Of course, if a picture is worth a thousand words, he shares considerably more with his photography.
I had the privilege of working with Cory during my days at Ka Leo, the once-daily newspaper at the University of Hawaii at Manoa. In the years since, he's built an incredible portfolio, including multiple credits in the New York Times, L.A. Times, San Francisco Chronicle, International Herald Tribune, and many more. He was recently mixing it up with the White House press corps, capturing great images from Barack Obama's Hawaii vacation.
Our shared journalism background gives me a particular fondness for his trademark "anti-Photoshop" stance, emphasizing pure, unadulterated imagery from unexpected perspectives. His first post from Sendai was already breathtaking, and I look forward to much more.
Cory was a regular visitor to Japan, and recently relocated there with his family. He wrote of that fateful Friday when the earthquake hit:
since all the trains were down, i jumped on my trusty mamachari to ride into the city to photograph damages and how people were being affected. traffic was backed up for miles. every major road was jammed going into yokohama and into metropolitan tokyo. i saw hundreds of people walking. this was the day the city stopped functioning. one of my friends working in tokyo walked over 5 hours to get home in tamagawa.
By the way, Cory is also a talented ceramics artist, with gallery shows in Chinatown and an online ceramics shop.