Discover more from Hawaii Bulletin
Island innovation in focus. Hawaii-based science, technology, startups and entrepreneurs, featuring local leaders, creators, educators, and more.
Over 5,000 subscribers
CyberCANOE Connects Class Across Campuses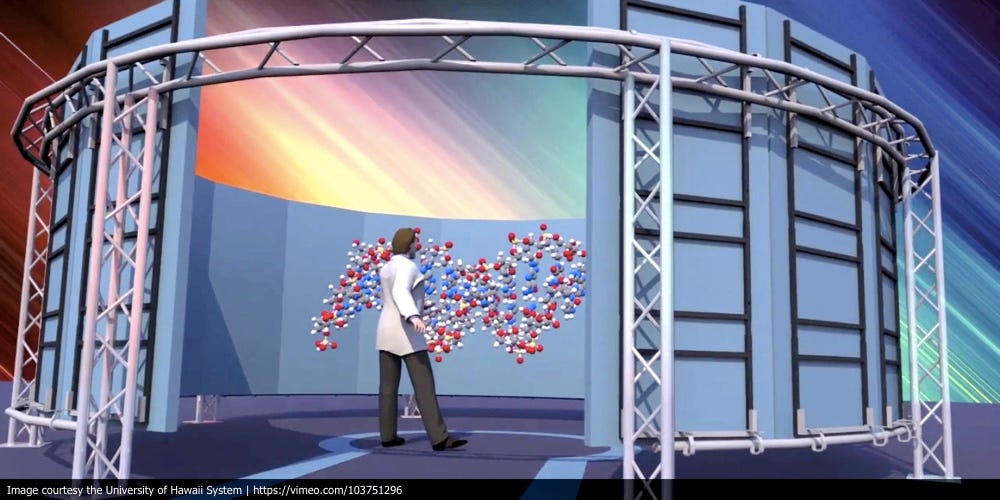 The University of Hawaii system is offering its first joint video game development class between its Mānoa and West O'ahu campuses, with students connectinve live across 15 miles thanks to the CyberCANOE.
The CANOE (Collaborative, Analytics, Navigation and Observation Environment) is an immersive space that allows students and researchers to explore worlds of data in 3-D, stepping inside giant data sets to see it from new perspectives, or working with remote peers as if they were in the same room. The technology is frequently compared to the holodeck from Star Trek.
The CANOE is the brainchild of Jason Leigh, who was recruited to UH last year under the university's "Innovation Initiative." Leigh was already a leader in data visualization, making a name for himself at the University of Illinois at Chicago where he and a team of researchers had built the first CAVE (Cave Automatic Virtual Enviromment) and the CAVE2.
Now a UH Mānoa computer science professor, Leigh has launched LAVA (Laboratory for Advanced Visualization and Applications). Academics sure do love coming up with clever acronyms.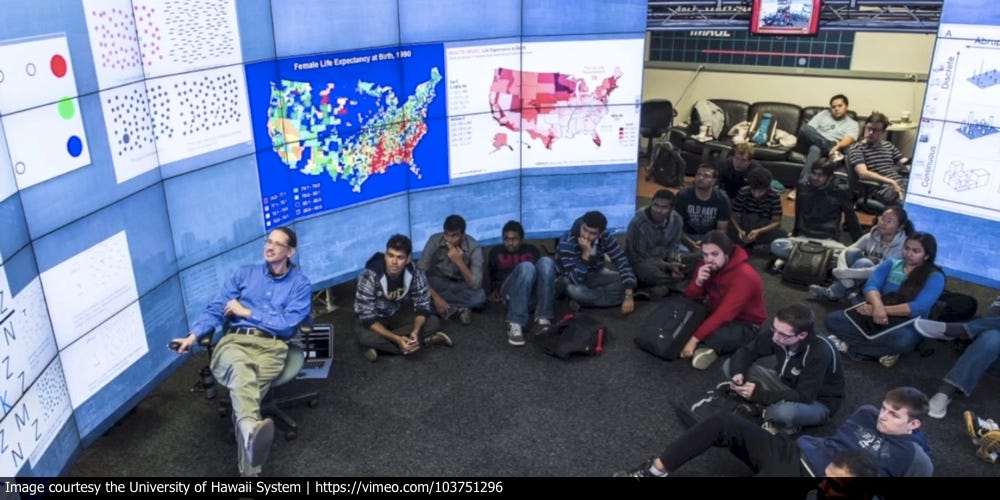 The plan is to build a much larger CANOE at UH Mānoa, then eventually expand the system to have connected CANOEs at all UH campuses across the state. This new joint video game development class is an early proof of concept, and one with strong potential for students. The university, citing industry figures, says video games are a $6.2 billion industry.
"Whether it's video games, planning a new city or going to outer space, the idea behind the CyberCANOE is to use data visualization to allow people to be more creative, solve more challenging problems and come to better solutions with greater confidence," Leigh said in a statement today.
Leigh is teaching the class with Leigh is teaching the class with Josiah Lebowitz, professor of game design at UHWO.
The two CyberCANOE systems cost nearly $100,000, and were funded by the UH Academy for Creative Media.
Bonus: Listen to an interview with Leigh and UH Director of Cyber Infrastructure Gwen Jacobs in December where we discuss the CAVE, CyberCANOE, and the university's high performance computing plans.