Discover more from Hawaii Bulletin
Island innovation in focus. Hawaii-based science, technology, startups and entrepreneurs, featuring local leaders, creators, educators, and more.
Over 5,000 subscribers
Historic Hawaiian Music Project Hits Crowdfunding Goal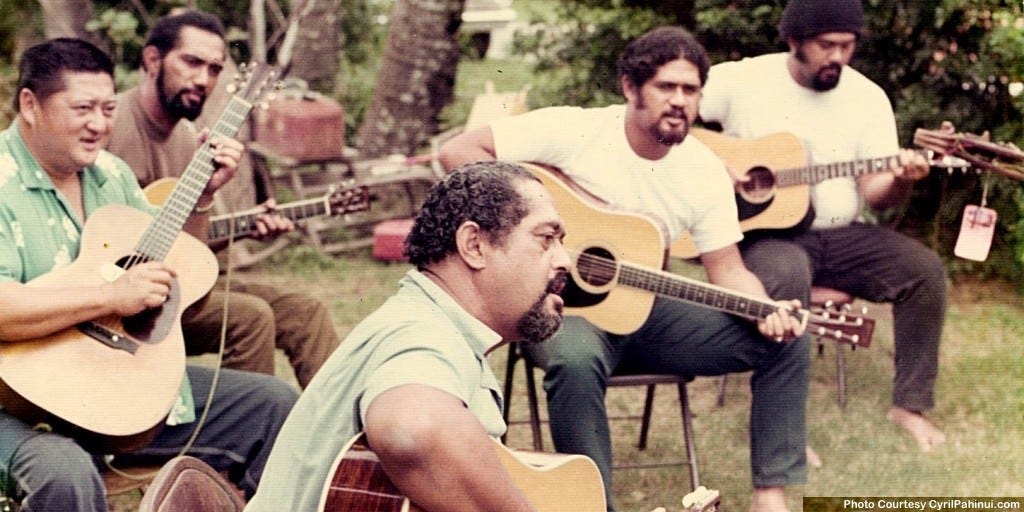 Hawaiian music legend Cyril Pahinui turned to Kickstarter to fund what he called his "lifetime dream project," and the community stepped up as his campaign to crowdfund a music video series surpassed its $65,000 goal yesterday.
"We received a few texts and calls while at work today with the incredible news," he wrote. "Two days before the deadline? We made it over? Could it be true? "We were seriously amazed to see it actually was true. WE DID IT."
Kickstarter has been an incredibly effective platform to turn ideas into reality, and has played a role in launching thousands of passion projects for musicians and other artists. Earlier this year, HISessions raised over $26,000 to showcase up-and-coming young musicians in Hawaii. But in Pahinui's case, the technology platform is helping to preserve a rich and historic legacy.
Pahinui has played at Carnegie Hall twice, performed on three Grammy Award-winning albums, won several Na Hoku Hanohano awards, and has been featured in more than 35 musical releases. And with Kickstarter, his goal is to create a "Part II" to an already cherished documentary of Hawaiian music.
In 2013, filmmaker Naʻalehu Anthony worked with Pahinui and a who's who of Hawaiian musicians to produce "Let's Play Music: Slack Key with Cyril Pahinui & Friends." Dedicated to the memory of Pahinui's father, Gabby "Pops" Pahinui, the film included renowned artists like Roland Cazimero, Peter Moon Jr., Dennis Kamakahi, Palani Vaughan, and Sonny Lim, all performing in intimate backyard performances in Waimanalo. The setting was intended to recapture the magic that happened at the Pahinui family home more than four decades ago.
"Weekends at the Pahinui home were a continuous jam session, as we hosted dozens of musicians, both young and old, who came by to jam with 'the Master,'" Cyril Pahinui writes. "As my dad's fame grew, attendance at the weekend jam sessions mushroomed -- sometimes hosting a hundred or more musicians and fans -- [and] the jam sessions would begin early on Friday morning and continue straight through to Monday morning."
The film, although not available anywhere for purchase, is still broadcast across the public television network as part of the "Pacific Heartbeat" series, now in its fourth season. It was contracted to PBS Hawaii in support of its ongoing fundraising efforts, and has already aired in 78 percent of PBS markets and on 92 percent of the nation's top 25 stations.
There were many more stories to tell and Hawaiian music legends to feature, however.
"The timing of this project is critical, as recognized through the passing of Dennis Kamakahi shortly after the completion of Let's Play Music Part I," Pahinui wrote in the introduction for his Kickstarter campaign. "We cannot begin too soon to record and capture these treasured performers and their beloved music."
Part II will "highlighting the untold story of the Hawaiian Music Renaissance of the 70s and 80s," Pahinui explained, combining Hawaiian music and historical footage. And the material will be extended with monthly webisodes that will not only offer music and interviews, but also local style cooking, local ingredients, and artists' recipes.
The campaign had an ambitious $65,000 goal, with the funds going toward equipment, digital rights and royalties, finishing the production and editing of Part II, and producing the first six webisodes. And thanks to an unnamed angel investor, Pahinui's project will effectively double thanks to an offer to match funds raised up to another $115,000. so even on the far side of the finish line, every additional dollar counts.
Pahinui notes that Part II will, like its predecessor, be offered in support of PBS fundraising.
"This means that your contribution will support our instructional next-generation Hawaiian music programs, as well as PBS stations in Hawaii and nationwide," he explains. "And with your overwhelming generosity, we support our Waimanalo Schools Hawaiian Music Masters Youth Outreach Instructional program."
There are a number of fun and creative rewards for backers at levels ranging from $10 (an online shoutout and an autographed postcard) to $10,000 (executive producer credit, plus a ton of goodies). For $35, you can get a custom "singing telegram" phone call from Pahinui himself. Get up to $100, and there's poi and dried fish.
To contribute to Pahinui's crowdfunding campaign, visit the official page on Kickstarter. For more information on Pahinui himself, visit CyrilPahinui.com. You can also follow him on Facebook or follow @CyrilPahinui on Twitter.
Photo courtesy CyrilPahinui.com.