Hawaii Daily Deals Are Everywhere
If three's a crowd, the group buying space in Hawaii is an all out riot. In just the past week, several different group buying services announced new initiatives in Hawaii.
Kanu Hawaii is preparing to unveil Kanu Values, in which the deals benefit community causes. A pair of local entrepreneurs launched VoteOnDeals.com, emphasizing the social side of saving money. And California-based Qmania, originally launched in February 2009, kicked off its "Buzzworthy Deals" program in partnership with Hawaii Pacific Entertainment.
They join a dizzying array of daily deal players already established here.
Roll Call
Though Groupon was already taking the Mainland by storm, PlayHawaii.com (a spinoff of Savvy Circle) was one of the first to set up shop in the islands in October 2009. San Francisco-based Tippr touched down last June. In August, we tackled the group buying trend on Hawaii Public Radio, and by September, my email inbox runneth over with deals with the arrival of Amazon-backed Living Social, Groupon's nearest national competitor.
Finally, in October, the 800-lb. gorilla finally landed with a massive launch party.
Group buying was big in 2010. So big that Groupon famously rejected a $6 billion takeover bid from Google. Earlier this month, Google started its own program called Google Offers. And Facebook is already well into building Facebook Deals. After such massive growth, many wonder if it's still a sustainable business model.
Local entrepreneurs are apparently betting on it.
Newest Arrivals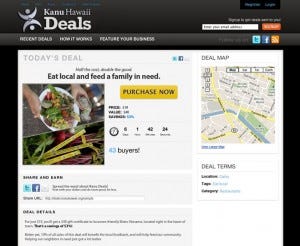 If the group buying business is as popular and lucrative as it appears to be, Kanu Hawaii hopes to channel that energy and money toward worthy causes. Kanu Hawaii is an online community organizing platform focused on families, the environment, and local sustainability, and those noble themes will form the basis of the deals offered through Kanu Values.
An example deal, shown above, says, "Half the cost, double the good. Eat local and feed a family in need." In addition to saving money at a participating business, Kanu Hawaii will commit a portion of the sales to a charity or cause (e.g. 10 percent to the local food bank).
Kanu Values is expected to launch by the end of the month, and will be accessed at deals.kanuhawaii.org.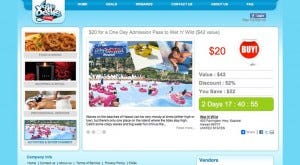 VoteOnDeals.com just went live on Thursday. Created by former radio sales exec Andrew Sato and entrepreneur Jason Ching, the site tries to mix up the basic daily deal model by offering more than one deal at a time, for more than just one day, and rewarding users who share deals via social networks.
Four deals will be available at any given time, each unlocked via voting. The first four deals are from Big City Diner, Don Marco Spas & Salon, Wet N Wild Hawaii, and Sensually Yours.
Ching graduated from Kaiser High School, and Sato graduated from Pearl City High School.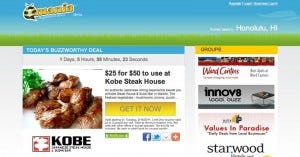 Qmania was created by Douglas Kato and Kikuo Nishi, who previously co-founded Up Above Records. Though it started with a focus on Long Beach, Calif., it set up shop in Honolulu two years ago and has posted a number of deals since then. I have to admit, though, I'd forgotten entirely about Qmania, apart from a comment posted on this blog in February 2009.
Hopefully, a new partnership with Hawaii Pacific Entertainment will help raise its profile. It was announced by chairman and founder Lincoln Jacobe.
"I would like to take this time to personally share with you our newest partner, Qmania.com which has recently launched the much anticipated Buzzworthy Deals program in Hawaii and soon to be available nationwide with daily deals all over the United States and beyond," he wrote.
The first deal up on deck is $25 for $50 to use at Kobe Steak House.