Local Artist Ripped Off by App Maker
More than two years ago, local designer Valentino Valdez — my friend and partner in Kukui High School — participated in an online challenge with the Comic Jam Hawaii artist group. Participants were pushed to draw something every day, and on July 2, 2012, he posted an adorable drawing of Superman done in the Japanese chibi style.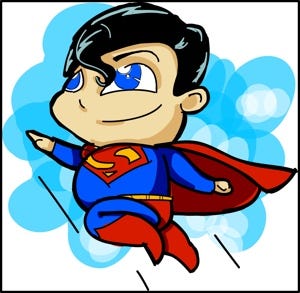 The challenge ended, Valentino continued drawing and daddy-ing, and life went on. But this weekend, when browsing the Amazon App Store, he saw something familiar.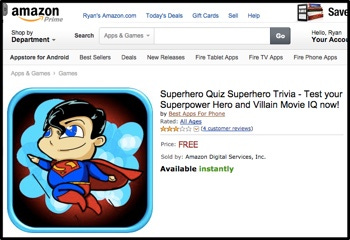 "Someone stole my chibi Superman artwork for their app," he posted to Instagram. "Mostly angry. Kinda flattered."
His friends and I on Facebook were definitely feeling the former, and started digging.
Turns out the app developer, Dang Thanh Xuan, published the app on the iTunes App Store and the Windows Phone app store as well. Indeed, his "Best Apps for Phone" shop is pretty prolific. While it's a fair bet that the other apps are using stolen material, we were focused primarily on the "Superhero Quiz" trivia game that was using Valdez's picture as its icon.
Indeed, the app is so manifestly horrible, the stolen icon is the best thing about it. And the worst part is, the developer clearly knows he's stealing. There's an extensive "legal disclaimer" on the app page which includes this gem:
Any content, including but not limited to, images, text, sound bytes, phrases, logos, names, titles, not owned by Super Cool App Team belongs to their respected owners. We do not take credit nor claim to take credit for any of said content. Any content used is used at a fan-base stand point. We simply provide free positive advertising.
The notice goes on to say that "any content used without permission" is used under "fair use." Except it's not, as fair use is not a license to steal.
Photographer Ricky Li took to Twitter to report the scofflaw to Amazon. And impressively, the @AmazonHelp account replied with a link to a contact form.
https://twitter.com/AmazonHelp/status/556774438084313088
Valdez, meanwhile, sent a cease and desist notice directly to the developer.
Sadly, it's unlikely the developer will change his ways, and it's just as unlikely that app will be pulled by Amazon, Apple, or Microsoft. There are too many apps to police, and obviously most artists don't stumble across their work being stolen.
Still, friends have stepped up to condemn the thief with the one tool that has any impact: app reviews. Leaving one-star reviews for the crap app on the various app stores might be the only way the message will be heard. You know, like here, here, and here.