Food Network Gets 'LOST' on Wednesday
The series finale of "LOST" is less than a week away, and the Food Network is visiting "The Island" just in time.
In the Wednesday installment of "Dinner: Impossible," celebrity chef Robert Irvine finds himself stranded on Papailoa Beach -- the very stretch of sand the survivors of Oceanic 815 called home for the past five years.
Irvine's challenge? To feed 90 hungry members of the "LOST" cast and crew using food and supplies scavenged from the area (and a nearby hardware store). He'll be visited by some of the show's stars, including Nestor Carbonell.
To plan and prepare his last-minute menu, Irvine will be collaborating with Jon Matsubara, executive chef of The Royal Hawaiian Hotel.
The episode will air in Hawaii at 7 p.m. on Wednesday, May 19, on the Food Network (Oceanic Cable channel 60/digital 321). Here are a couple of additional photos from the production: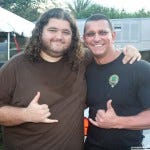 This "Dinner: Impossible" episode was actually filmed back in February, concurrently with "LOST" production. And the "Dinner: Impossible" team was caught at work by "LOST" fans who were visiting the beach set. Here are a few behind-the-scenes photos.