New Exhibit, Event Explore Legacy of Duke Kahanamoku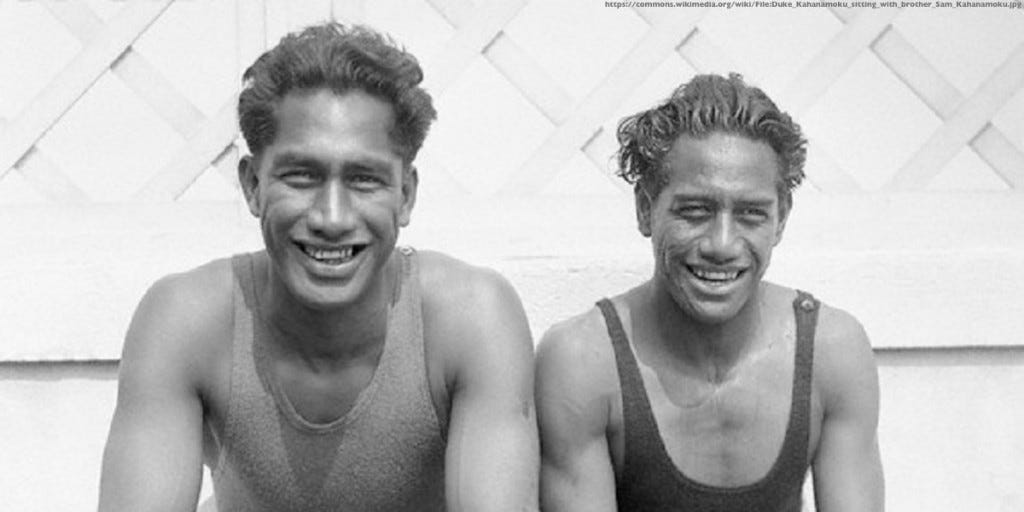 Duke Kahanamoku, Hawaii's most celebrated surfer and athlete, is the focus of a new, original exhibit that opened today at Bishop Museum. On Thursday, the museum will host documentary film screening and a panel discussion dedicated to his legacy.
Born 125 years ago this month, Kahanamoku was a beach boy and avid waterman who, at the age of 21, broke the 100-meter swim world record in an amateur meet in Honolulu Harbor. (The date? August 11, 1911.) It was a feat doubted by the pros, at least until Kahanamoku won the gold medal for the 100-meter freestyle at the 1912 Summer Olympics in Stockholm... and took a silver in the 4x200 relay as well.
His international prominence helped bring the sport of surfing to the world, from the U.S. West Coast to Australia. He would later find work as an actor, get into business as the owner of a pair of Honolulu service stations, and even served as Honolulu's sheriff for 13 terms. But the ocean was his first love, and he spent the rest of his life as Hawaii's goodwill ambassador.
The Bishop Museum exhibit, "Duke Paoa Kahanamoku," runs through Nov. 30 in the J.M. Long Gallery. It features archival documents, photos, and videos, and floor-to-ceiling graphic panels celebrating the "Ambassador of Aloha." A number of artifacts will also be on display, from his surfboard, sheriff's badge, 'ukulele and athletic trophies. And there are interactive displays allowing guests to explore Kahanamoku's life through videos, images, and sounds.
Explains the Los Angeles Times:
"Using a 3-D video game, guests reenact a legendary 1917 feat in which Kahanamoku rode atop a towering Waikiki wave on a finless surfboard for more than a mile. Visitors can also try to replicate his 1920 Olympic record in the men's 100-meter freestyle. The 'Race Duke' attraction uses a table-top, upper-body pedal exerciser to simulate swimming."
On Thursday, the museum will screen "Waikiki: Riding the Waves of Change," a 2009 documentary by Caroline Yacoe of Pu'uwai Productions that tells the story of the Waikiki Beach Boys, a local institution that still exists today. The film looks at the group's origin as well as its future with interviews, music, and chant.
And following the screening, a panel discussion will delve deeper into Kahanamoku's impact and legacy. The museum's historian, DeSoto Brown, will be joined by Kahanamoku's official biographer Sandy K. Hall, and Randy Rarick, former Executive Director of the Triple Crown of Surfing.
The discussion will include "personal insights and anecdotes, classic stories, and rare, vintage images from Bishop Museum's Library and Archives."
The screening and discussion is free to Bishop Museum members or $10 general admission, but to ensure a seat, attendees are asked to register online.
The film will be screened from 4:45 p.m. to 5:35 p.m., followed by the panel discussion from 6:00 p.m. to 7:30 p.m. For more information, visit BishopMuseum.org, like the Bishop Museum page on Facebook, or follow @BishopMuseum on Twitter.