Discover more from Hawaii Bulletin
Island innovation in focus. Hawaii-based science, technology, startups and entrepreneurs, featuring local leaders, creators, educators, and more.
Over 5,000 subscribers
E-commerce, digital marketing training offered to local businesses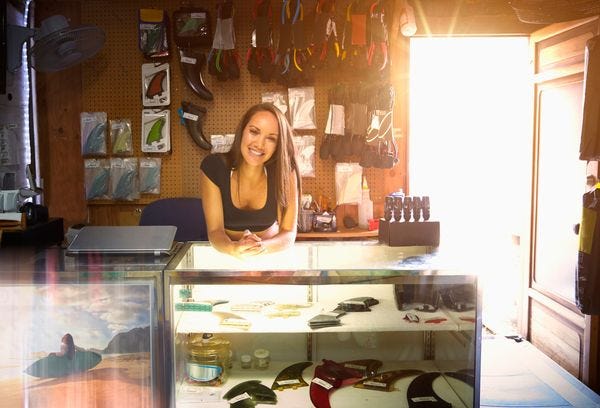 Let's connect! I'd love to talkstory with you across the social web, including on Twitter, Instagram, LinkedIn, YouTube, Reddit, and more!
For local businesses looking to take things to the next level, the third time may be the charm.
The Hawaii Technology Development Corporation (HTDC) and its Innovate Hawaii program are inviting island companies to participate in the third iteration of a popular marketing and e-commerce training program.
Launched at the advent of the global pandemic, the program is aimed at makers, manufacturers, and other value-added producers interested in scaling their businesses. But any business could potentially participate.
"We are also saving limited seats for non-manufacturers," notes Ellen Ng, HTDC economic development specialist and easily one of the busiest people in Hawaii's innovation sector. "Just apply to be considered!"
What is Innovate Hawaii?
Administered by HTDC, Innovate Hawaii is a program of the National Institute of Standards and Technology (NIST) under the U.S. Department of Commerce, which spearheads a network of Manufacturing Extension Partnerships (MEP).
Not only is Innovate Hawaii the official state representative in the national MEP network, it is also the administrator of Manufacturing Assistance Program (MAP) grants and the Hawaii Small Business Innovation Research Grant (HSBIR) program.
And Hawaii's successful training program already serves as a model for other states.
"It is a very robust curriculum that we are offering to help take our manufacturers to the next level in terms of their e-commerce and digital marketing capabilities," Ng says. "The template for our program is being used to train other manufacturers across the nation, starting with Oregon."
Third and the best yet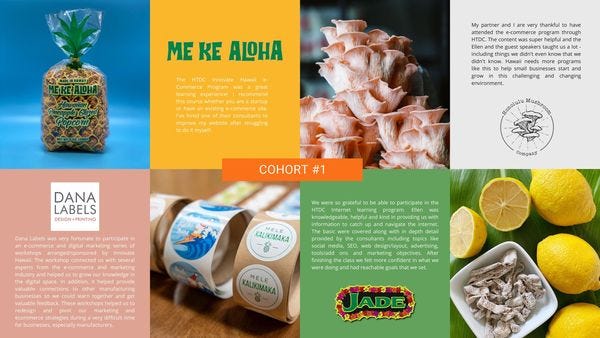 Cohort #1 participants included Dana Labels, Honolulu Mushroom Company, Jade Food, and Me Ke Aloha.
The upcoming program is a three-month, ten-session virtual workshop series being brought back by popular demand. Although it's the third time around, it's not the same old song and dance.
"We strongly encourage manufacturers to consider joining the program because it has been designed based on the lessons learned from past cohorts," Ng explains. "Our upcoming cohort is slightly different from the previous ones because we are offering two separate tracks to cater closer to the needs of manufacturers who are at different stages of their e-business."
The e-commerce track will help companies with little to no experience in e-commerce. It will cover critical areas that a manufacturer needs to build an e-commerce site, including strategy, user experience and user interface (UX/UI), branding, and search engine optimization (SEO).
The digital marketing track is better suited to manufacturers that are already comfortable with e-commerce, and are ready to scale and dedicate more resources to digital marketing. It will start with guidance around customer segmentation and go into a deep dive on strategies around content marketing, email marketing, social media, and analytics.
Each track in this third cohort can support up to 15 local companies and will fill up fast. But participants should be ready to be fully engaged.
"The ones that benefit the most from the program put in a lot of hard work and discipline getting through 10 weeks of classes, assignments and consultations," Ng notes. "But I guarantee that if you put your mind and will to it, this program will be worth your time."
Take their word for it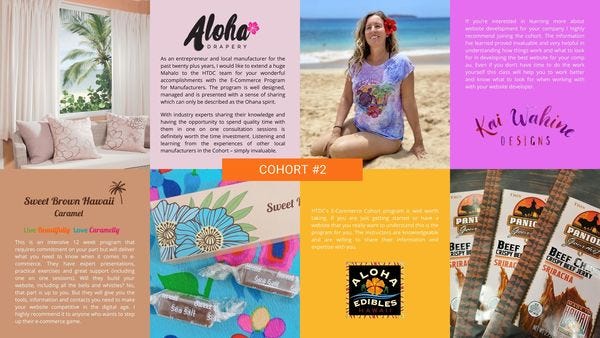 Participants in Cohort #2 include Aloha Drapery, Aloha Edibles, Kai Wahine Designs, and Sweet Brown Hawaii.
Past participants in the training program include Aloha Drapery, Aloha Edibles, Dana Labels, Honolulu Mushroom Company, Jade Food, Kai Wahine Designs, Me Ke Aloha Popcorn, and Sweet Brown Hawaii.
"I knew for some time that the company website needed an update to become more visually appealing to increase online sales," says Jade Food president Deanne Ho. "When COVID-19 brought regular business operations to a halt, I knew it was time."
The result?
"Since working to make updates to the company website and implementing guidance gleaned from the e-commerce cohort, Jade Food has seen a steady 150% rise in online sales," Ho says. "We anticipate that sales will continue to increase as we continue to improve our site."
Participants in both tracks will be able to speak with and get advice from established and respected experts. They include executives from AkamaiSEO, Hew & Bordenave, Hidden Gears, Hoku Marketing, Jaxon Communications, Lilikoi Ladies, Mana Means Communications, Momentum, and Tapiki.
"We take the time to vet through many different practitioners with domain expertise to make sure that they can teach and are willing to impart the knowledge necessary to guide our manufacturers," Ng notes.
Virtual by design
The ten sessions in each track are all hosted on Zoom, and it's not just because the pandemic stubbornly refuses to fade.
"The program is virtual because we wanted manufacturers across our islands to be able to participate," Ng explains.
"For some of our manufacturers, it is their first time learning to use other technological platforms, such as Trello, Slack and even Zoom for communication," she adds. "It is a good opportunity for them to familiarize themselves with newer technologies out there.
"If businesses don't modernize or fail to innovate, they will become obsolete."
Final pitch
The Innovate Hawaii training program is valued at $6,000 per participant, Ng says, but a large portion of the program is subsidized by federal funding.
"That makes the program more accessible and affordable at only $600," she says. "It is a good deal considering that it is only $60 a week and you get access to ten live, three-hour webinar lectures as well as ten 1:1 consulting sessions with the different domain experts."
Companies ready to apply may do so at www.htdc.org/ecommerce
The deadline to apply is 5 p.m. HST on Friday, January 7, 2022. Watch the presentation below from last week for more information:
Image courtesy Colin Anderson Productions/Getty Images.