Astronomer to Referee 'Einstein v. Santa'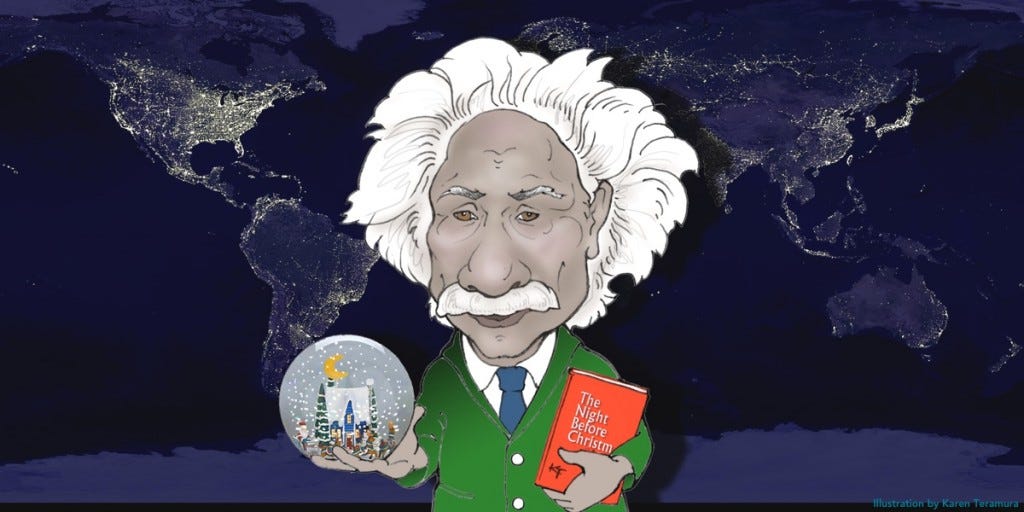 Santa Claus is beloved around the world, but there are always doubters. And one of the first questions that sometimes creeps into the mind of impressionable young people is this: how can Santa possibly visit billions of homes scattered across the planet in just one night?
Wouldn't toys for every child on earth weigh 321,000 pounds? Wouldn't his reindeer have to be able to hit 1,800 miles per hour? Wouldn't that instantly incinerate the sled?
Science to the rescue.
Next week, renown astronomer (and former Canadian professional football player) Robert Jedicke will revisit one of his most popular seasonal presentations: "Einstein v. Santa." He will be the last featured speaker of 2015 for Honolulu Science Cafe. Jedicke made headlines earlier this year with his study suggesting that Earth had more than one moon, and he's a well-known expert on "killer asteroids."
But this light-hearted talk -- versions of which Jedicke has presented a couple of times before -- will address burning questions like:
Is Santa guilty of breaking the laws of physics as expressed in Einstein's theory of relativity?

Can Santa deliver all his gifts to the good children of the world without breaking the universal limit set by the speed of light?

Does Santa's GPS device require Einstein's intervention?
Honolulu Science Cafe has been around for six years, part of a global family of casual science meetups "for people who enjoy talking about science with a glass or a fork in their hand." This will be Jedicke's second appearance before the group.
This month's meetup will be held at JJ's French Pastry & Bistro in Kaimuki (3447 Waialae Ave.) on Tuesday, Dec. 15. It will get started half an hour earlier than usual, with the social and dinner hour beginning at 5.30 p.m. with Jedicke's talk starting at 6:30 p.m. While the event is free, attendees are encourage to buy food and drinks from the venue (and Tamura's liquor store across the street).
For more information, visit hi-sci.org.