Discover more from Hawaii Bulletin
Island innovation in focus. Hawaii-based science, technology, startups and entrepreneurs, featuring local leaders, creators, educators, and more.
Over 5,000 subscribers
Data Dashboard Offers Real-Time Energy Stats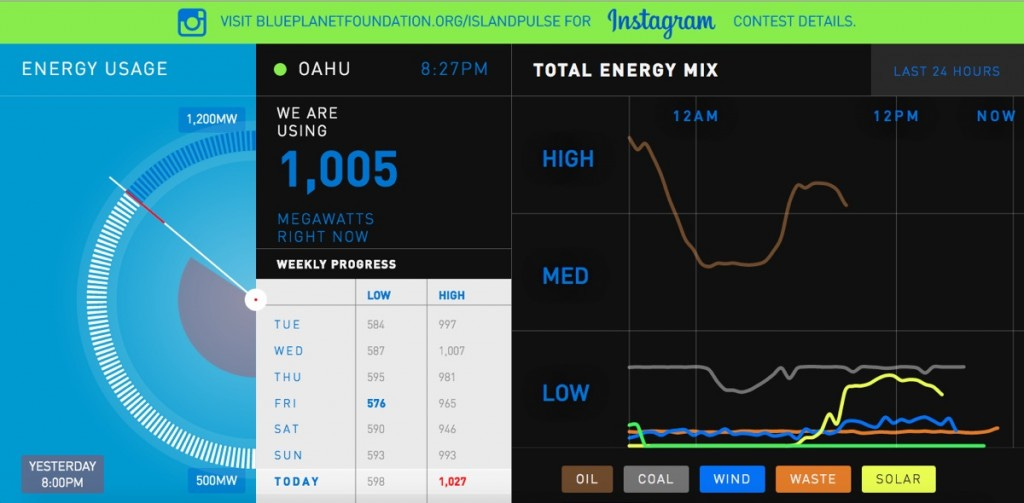 One of the beautiful things about the otherwise esoteric open data movement is that it lays the groundwork for data visualizations that are both pretty and informative. "Big data" in its raw form is incomprehensible, but with tables and charts and graphs and other tools, you can illustrate facts and trends in a way that helps people make important decisions.
Data sets don't get much bigger than those compiled by governments. Decisions don't get much more important than the policies and laws that shape our communities. And one of the most important policy discussions we have in Hawaii is about energy.
Hawaii has the highest energy costs in the country, and imports well over 90 percent of that energy (largely in the form of fossil fuels). Fortunately, there is no debate that our dependence on outside energy sources is a problem, and Hawaii is also doing well in adopting renewable energy: massive adoption of solar and wind power, fast-growing biofuel adoption, rare grid-connected geothermal energy, and ongoing wave energy research.
But when you're dealing with things at the utility scale, the numbers can get so big so as to feel almost meaningless. Few people read further than the headlines, and only a handful of people check out the tables and appendices in legislative reports and regulatory filings.
How much energy are we all using? How much of it is coming from the sun, or the wind?
The Island Pulse energy dashboard was designed to answer those questions at any time, in real-time. In one glance, you can see the island's current energy use (compared to the previous day), a breakdown of the current energy mix (among fossil fuels, solar power, wind power, biofuel, waste-to-energy, oil and coal). There's also a chart of the lowest and highest levels of energy consumption for every day of the week.
It's a striking presentation, with a wiggling speedometer-like needle (even though the underlying data is only updated every half hour) and a mix of statistics (including a simplified ratio of fossil fuel to renewable energy use).
It was built last summer by the folks at the Blue Planet Foundation, working with Hawaiian Electric and local web design firm Sudokrew. A kiosk version was unveiled at the Asia Pacific Clean Energy Summit, and you can now find Island Pulse displays at the Hawaii State Capitol, Honolulu Hale, the University of Hawaii's Manoa and West Oahu campuses, and the Hawaii Loa campus of Hawaii Pacific University.
Another Island Pulse kiosk is scheduled to be installed at Ala Moana Center's Makai Market food court before the end of the month.
"It makes the invisible, visible, providing real-time feedback to help residents better understand how much energy we consume and where that energy comes from," said Blue Planet Executive Director Jeff Mikulina in a prepared statement. "By showing our collective energy, Island Pulse builds awareness about how we must work together to transition to a 100% renewable future."
Blue Planet has bigger plans for Island Pulse, including a future enhancement that will further break down the data by neighborhoods. This was an idea that I found especially interesting, imagining a friendly competition between communities to use less energy. It was something Blue Planet experimented with, launching a Twitter account at @island_pulse that would share updates like how much power Manoa, Kahuku, Wahiawa, Ewa Beach, or Kailua was using at a given time. Unfortunately, the last post was on April 15.
Now, to raise awareness of the Island Pulse dashboard and the important policy conversations it can inform, Blue Planet Foundation is launching the "Island Pulse Instagram Challenge."
There are two parts to the challenge: taking a selfie with one of the Island Pulse kiosks (or with the online dashboard), and including a prediction of how much energy will be displayed on the dashboard at certain dates and times this month: noon on April 15, April 22, April 29 and May 6 (with predictions submitted before midnight the evening before).
Entries need to be hashtagged #100percentby2040, #islandpulseoahu, and #nomorefossilfuels, and include a location or ZIP code. All correct guesses will be entered to win an iPad mini each week. See the contest page for all the details.
Bonus: In case you missed it, the State of Hawaii also has "Open Performance Hawaii" dashboards available at dashboard.hawaii.gov. They include the recently launched "Aloha+ Challenge Dashboard," which tracks the state's progress in meeting its sustainability goals.