Energy Fun Fair in Kapolei Tomorrow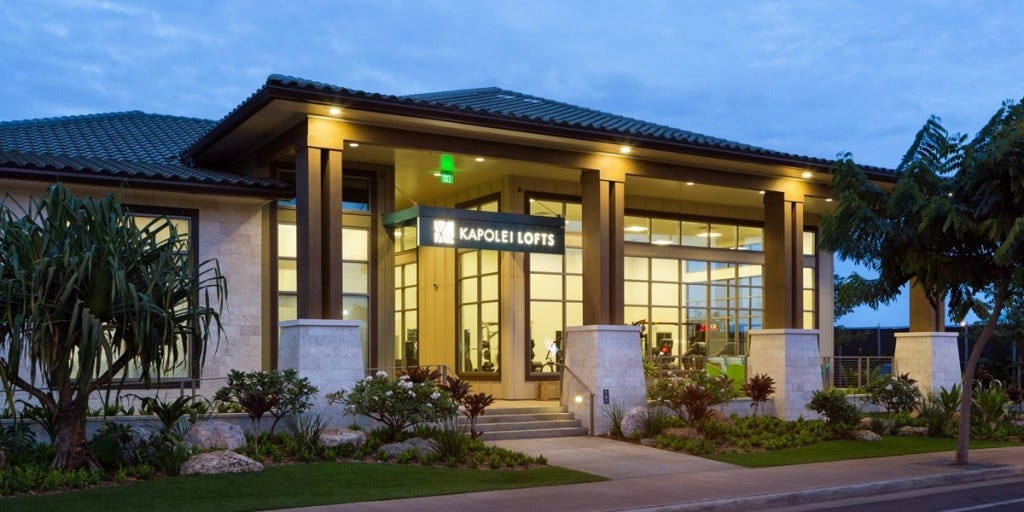 An up-and-coming community in Kapolei is hosting a free Energy Fun Fair tomorrow, highlighting energy efficiency and local technology, while giving residents their first look at the neighborhood.
Not to be confused with Hawaiian Electric's Clean Energy Fair, held in September for the 12th year, the Energy Fun Fair is the first public event hosted by the $140 million, 499 unit Kapolei Lofts project. It held its groundbreaking in January, and in August saw its first tenants move in.
The new 17-acre neighborhood is notable for offering only rental units, something that's sadly rare (and critically needed) in a city dominated by explosive luxury property development. Yes, rents in Hawaii are also incredibly high, but renting is still sometimes the only "affordable" option for people who want to call Honolulu home.
Kapolei Lofts has reserved 100 units for households with incomes at 80 percent and below the area median, and another 200 units for families at 140 percent and below. The other 199 units will be offered at market rents.
"It's a rental property for the people," Kapolei Properties president Brad Myers told KHON. "You're not going to see absentee owners here coming from the mainland -- these are people from Hawaii and from Kapolei and to me, that is what this is all about."
The mid-day fair will feature high school robotics demonstrations (courtesy Kapolei High School and Island Pacific Academy), informational booths and interactive displays, food (featuring the Mega-Load Burgers food truck), games, and prizes. Participating companies and organizations include Hawaiian Electric, Hawaii Energy, Kanu Hawaii and its spinoff Shifted Energy, SolarCity, Chargepoint, and the state energy office.
In fact, Shifted Energy -- a local startup -- has its first real-world installation at Kapolei Lofts. Its innovative technology, backed in part by the Energy Excelerator program, turns water heaters into energy storage systems (rather than one of the heaviest consumers of energy in a home).
"When the windmills are going full tilt at three in the morning and none of us are watching TV or having toaster ovens going, that electricity is being stored in the water tanks and it gets distributed later," explained John Wallenstrom, president of developer Forest City Hawaii, on Wednesday on Hawaii Public Radio.
"It's been wonderful," he added. "As a startup we worked with them and worked together very cooperatively =- he was also instrumental in that partnership -- and took them from a startup to something that's pretty big."
Of course, the Energy Fun Fair will also give developer Forest City the chance to show off its Kapolei Lofts model units and their energy-saving features, from "demand response" smart controllers, a 2.5 megawatt photovoltaic energy system (one of the largest in the country), electric vehicle charging stations and a car-sharing lot.
You can listen to our full interview with Wallenstrom at the top of the latest episode of Bytemarks Cafe.
The event will run from 11 a.m. to 2 p.m. tomorrow, Saturday, Nov. 13., at Kapolei Lofts (761 Wakea Street). If you register in advance online, you'll be entered to win additional prizes. For more information, visit KapoleiLofts.com, or connect with the project on Facebook, on Twitter, or on Instagram.