Discover more from Hawaii Bulletin
Island innovation in focus. Hawaii-based science, technology, startups and entrepreneurs, featuring local leaders, creators, educators, and more.
Over 5,000 subscribers
Epic "LOST" Fan Bonnie Craft Passes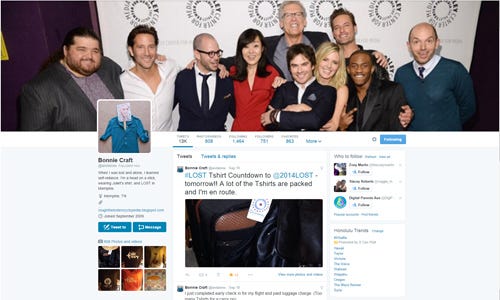 This was an incredible week for "LOST" fans. With the 10th anniversary of the hit TV show came dozens of tributes from all corners of the world, including a fantastic package of stories by the Honolulu Star-Advertiser. The Lost 2014 tour, years in the making, brought hundreds of fans to "The Island" to revel in their fantastic fandom. And while Jen and I were unable to participate directly, we were able to meet up here and there with many visiting "LOST" addicts.
Unfortunately, the fantastic "LOST" fan gathering wraps on a sad note, with news coming today that one of the show's biggest fans has died. Cancer Gets Lost, founded by friend and fantastic person Jo Garfein, announced the death of Bonnie Craft.
Bonnie was quite possibly the world's most dedicated LOST fan and this community was her family... Bonnie and her passionate enthusiasm will be missed, and we know that the entire LOST community shares our grief for this tremendous loss.
Indeed, Bonnie was a huge fan of "LOST." Beyond huge, easily epic. On Twitter as @andalone, she was a constant, passionate, positive voice for "LOST" fans. She wrote extensively about the show and her massive "LOST" memorabilia collection on not one, but two blogs. In the weeks leading up to the Lost 2014 tour, she could barely contain her excitement about making the trip from Memphis, Tennessee to Honolulu.
How excited? She posted a "LOST" T-shirt every day for over 50 days, counting down to the big trip.
Woulda shoulda coulda been posted Saturday in the #LOST Tshirt Countdown to @2014LOST (56 days) Set Dressing Crew pic.twitter.com/C5UDzyVVhS

— Bonnie Craft (@andalone) July 30, 2014
#LOST Tshirt Countdown to @2014LOST - tomorrow!! A lot of the Tshirts are packed and I'm en route. pic.twitter.com/rr5861Whe5

— Bonnie Craft (@andalone) September 19, 2014
Unfortunately, her flight was delayed on Friday, and she wasn't feeling well. Her fellow fans reached out to her often, but she wasn't able to participate in much of the program. She didn't post to Twitter after Saturday, and today her sister reached out on Twitter to try and find more information. Not long afterward, Cancer Gets Lost announced that she had passed away.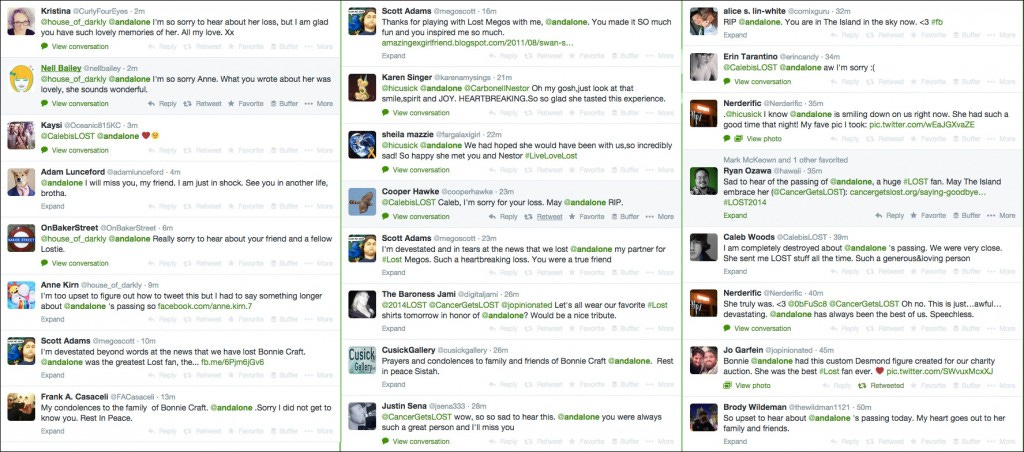 The outpouring of grief on Twitter and on her Facebook page is heartbreaking, yet heartwarming. Perhaps one of the more notable message for Bonnie came from Henry Ian Cusick, one her favorite actor from the show.
So sad to hear about the tragic passing of Bonnie Craft @andalone - our thoughts and prayers with her and her family. pic.twitter.com/YuNZXTf2nr

— Henry Ian Cusick (@hicusick) September 25, 2014
As one fellow fan posted on Facebook, "She absolutely would be screaming!"
"LOST" fans are truly a tight-knit and global community, in both love and loss. My condolences to Bonnie's friends and family.