Discover more from Hawaii Bulletin
Island innovation in focus. Hawaii-based science, technology, startups and entrepreneurs, featuring local leaders, creators, educators, and more.
Over 5,000 subscribers
Photography Festival Set for Saturday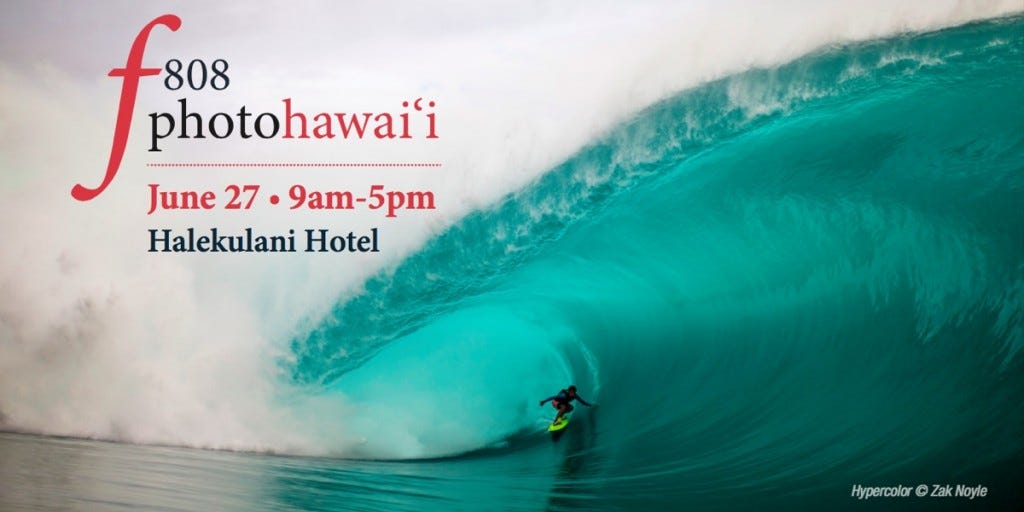 In an effort to forge a stronger connection with and among local photographers, the Pacific New Media program at the University of Hawaii is hosting its first one-day "open to all" event on Saturday.
The f.808 Photo Hawaii festival is designed "to inspire and educate community members about art, photography, and technology," bringing together photographers to exchange ideas, expertise, and resources. The day will includes two keynote presentations by renown local freelance editorial photographer and artist Franco Salmoiraghi and professional surf photographer Zak Noyle.
Pacific New Media will present its first Lifetime Achievement Award to Salmoiraghi during the festival, celebrating his 50-year Hawaii photography career.
There will also be a number of panel discussions:
The Changing Face of Photojournalism and Documentary Photography (P.F. Bentley, Ed Greevy, Krystle Marcellus, moderator Hugh Gentry)

New Directions and New Talent (Alison Beste, James Jensen, Andrew Rose, moderator David Ulrich)

In the Water (Brian Bielman, Wayne Levin, moderator Zak Noyle)

Intersections: Mobile Technology, Social Media, and the Photograph (Michael Gilbert, Tina Mahina, Dallas Nagata White, moderator Ed White)

Lifestyle: Fashion and Portrait (Mike Adrian, Tony Novak-Clifford, Tracy Wright Corvo, moderator Ric Noyle)

Photo Editing for Publication (Cody Kawamoto, George F. Lee, Kristin Lipman, moderator Matt Mallams)

Professional Practices for Commercial, Editorial, and Art Photography (Tony Novak-Clifford, Ric Noyle, Andrew Rose, moderator David Ulrich)
And in addition to the formal program, the event will feature "shorts" -- slide presentations by photographers Alison Beste, Cheyne Gallarde, and Chase Norton -- as well as vendors pitching the latest photography gear and software.
The event will be held at the Halekulani Hotel from 9 a.m. to 5 p.m. on Saturday, June 27. For details, visit f808photohawaii.com, and you can register online or register by phone by calling (808) 956-8400. Tickets are $75.
Want to know more about f.808 Photo Hawaii? Tune into Bytemarks Cafe on Hawaii Public Radio tomorrow at 5 p.m., when David Ulrich will join us on the air to tell us all about it!