Family Sunday Features Duke Kahanamoku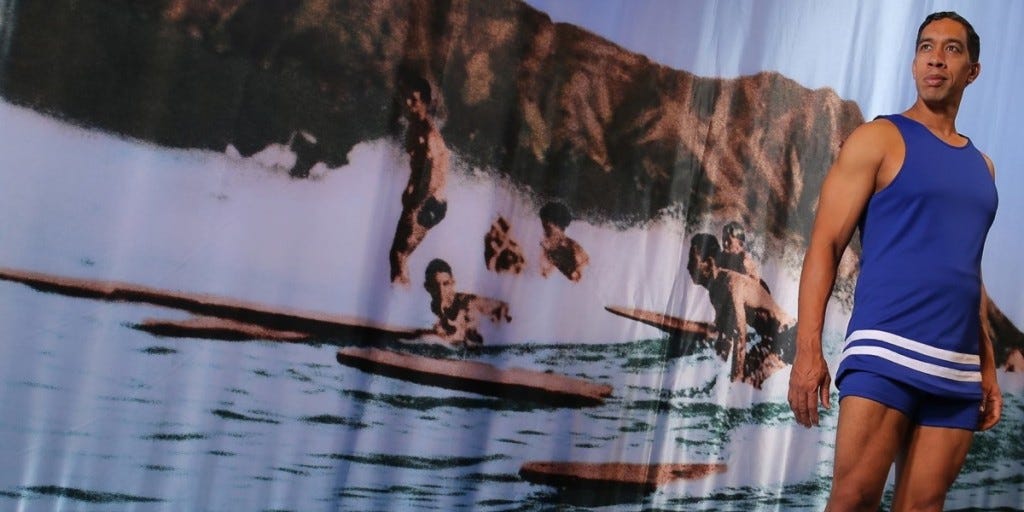 Bishop Museum's popular "Family Sunday" will celebrate Hawaii's most celebrated surfer and athlete, Duke Kahanamoku. The museum grounds will be buzzing with educational activities, informational booths featuring local community groups, live music, and food trucks and food booths.
As noted here in August, Bishop Museum unveiled an original historical and multimedia exhibit exhibit titled "Duke Paoa Kahanamoku," all about the man. Housed in the J.M. Long Gallery, the exhibit includes archival documents, photos, and videos, assorted artifacts (from his surfboard and athletic trophies to his 'ukulele) and interactive displays.
The story of the original "Ambassador Aloha" has proven so compelling that the museum has decided to extend the exhibit from its original end date of Nov. 30 to the end of February instead. And if you haven't yet checked it out, "Family Day" is a great opportunity, since admission is again only $5 for kama'āina and military visitors (general admission is usually $19.95).
"Family Day" treats include live entertainment by Maunalua, Mike Love,Kailua Bay Buddies, and Men in Grey Suits (emceed by Mandy Suganuma from KUMU), and food by Sweet Revenge, Bobalicious, Ono Pops, and Camille's on Wheels (as well as Bishop Museum Café which features a Hawaiian menu by Highway Inn).
But Kahanamoku's life will fuel a number of special offerings, from the main exhibit (with a chance to meet exhibit designer Michael Wilson from 9 a.m. to 11 a.m.) to the related "Surfing through the Ages" exhibit in Hawaiian Hall (with guided tours at 10 a.m., 11 a.m., and noon). At 1 p.m., museum cultural educator Moses Goods will take on the persona of Kahanamoku in "Meet Duke," followed by a special presentation by Hawaii Theatre for Youth, which will perform an excerpt from its current production, "Duke."
There will also be screenings of two documentary films in the Atherton Hālau: "Duke Kahanamoku: Hawaii's Soul," originally produced by KGMB and narrated by the late Bob Sevey, at 10 a.m., and at 11 a.m., "Kahanamoku: A Legacy of Healing," written and produced by Emme Tomimbang Burns, which tells the story of a dozen Kahanamoku scholars.
Building upon the ocean theme, city lifeguards will be on hand demonstrate ocean safety, and Pearl Canoe Club will demonstrate canoe making and restoration. And, of course, you'll be able to explore Bishop Museum's other collections and offerings, including the Science Adventure Center, the planetarium show "Wayfinders" (focused on traditional Hawaiian navigation), and special tours of its Ocean Science Collections.
"Family Day" runs from 9 a.m. to 2 p.m. on Sunday, Nov. 9. Note that this will also be the first "Family Day" under Bishop Museum's new paid parking program, with a $5 fee for on-campus parking per car per visit. You can park for free nearby at Kapālama Elementary School and Damien Memorial School.
For more information, check out the "A Day With Duke" information page on the Bishop Museum website. You can also connect with the museum on Facebook, or follow @bishopmuseum on Twitter.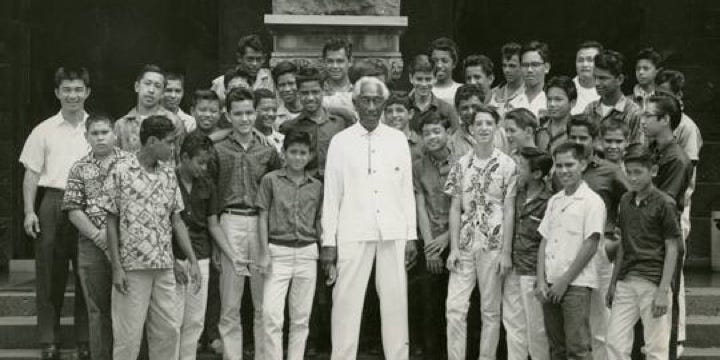 Photos courtesy Bishop Museum on Facebook.