Robots return to the arena this weekend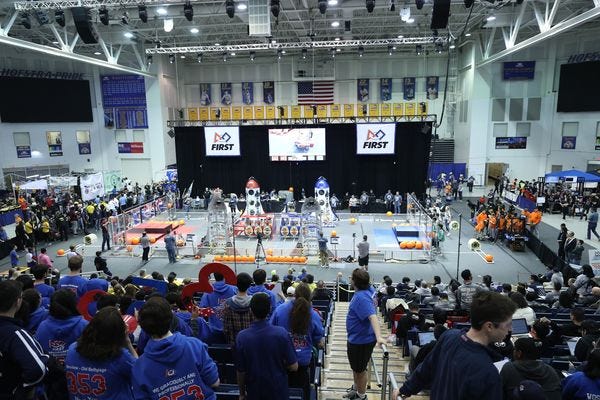 Want to chat about tech and startups in Hawaii? Join Hawaii Telegram, my new public Telegram group. There's also Hawaii Slack!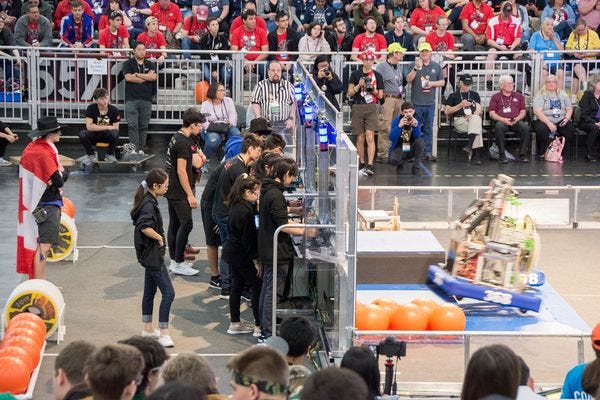 The 2019 FIRST Robotics championships. Photo courtesy Hawaiian Electric.
If two years of pandemic lockdowns have you itching to get back into the stands at a stadium, cheering as you watch teams square off in battles of agility and smarts, I've got just the ticket.
This weekend brings the FIRST Robotics Competition Hawaii Regional back to the Stan Sheriff Center in Manoa.
It's not exactly the Super Bowl, but it's also not a sedate affair, with families and friends in the stands cheering for student teams that are pitting robots they built against each other in Rube Goldberg-esque playing fields.
"The energy level is going to be extremely high — high school kids are just enthusiastic to begin with, and that's one of the things that makes it so fun," Michael Collat, Hawaii FRC Regional Director, tells me. "They put so much of their sweat equity and sacrificed a lot of their personal time over the last few weeks, so they're passionate and care deeply about it."
There are team themes, mascots, signs and props. There are shrieks of triumph and defeat.
"You'll see a lot of energy, a lot of enthusiasm, a lot of yelling, a lot of what you what you would expect to see any kind of sporting event," Collat says.
But while there will be balls collected and thrown, and a lot of offense and defense, it'll be robots battling on the field — both piloted and running autonomously.
The bots are back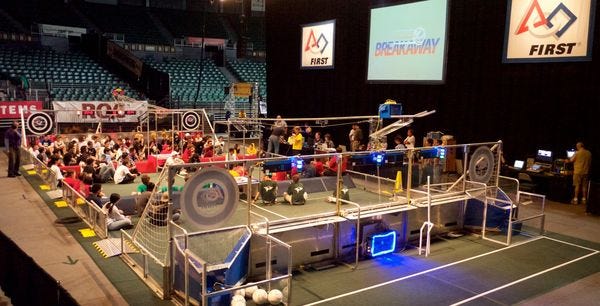 The 2010 FIRST Robotics championships. Photo courtesy Patrick Kelly.
This weekend's regional championships marks a long-awaited return to in-person play, after COVID-19 disrupted the FIRST Robotics program worldwide.
The 2020 season was suspended in March, an unprecedented disruption after more than 30 years of friendly competition. Last year's season focused on virtual challenges.
Because the FIRST Robotics season runs from January through April, it wasn't even clear that programming would return to normal in 2022.
"We were planning based on the trajectory of where things were going, thinking we were going to be able to have in person competitions," Collat says. "Last year when we started planning it was looking really good — before Omicron hit."
As a result, the season started quietly.
"We did not have an in person kickoff this year, like we have had done in the past," Collat recalls. "We used to gather everybody at o-dark-30 at the McKinley High School auditorium and watch the live broadcast together on the big screen."
In addition, organizers had to find a new way to distribute crates of robot parts.
"We had our St. Louis coach help us with the distribution of the parts kit," he explains. "Instead of in-person deliveries, we did a drive thru at the St. Louis campus, and the neighbor island teams flew over to pick them up because it was easier and cheaper than trying to ship everything."
Once local teams had the year's challenge and their parts, students had six weeks to design, build, program and test their robots, as well as promote their team and fundraise — mostly outside of the classroom.
"It's largely extracurricular, and it's expensive, and the teams have to figure out how to support themselves," Collat says.
While Hawaii's regional championships have drawn as many as 40 teams before the pandemic, this year the competition will host 23 teams from Oahu, Maui, Kauai, Hawaii Island, as well as Australia and Japan.
Indeed, FRC Hawaii organizers highlighted how local teams rallied and pooled resources to help the teams from Japan, who had to disassemble their robots and pack them in their luggage in order to make the trip. Hawaii students received battery shipments on their behalf, and schools provided shop space for assembly and practice.
"This represents the cooperative spirit of FIRST Robotics and the excitement of our local community in welcoming international visitors back to the islands," organizers said in a press release.
'Rapid React' 2022
Collat explains that each FIRST Robotics season has a different theme and course design.
"There are often very similar elements to it," he notes. "It usually involves shooting something, picking something up, moving it around, and putting it somewhere else."
The title sponsor of the 2022 season is Boeing, so the overall theme is transportation. The playing field includes areas called the hub, the tarmac, hangars, terminals and launch pads. The balls are cargo.
Named "Rapid React," Collat says this year's challenge includes all the usual components, plus a few twists.
"At the end there's there's a climbing piece where, if you can get your robot off the floor when the buzzer sounds, you get extra points," he says.
Also new this year, a First Lego League (FLL) Explore exposition on Saturday.
While high school teams battle for supremacy on the floor of the arena, younger students in the FLL Explore program for kids 6-9 years old will show off robots they built for their "Cargo Connect" challenge earlier this year.
FRC teams will also adopt FLL teams to give them an up-close look at their robotics future.
"The purpose of that is to get a little cross pollination, where the younger kids can see and aspire to what the big kids are doing, like going to a varsity game," Collat says.
Members of the public can tour both areas — with masks and covered shoes.
Why robotics?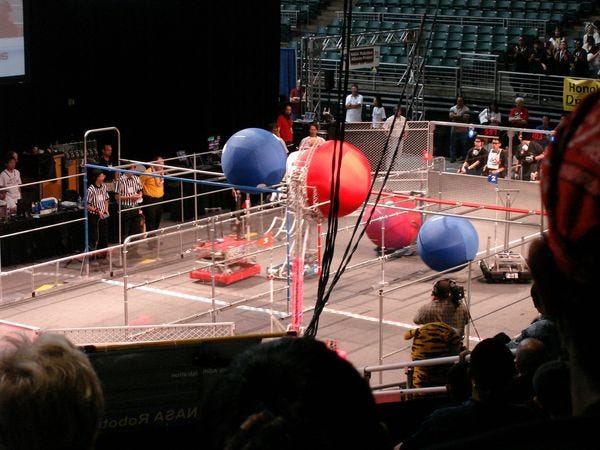 The 2008 FRC Hawaii championships. Photo courtesy Midorihana/Wikimedia Commons.
Collat reminisced about the history of student robotics in Hawaii, which took off in 2008 — not coincidentally, the year of the last financial crisis. Then-Gov. Linda Lingle and her administration saw it as a way to leverage TARP funding.
"They saw an opportunity to invest in the tech sector and build the workforce of the future," Collat recalls. "So they got some grants from the federal government through TARP that allowed them to stand up all these robotics programs."
The programs gained a lot of traction in the decade that followed.
"Hawaii, interestingly enough at one point, had the highest penetration rate of school robotics programs of any state," he says. There are still a lot of robotics programs out here, and the teams out here do really really well."
He notes that the Waialua High School robotics team is a recognized powerhouse.
"Waialua is the grandfather of all the of all the teams, they're the earliest FIRST team out here and they have this very, very robust program that's well respected throughout the world," Collat says. "They get automatic bids to the world championships because they've reached that stature."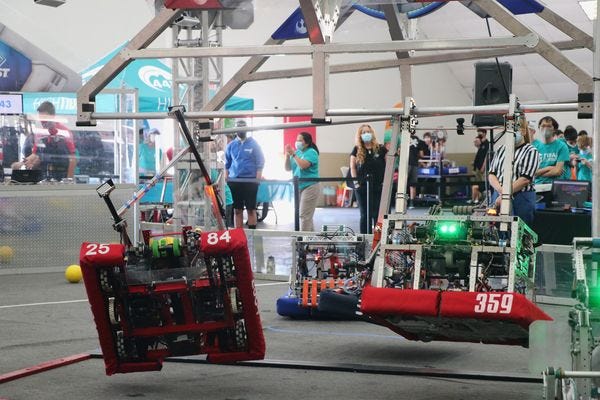 The Waialua High School robotics team at an off-season competition in California.
But do these robotics programs create the kinds of thinkers and innovators, the technologically adept workforce, that Hawaii needs?
"Yes, of course, absolutely it does," Collat says. And he's speaking from experience.
In addition to serving as Hawaii FRC Regional Director, Collat is also a Principal at Booz Allen Hamilton in Hawaii, where he leads the firm's Aerospace and Joint Combatant Command (JCC) business across the Pacific Rim.
"Booz Allen has really grown its footprint in its support of this program for that very reason," he says, switching hats. "We're a high tech consulting firm, and we need people to think and solve problems as part of a multidisciplinary team, and that's exactly what FIRST Robotics does — it's a perfect alignment for my company."
Indeed, while getting an internship at his company is not easy, having robotics on your resume clearly helps.
"FIRST has been disproportionately represented amongst our interns, and they've all become employees now," he says. "It's real life stories, not just theory."
Many students who participate in robotics in high school go into tech fields or study engineering in college, Collat says, and he notes that the University of Hawaii College of Engineering likely grew because of the increased demand generated by local STEM education initiatives.
"Part of it was always trying to stop the brain drain, which back started at the age of 18, because there were limited opportunities to pursue higher fields in the islands," he says. "So we're making progress, the bottleneck is a little further down, as we create the space for for kids to be able to get educated and have meaningful work here."
But while engineering is an obvious pathway for a student on a robotics team, Collat is quick to point out that they come from a variety of backgrounds and interests.
"There are coders, but there are a number of non-technical kids that are also part of the team," he says. "There's marketing, there's working with sponsors, there's a whole variety of things — it's an actual business enterprise."

Where and When
The public is welcome to the FRC Hawaii Regional, taking place at the Stan Sheriff Center at UH Manoa.
On Saturday, April 2, the FLL Explore Expo (6-9 year olds) will be held from 9:00 a.m. to 11:30 a.m.

FRC Hawaii Regional qualification matches will be held from 1:00 p.m. to 5:45 p.m. on Saturday, April 2.

Finally playoff matches will be held on Sunday, April 3, from 9:00 a.m. to 11:30 a.m.
UPDATE: A segment on the event aired on Hawaii News Now!
Header photo courtesy Anadolu Agency/Getty Images.