Discover more from Hawaii Bulletin
Island innovation in focus. Hawaii-based science, technology, startups and entrepreneurs, featuring local leaders, creators, educators, and more.
Over 5,000 subscribers
FoundHer accelerator celebrates achievements of first cohort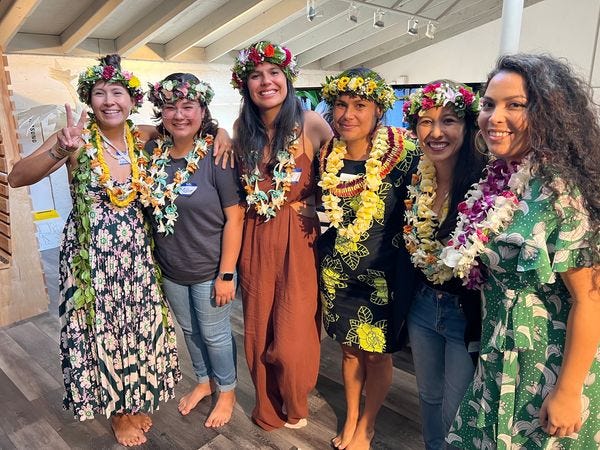 If you've been reading Hawaii Bulletin on the web, subscribe today to receive each edition by email. And if you know of a great local story, please drop me a line!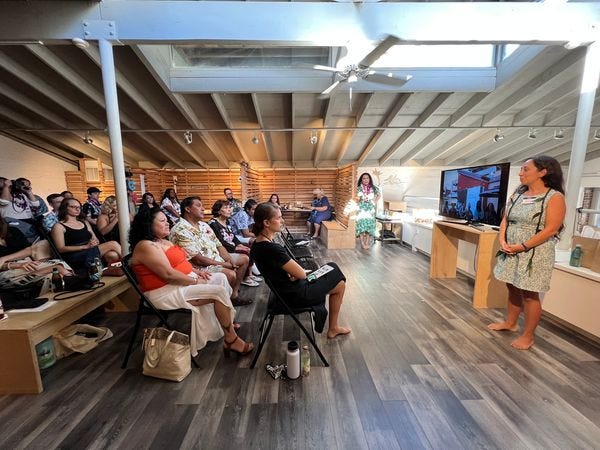 Saturday's FoundHer program celebration at Native Books Hawaii.
"It's about innovation," said Kelsey Amos, co-founder and COO of the Purple Maiʻa Foundation. "It's about figuring out what we're going to do that's going to make this world better for the next six, seven, eight generations from now — they're watching, and they're going to feel the effects of what you did and said here today."
Amos was standing before a broad cross section of Hawaii's innovation ecosystem, finally gathering in person in the Ka Waiwai Nuʻuanu coworking space in Chinatown yesterday.
It was a celebration of the first graduating class of the Hawaii FoundHer accelerator program.
It was impossible not to get swept up in the emotions as the five female entrepreneurs, whose selection I covered in October, shared the highs and lows of their six-month experience in breaking boundaries, building their businesses, and connecting and collaborating with each other and the community.
Founding FoundHer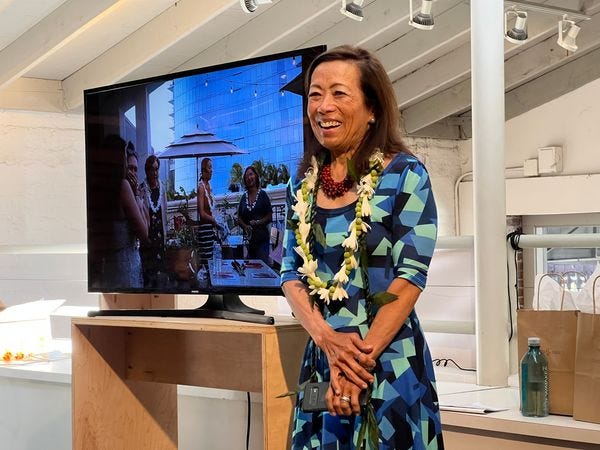 FoundHer cofounder Gloria Lau.
"For those of you who don't know the story of FoundHer, it started during the pandemic," explained co-founder Gloria Lau. " Isabella and I were both at home and we have a little time to dream."
Lau, an experienced nonprofit executive who recently led the national YWCA organization, was talking about Isabella Hughes, co-founder and president of Shaka Tea (which was acquired by King's Hawaiian last month).
"Bella had her wish list of things she wanted to see for women business owners like herself, who were starting a business while at the same time being a wife, mother, and family caretaker," Lau recalled. "She reflected on what she wanted to see in a program that could help women entrepreneurs."
"I added to that my decades of typically being the only woman and the only non-white person in the room, trying so hard to be seen and heard," she said. "The struggle to feel worthy, to feel like I had a voice."
Lau continued: "As we thought about all of that, we said, 'What if we dared to dream to at least try to fix some of those things, to make things better for women entrepreneurs,' and so FoundHer was born."
She reiterated the unique components of the program, which was launched last year in partnership with Purple Maiʻa:
It's a business accelerator program for women entrepreneurs, providing mentorship and skill building.

It's especially for women of Native Hawaiian, Pacific Islander and Asian descent.

It provides a $20,000 grant of capital that has no strings attached.

It provides $4,000 in stipends for childcare.
"When we look around, it's the only accelerator program in the country that puts together that unique set of elements," Lau said. "We made it all happen in the space of two years, and here we are today to graduating our first group of amazing women founders."
Words of affirmation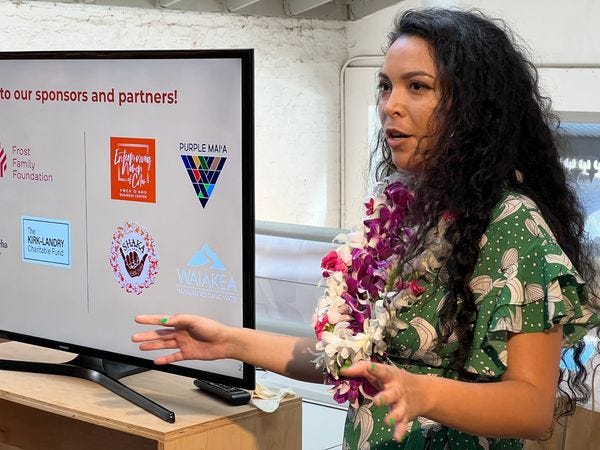 FoundHer program manager Darien Siguenza.
Lau noted that women entrepreneurs in Hawaii face many challenges.
"Not only are they trying to grow a business, but they're here in what is seen by some as the middle of nowhere," she said. "And in the broader world, Native Hawaiian, Pacific Islander, Asian women aren't really provided with great opportunities.
"To be able to put all of that together and to see what all of you founders have done, I just want to say a heartfelt congratulations and thank you with all my heart and in tremendous pride in what you have accomplished," Lau said.
Hughes, who was unable to attend the celebration, asked Lau to read a message to the group.
"You are a truly extraordinary group of leaders and changemakers our community in the world need right now," Hughes wrote. "Thank you for giving life to your ideas, and showing that when done right, business can be a powerful and abundant force for good."
In congratulating the FoundHer founders, Amos confessed that there's a reason she'd hadn't met them in person until yesterday.
"You might remember my face from Zoom calls or something, but I haven't actually gotten to talk to you and it's because I'm scared of you," she joked. "You're all so amazing, and personally inspiring, and I want you to know that."
Amos said the FoundHer program has given her hope.
"I'm excited about everything that you guys are taking on, the approaches that are different in business and in life, and the things that you're balancing, being moms and being entrepreneurs," she said. "I just want to honor and uplift that."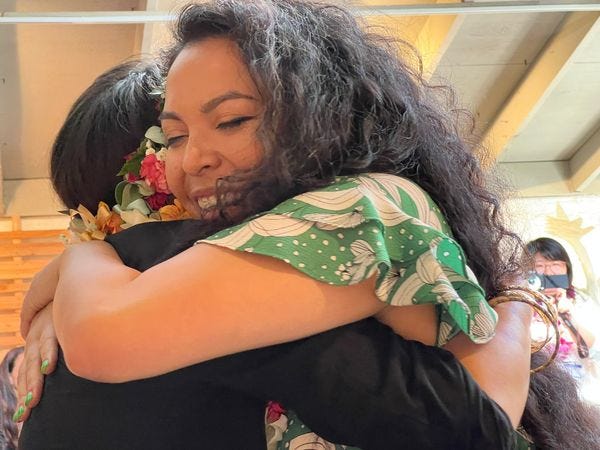 Siguenza embraces Lehia Apana, founder of Polipoli Farms.
Darien Siguenza, FoundHer program manager, struggled at first to find the words to express her joy.
"I'm not usually a crier, so this is weird," she said, dabbing away tears with an embroidered FoundHer handkerchief that someone handed her. " I'm just so proud of you all, you're just such an inspiration to me, I want to be like you when I grow up."
Siguenza recalled seeing an ad for the program manager position on LinkedIn.
"When I saw the description for this program, I was like, 'Oh my gosh, this is for me, this is for women like me, I've never seen anything like this before,'" she said. "I had to jump on it instantly."
With the completion of the first cohort, she said her expectations were soundly surpassed.
"I knew that it was going to be something extremely impactful, but I had no idea that it was going to be on this scale," Siguenza said. "The five of you individually already are so impressive, but collectively? My favorite thing that's come out of this is the community, the bond that the five of you have built with each other."
Although team building and collaboration are core tenets of any accelerator program, Siguenza noted that the FoundHer founders embodied those principles naturally.
"From the beginning you all started supporting each other, we didn't even have to facilitate any of that," she noted. "That is just something that I think none of us could have predicted — there just could not have been a better first cohort for this program."
Before presenting each founder and their accomplishments, Siguenza acknowledged that entrepreneurship isn't for the faint of heart.
"The road of entrepreneurship is hard — it can be challenging, it can be lonely — but you know you have everything that you need within yourselves to make it happen," she said. "I'm also happy that you will have this community, if you look around this room, everybody is here for you, everybody's here to celebrate you."
Six months of struggles and success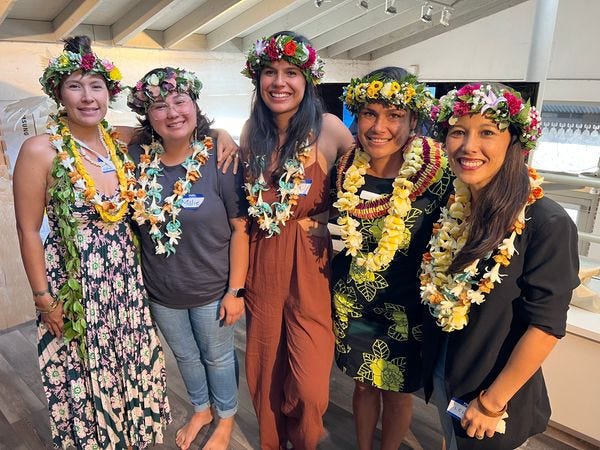 In the lead up to yesterday's celebration in Chinatown, Siguenza had been providing me with updates on the first FoundHer cohort's members and the milestones they reached during the program. These were recapped at the event, where founders also reflected on their experience and outlined their plans for the future.
"I had no idea how much I needed this program," said Grace Young, founder of CBD skincare product startup ʻĀina Organics. "I had the highest amount of sales during this program, and it made a really big difference in my life, and my family's life, and in my small business."
ʻĀina Organics found retail partners on all the main islands in December, and also filed for its trademark. Last month, the company picked up seven new wholesale accounts, and also launched its newsletter, already reaching over 200 subscribers.
Young said she's now planning to update the company's packaging, and hopes to find a CBD supplier and get her products into local dispensaries.
"I'm so proud to say I found my value through this program," Young said, paying tribute to her mother and her struggles and achievements.
"This program is so much more than mentorship and money, it gave me the one thing I've always searched for: someone to recognize and give me the value I have always wanted," she said. "Now I can give this to my daughter, and they will be a part of the fight and the solution."
A regenerative enterprise committed to helping people connect to Hawaii's agricultural landscape, Hawaii Farm Trails launched an online marketplace in November, and expanded into corporate and individual gifts the following month. Most notably, the company opened Onomea Market & Cafe two weeks ago, onboarding eight employees.
"I have now worked harder in the last six months than I thought was even possible, to scale the business to where it is now," said founder Kalisi Mausio. "Going from just a mom at home, looking after the kids, working late at night, to a company of nine of us with a store, with a retail location."
"Even though we've only been partly open for less than a month, we have made more this month than we have in the last year," she added.
Energized by the capital infusion from FoundHer, Mausio also announced that Hawaii Farm Trails has raised over $550,000 in grants.
She said she plans to expand the agritourism side of the business, establish a food hub, and help recruit and train new farmers.
Until FoundHer, Kokua Diaper founder Melelani Jones did everything herself, including delivering every cloth diaper to customers across Maui. Now she has finally hired a delivery driver, freeing up time to focus on growing her business. She's grown her client base by 30 percent, revamped her website and stepped up her marketing on social media marketing.
"I wouldn't have made certain leaps in my business if it wasn't for the support that I had in this program," Jones said. "You know that you're capable, we're all capable of doing these things, but you need cheerleaders, you need support, You need that guidance, and I am forever grateful."
Jones said she will soon hire an accountant, and begin work on establishing a brick-and-mortar location on Maui.
"I see Kokua Diaper coming to Oahu, Oahu I'm coming for you," she added. "Once I get here, we can bring diaper service to more rural areas, and soften the blow on our beautiful place that we live in."
In the middle of the FoundHer program, Polipoli Farms on Maui suffered massive losses as the result of a storm.
"On December 6, 2021, I remember waking up that morning and just walking outside, and seeing devastation, snapped trees, fallen trees everywhere, our mamaki that we treat like children flattened to the ground," founder Lehia Apana recalled through tears. "We were just emotionally devastated along with the farm being devastated — it was the lowest point that we've had on the farm."
But just as quickly as the storm passed, supporters rose up to help.
"We got the calls and the texts and the reaching out and the 'what can we do' started happening, and a lot of people in this room were the ones to reach out to us or support us," she said. "I don't know where we would have been, how we would have picked ourselves up, if it wasn't for this collective that we had around us."
Now, Polipoli Farms has quadrupled its production of mamaki, thanks in part to a tractor they purchased to help with storm clean up. They were also able to clear out a large area of invasive trees, creating a space to establish an agroforest for future farm tours.
Apana says they are now planning and planting out the rest of their farm to increase production of value-added products, and are looking ahead to hosting visitors and school groups.
"I've been part of other business programs, other accelerators, and this is a whole different thing," said Maile Sarsona, founder of Waimea Herb Co. "You can see the things that we've accomplished in six months, and a lot of companies can't accomplish that in twice the amount of time."
The FoundHer accelerator helped Maile Sarsona invest in equipment that allowed Waimea Herb Co. to increase production from 32 tea bags a day to 76 an hour. The company tripled its supply chain since starting the program, and has also begun a rebrand with a new logo and new packaging.
Sarsona says she hopes to open a tea shop, and wants to play a larger part in Hawaii's tea and agriculture industry.
"I can't wait to look back on this and be like, 'This is one of the best six months, one of the best times of my life,'" she said. "We are not going to stop here, we are too close for that."