Discover more from Hawaii Bulletin
Island innovation in focus. Hawaii-based science, technology, startups and entrepreneurs, featuring local leaders, creators, educators, and more.
Over 5,000 subscribers
Fourth Fringe Festival in February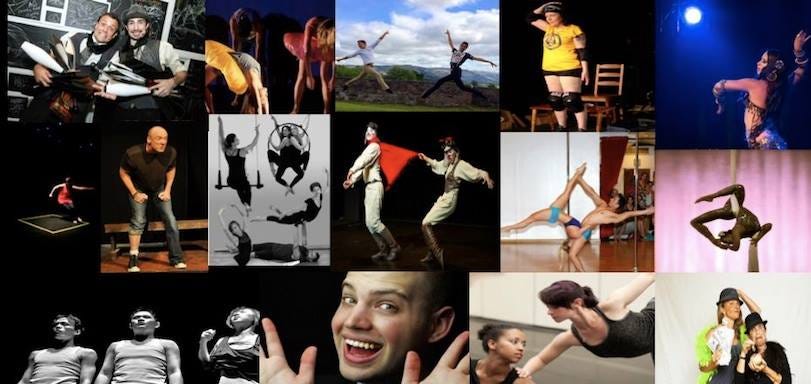 The fourth Oahu Fringe Festival , a celebration of live performing arts, is set for February 12-15, 2015, and this year, the festival will expand from Chinatown into Kakaako.
I've followed the evolution of the festival since the first one came together in 2011. Modeled after the Edinburgh Festival, which goes back more than 65 years, organizer Misa Tupou works throughout the year to build a diverse program.
"Putting on this event is a labour of love -- Fringe is an all volunteer event," Tupou writes.
For 2015, the program features 18 productions across six different venues: Ong King Arts Centre, Polearity Studio, NextDoor, The Dragon Upstairs, The ARTS at Marks Garage, and in Kakaako, Aloha Dancesport Centre on Ward Avenue and Kakaako Agora on Cooke Street.
"With the growth of the art scene in Honolulu our expansion of Fringe this year reflects that new development... Chinatown and Kaka'ako are still within reach of each other which allows easy accessibility to move between the venue's locations," says Tupou. "This proximity also encourages audiences to venture out and see other acts they may not neccessarily see at these venues."
"With this expansion there are more responsibilities... we do have the volunteer team to create this platform, but we can only do so much on a limited budget," Tupou adds.
So once again, there is an Indiegogo crowdfunding campaign to support the festival, with a very modest goal of $2,000 over the next ten days.
Performing for the first time are the Castle Dance Ensemble, Kinetic Flow, the Beth Elliott Dance Group, A Little Bit Off, Rebecca Lee MacCarthy, Cody Melcher, the Miraas Contemporary Circus, Think Fast Improv, Mima Dance, The Kidney Stoners, and Polearity Studio. They are joining returning acts Divino Ritmo Dance, Convergence Dance Theatre, PlayBuilders of Hawaii Theater Company (featuring artist-in-residence Sheenru Yong), Spatial Sculptors, Jim Loucks, Lucie Lynch (performing with Marcia Zina Mager) and Shakti Dance Movement (with Samadhi Aerial Dance).
"These artists presents shows that are suitable for all ages, and we have dedicated Sunday, February 15 as our Family Fringe Day," Tupou notes.
Tickets are $10 per performance or $100 for an unlimited "Fringe Pass" (plus an online ticketing fee). For more information, visit the Oahu Fringe Festival website, or follow the festival on Facebook or on Twitter.
Photo courtesy Oahu Fringe Festival on Facebook.