Discover more from Hawaii Bulletin
Island innovation in focus. Hawaii-based science, technology, startups and entrepreneurs, featuring local leaders, creators, educators, and more.
Over 5,000 subscribers
Google Street View Team Back in Honolulu [Updated]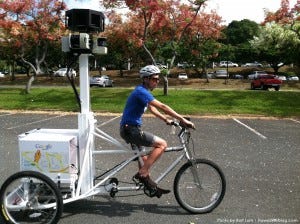 Google Street View is going off-road in Hawaii. Or, at least, on college campuses on O'ahu.
My friend and radio co-host Burt Lum snapped the above photo this morning on the Kapiolani Community College campus, where the Google Street View Trike is now riding through all of the school's walking paths and quads. Meanwhile, a Google Street View car (this Hyundai Santa Fe) is mapping all the campus roads and parking lots.
The word went out earlier this month that Google's Street View Partner Program had asked the University of Hawaii whether it wanted to participate in the Google Street View program. Kapiolani Community College, Leeward Community College, and Honolulu Community College were among the campuses that volunteered.
I hope the flagship UH Manoa campus, with its wonderful mishmash of architecture, will also be represented. And if the neighbor islands are not included, they should be in a future trip. I'd love to be able to take a virtual stroll around UH Hilo in Google Maps.
UPDATE: David Lassner tells me that the Manoa campus was the first to be mapped, and that Google will be visiting all the campuses on Oahu (except the yet-to-be-built West Oahu campus) before, hopefully, visiting the neighbor islands, too.
Google's unmistakable camera-carrying cars were first spotted on Hawaii roads back in the spring of 2009, and in the fall, Google Street View in Honolulu went live. The company has gone on to add streets on Maui and the Big Island as well.
No word on when these new UH campus maps will be online, but surely within ten to twelve months.
I do hope Google revisits the entire island again in the near future. Roads change, for sure, but as a personal aside, I'm a little miffed that they did such a thorough job of imaging the island -- going as far as driving down Ian Lind's narrow dead-end street in Kaaawa -- but completely skipped Mililani Town, one of the largest communities in the state.
(That they mapped the newer Mililani Mauka development before driving straight through my hometown only added geeky insult to geeky injury.)
On the other hand, considering the condition of our backyard, it's probably for the best.