Hank's Haute Dogs Bowing Out for Now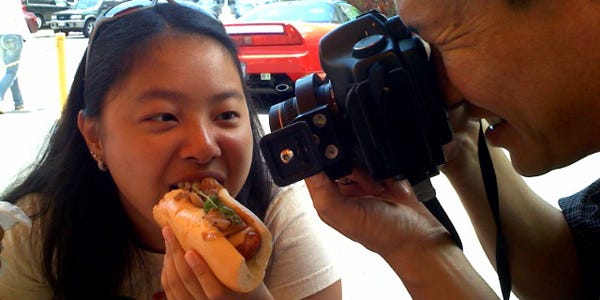 The first person to urge me to check out Hank's Haute Dogs in Kakaako was local business reporter and fellow foodie Erika Engle, who emailed me eight years ago this week with a one-word review: "Yum!"
Hank's had just opened, and was heralded as a Honolulu dining milestone. Founder Henry "Hank" Adaniya came to Hawaii from Chicago with solid chef cred.
As intriguing as the then-novel idea of gourmet hot dogs was, it was an unusually hard sell for me that summer. I had just started working at Hawaii Information Service in the Dole Office Building in Iwilei. The area was, and still largely is, a culinary wasteland when it came to mid-day weekday lunch options, but its proximity to Costco made its famous $1.50 hot-dog-and-a-drink combo pretty compelling.
Hank's Haute Dogs were smaller, and much more expensive. But, I had to admit once I finally visited, they were also much more delicious. Genuine Chicago Vienna hot dogs, Polish dogs, steamed Bratwurst, grilled Chorizo... heck, even though I wasn't crazy about the famous foie gras dog and duck fries, I knew I had to at least try them.
In 2010, Hank's was featured on "Diners, Drive-Ins and Dives." Just last year, Hank's was named one of the top ten hot dog stands in the country.
There was a second location in Waikiki for a while, and he recently opened up a stand on Maui at the Sheraton resort in Ka'anapali. But Hank's Haute Dogs is a Kakaako landmark, celebrated from the beginning as an opening act in a planned transformation of the neighborhood. A transformation that landowner Kamehameha Schools said would create "a progressive, twenty-first century living community that will act as a catalyst for innovation and nurture the evolution of a vibrant urban-island culture."
Whether that vision is achievable has yet to be seen, but the transformation is well under way. And now that transformation is also displacing Hank's from its current location on Cooke Street.
"When I came to Kaka'ako, there was not much around, and look around now, cranes everywhere." Adaniya says in a press release. "We've had a lot of good years in this shop with plenty of fond memories so it's sad to be moving out."
The last day of business will be on Friday, Aug. 14, after which "SALT at Our Kakaako" will start turning the whole block into an "epicenter for local culture, food, shopping and innovative events... designed for exploration and engagement."
While Hank's is expected to move next door later this year, there's no projected reopening date.
Fortunately, there are still a few weeks left to enjoy Hank's unique creations. In fact, now's a good time to stop by, with July designated "National Hot Dog Month." And this Thursday, July 23, is "National Hot Dog Day."
Hank's will celebrate the occasion (decreed by no less than the National Hot Dog and Sausage Council) with a special $2 deal. a Hank's Frank, normally $3.95, includes "a premium all-beef natural casing hot dog dressed with Dusseldorf mustard (hank's favorite), Chicago green relish, diced onion and dill pickle spear."
For more information, visit hankshautedogs.com.