Discover more from Hawaii Bulletin
Island innovation in focus. Hawaii-based science, technology, startups and entrepreneurs, featuring local leaders, creators, educators, and more.
Over 5,000 subscribers
Happiness University to Bring Classes Online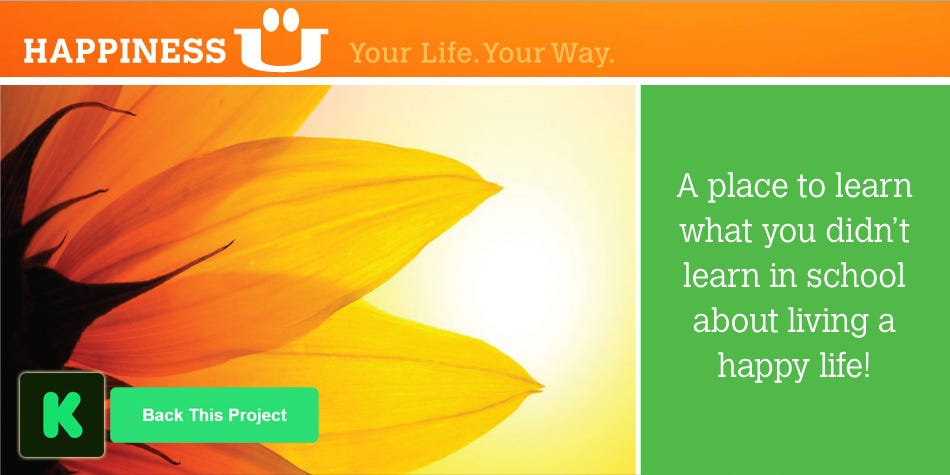 Fifteen years ago, on April Fool's Day, Alice Inoue lost her job as a television anchor and show host. Unfortunately, it was no joke.
"I remember going down to the unemployment office in a dazed shock, not sure what this meant for my future, and proceeded to fill out forms," she recalls. "These forms needed dates, so I turned on my PDA... a pop up showed a reminder note that I had put in there three years prior. It said, 'Change of life path. A 'facelift' to career and a new direction in life."
That message had come from a visit to a spiritual advisor and was entered into her digital planner while she was at the peak of her career. And it had popped up at the most potent moment of her life.
Her first thought was to ask, "How in the world could this guy have calculated this so many years ago?" And her second thought was that she wanted to provide that kind of insight and epiphany for others.
"This flash of insight was accompanied by a deep sense of knowing that my life would change because I knew I wanted to help people understand their lives in a very deep way," Inoue writes. "Seeing those words in my PDA gave me a sense of peace, that this was meant to happen, even though I was scared as to how things would unfold."
She went straight from the unemployment office to the bookstore, and bought every book she could find that might help. She started with astrology and feng shui, but moved on to ways to find answers from within. She read about, then attended, personal and professional development programs across the country, reading more than 200 books and investing hundreds of hours of training and practice into her new calling.
A small "life guidance" business soon grew into giving presentations to larger and larger groups in 2008, and from there she was writing regular columns ("Go Ask Alice" and "A Mindful Moment") as well as publishing a book every year, earning national acclaim.
All of this paved the way to Happiness U, which gave Inoue's vision a physical space to host and help others year round.
"Happiness U is a first-of-its-kind educational establishment and community hub in Honolulu that offers an inspirational place where you can learn things about life and happiness that you were never taught in school," explains the Happines U website. "Our offerings are designed to appeal to both those who are already doing great and just want a little positive support, as well as to those who are going through challenges and want to learn how to see things from a different perspective."

Located at the Gentry Pacific Design Center on Nimitz Highway, Happiness U is an 850 square-foot space that includes a 20-seat classroom, library, and lounge area. Organized classes are eld weekday evenings and in the afternoon on weekends. And while Inoue teaches the core curriculum, she also works with other teachers and subject matter experts to cover topics as diverse as nutrition, finances, relationships and even pets.
Happiness U offers 20 classes, broken up into four themes: Spiritual (including "Meditation and Affirmations" and "Universal Law"), Emotional ("Goodbye to Guilt" and "Boost Self-Esteem"), Physical ("Feng Shui" and "Clutter Clearing Plan") and Mental ("Avoid Distractions" and "Be Judgement Free").
People are finding Happiness U, and the program has found success over the past 18 months spreading its message through classes, events and gatherings -- all valuable face-to-face encounters and conversations. Now, Inoue wants to take her mentoring mission to the next level.
"We get emails, calls, and messages every day from people who want to know if our classes are available on line," Inoue writes. "Being a small start up, it would take us a long time before we could fund this, however, to make this happen sooner we decided to reach out to [the] Kickstarter community, to help us to get what we offer out to the world."
The Happiness University Online Courses crowdfunding campaign was launched on March 23 with a $15,000 funding goal. The money would help pay for the filming and editing of the class videos, design and production work for class notes and worksheets, an expanded website, and even a project manager and strategic planner.
Inoue's first 103 backers surpassed the funding goal on April 1, fifteen years to the day after inspiration struck her in the unemployment line. In order to keep the momentum going, Inoue said she would add an additional guest-taught class to the online curriculum for for every thousand dollars raised over the initial goal.
Today, with more than five days left to go, the campaign has raised over $21,000. And now, Inoue is sharing more details on what specific courses will be brought online.
"Words cannot adequately express the depth of our appreciation and gratitude for the loving pledges that have come in," Inoue wrote yesterday. "We are now able to fund five additional guest teacher classes."
Inoue's core classes remain the foundation of the online offerings. But the extra funding will add new faces and voices: Chad Sato on The Mind-Body Connection, Kimi Morton on Optimizing Your Time and Life, Max Gin on Mindful Meditation, Laine Kohama on Computer Health, and Janis Goto on All About Canines.
And Inoue says that one online class -- "Happiness Is..." will be made available for free.
To learn more about Inoue and Happiness U, you can watch this interview with Hawaii News Now from last month. She has also put some testimonials and sample class videos online: Irritating Relationship Clarity 101 and Healthy Money Mindset 101.
To become a backer, visit the Happiness University Online Courses campaign on Kickstarter. Rewards start at $15 for one online class and range up to $2,500 for "A Life-Planning Day with Alice."