Discover more from Hawaii Bulletin
Island innovation in focus. Hawaii-based science, technology, startups and entrepreneurs, featuring local leaders, creators, educators, and more.
Over 5,000 subscribers
Hawaii Geek Beat: Local Apps for Drivers, Gardeners
On this week's "Geek Beat" segment on Hawaii News Now, we featured more locally-grown apps. Of course, we could barely scratch the surface in explaining each, so here's more background on RouteView HNL, Pic-A-Papaya, and The Plant Doctor.
RouteView HNL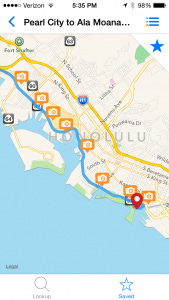 This app for iOS allows a simple and elegant way to check the view from the City & County of Honolulu's traffic cameras. The original RouteView app was a web-based app, born of one of the state's first "hackathons" (and supported by open data), and part of a slate of citizen apps promoted by the city.
But RouteView HNL, created by James Wang's local mobile development shop Slickage, moves the app onto iOS. For $0.99, you can easily scan the roads between you and your destination (provided it's covered by the city's camera network), and even save your regular drives for easy reference.
Pic-a-Papaya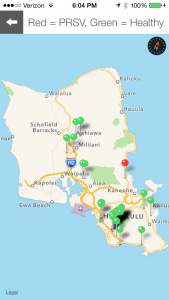 Papaya ringspot virus, that wiped out half the Big Island crop of papayas in the 1990s, is now relatively rare. But researchers at the College of Tropical Agriculture and Human Resources want to know where the disease still persists in Honolulu. So they've created the 'Pic-a-Papaya" app for both iOS and Android to help papaya growers to send in photos of their plants for a free diagnosis of papaya ringspot virus, or PRSV, and help create a map to show the distribution of infected plants.
The app (and accompanying outreach program, which includes the ability to request free papaya plant seeds) is aimed at determining how many papaya plants growing in home gardens or public areas are infected with PRSV, susceptible to the disease, or are genetically engineered.
The Plant Doctor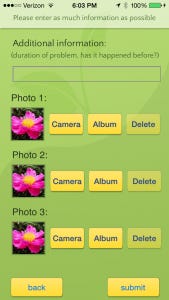 Also from CTAHR, The Plant Doctor is a free app for iOS and Android that allows users to take photographs and submit descriptions of sick plants anywhere in the world, and get a free diagnosis and suggestions to manage the problem.
The immensely simple app basically prompts you to take photos of the plant in question and send them in via e-mail. At the other end is just one person, Scott Nelson of CTAHR. It's not a particularly scalable arrangement, but it's pretty cool to know that you can get free information and advice from "a professional plant pathologist with a Ph.D. and more than 20 years of experience in the science."
We talked to Nelson along with Julia Parish of the Oahu Invasive Species Committee on this week's Bytemarks Cafe, exploring how technology can help address invasive species in Hawaii.
Bonus: Photo Play Hawaii
While we were at the Hawaii News Now studios, they were a couple of other interesting guests. First, they were hosting the Harlem Globetrotters, who are performing and visiting schools across the state this week. And they were also playing with a cool slow-motion video photobooth from Photo Play Hawaii. As you might guess, mayhem ensued.