Discover more from Hawaii Bulletin
Island innovation in focus. Hawaii-based science, technology, startups and entrepreneurs, featuring local leaders, creators, educators, and more.
Over 5,000 subscribers
Astronomy boosts Hawaii economy by $110 million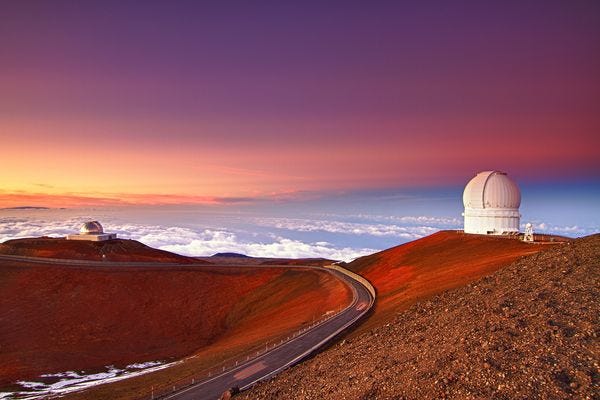 I'm always on the hunt for stories of local innovation and entrepreneurship! If you're building a local startup, organizing a local tech community, or hosting a STEM event, please contact me!

Economic studies aren't especially exciting, and don't usually make headlines. At least they didn't until the pandemic. Then, the work of a small economic research institute at the University of Hawaii was regularly cited by journalists, policymakers and politicians.
This week, that same group of researchers published an updated report on the impact of the presence and practices of astronomy in Hawaii, finding it "a sizable and stabilizing source of economic activity."
Despite the important and noble outreach efforts of the local and global scientific community, the public's understanding of the field of astronomy remains limited... and the relationship between them is especially complicated in Hawaii.
This new report, at least, puts some hard numbers behind the case for astronomy's value to the state's economy, showing that it's exactly the sort of non-tourism economic diversification that we need.
Not all heroes wear capes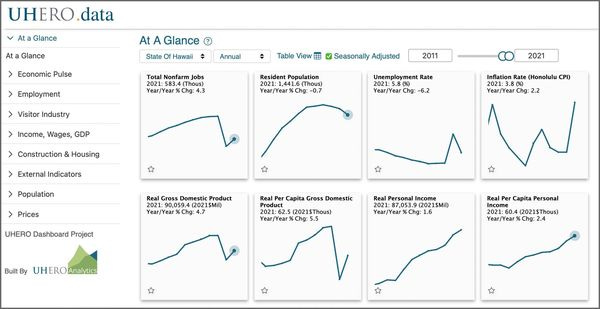 Founded in 1997, the University of Hawaii Economic Research Organization (UHERO) established itself as a credible source for forecasts and analysis in the Aloha State.
During the pandemic, the organization became a go-to source for assessments of, and predictions for, Hawaii's shaky economic health. Their latest statewide review, issued in March, said, "Our outlook for Hawaii is relatively upbeat."
Although UHERO also said "considerable risks remain," more than a few people breathed a sigh of relief.
The organization has weighed in on topics ranging from whether COVID-19 business mandates were effective to the greenhouse gas emissions attributed to electric vehicles to what a University of Hawaii degree is worth.
UHERO also tracks and analyzes a wide array of data sets and dashboards , maintaining a fulsome, up-to-the-minute dashboard among other online resources.
Assessing astronomy again

UHERO had previously focused its gaze on Hawaii stargazers in 2014. Compiled at the behest of the UH Institute for Astronomy (IfA), the robust original report concluded that "local astronomy related expenditures in calendar year 2012 were $58.43 million" — or $99.43 million adjusted for 2019 dollars.
"In addition to contributing to output, astronomy activities generated $52.26 million in earnings, $8.15 million in state taxes, and 1,394 jobs statewide," UHERO noted at the time.
A lot has changed since then.
For one, there are new astronomy facilities to account for: the Daniel K. Inouye Solar Telescope on Haleakalā, and two telescopes for the NASA-funded Asteroid Terrestrial-Impact Last Alert System (ATLAS).
Related Reading: New solar telescope begins scientific observations
Secondly, and more significantly, the new report out this week shows that UHERO widened is lens to account for more than the direct and indirect economic impacts, typically measured through expenditures.
"The astronomy industry also generates knowledge, expertise, and technology benefits for the wider economy," the researchers wrote. "These additional impacts are described as spillovers and underpin the case for public investment in research."
That's a big deal, according to IfA associate astronomer Roy Gal.
"The discussion of the spillover effects is entirely new compared to earlier UHERO studies, and I think shows the impact we have both within Hawaii but also globally."
Interestingly, the report released this week is titled, "Economic Impact of Astronomy in Hawaii: 2019 Update."
UHERO explains: "We examine 2019 expenditure since it is the last full year before the pandemic and better reflects activity in a typical year."
The latest data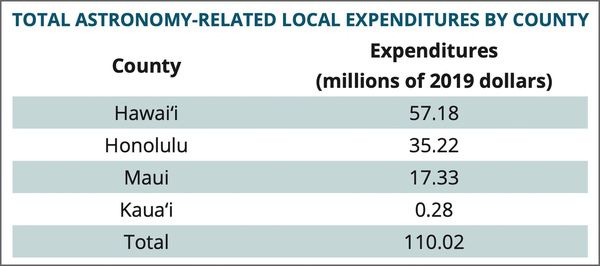 The bottom line? Local astronomy expenditures in Hawaii totaled $110.02 million in 2019, an increase of $11 million over the 2014 report.
"The difference in statewide spending can be largely attributed to higher expenditures reported in Honolulu and Maui counties," UHERO noted.
Those expenditures figures include astronomy facility operations and personal spending by employees, students, and visiting researchers, all adjusted for out-of-state and in-state imports.
When adding in "indirect and induced benefits and adjusting for inter-county feedback effects," UHERO says the astronomy sector had a total impact of $220.95 million on the output of goods and services in the state (up from $189.47 million).
Finally, UHERO again looked at what most people assume to be the entirety of an industry's economic impact: labor income, taxes, and jobs.
"Astronomy activities also generated $68.05 million in labor income, $10.10 million in state taxes, and 1,313 jobs statewide (compared to $58.99 million, $9.20 million, and 1,394 jobs respectively in 2012)."
As for those spillovers? The UHERO report goes into the follow-on effects of astronomy in great detail, focused on specific examples for each category. They include:
Network Spillovers: "The telescopes hosted on Maunakea and Haleakalā require access roads, communications equipment, and emergency services. However, astronomers are not the only ones who use this infrastructure and services."

Knowledge Spillovers: "The astronomy sector in Hawaii plays an important role in astronomy education. Education passes both tacit and codified knowledge spillovers to new people, who use their knowledge and skills in their subsequent work after they graduate."

Local Businesses: "The astronomy sector requires very precise and complex machinery and equipment. The technical nature and uniqueness of this equipment requires a close collaboration between astronomers and machinists to understand the specific requirements."

Research: "The benefits of spillovers occur over many years, so the spillovers included in current economic activity are a result of research projects that occurred over previous years and even decades. Similarly, the research project expenditure included in the current economic impact analysis may have benefits that will not be known for many years into the future."
UHERO also addresses the "importance of location" and limited mobility of the local astronomy industry:
The astronomy sector is closely tied to Hawai'i's geographic location because it requires a factor of production that is uniquely found in Hawai'i: locations possessing the ideal combinations of environmental and geographical factors for siting locations of high-powered telescopes, including high-elevation remote mountain tops, pristine air quality, and low light pollution. Therefore, it is a sector that is unlikely to relocate anywhere else.
This also means that it is an important research sector to maintain, because the industry, its spillovers, and its economic benefits are more likely to remain in Hawaii. If this sector were to decline in Hawaii, it would be unlikely to achieve the same economic benefits elsewhere. Nonetheless, global spillovers from the astronomy sector in Hawaii also provide important economic benefits to people around the world.
'Sizable and stabilizing'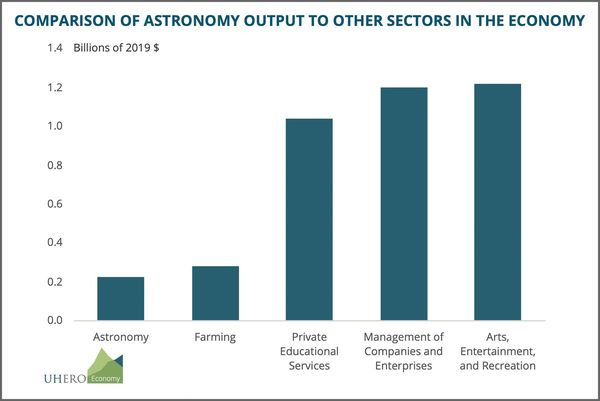 Gal said the figures prove that astronomy is a reliable economic generator for Hawaii, even as individual projects come and go, and especially when compared to weather- and pest-prone agriculture and pandemic-era tourism.
"The fact that the astronomy sector's economic contribution has remained steady, and even grown some, over the past decade is a good demonstration of how it is really a stable economic component," he told me.
UHERO noted that astronomy's impact is "equivalent to 78% of the total farming output statewide."
"I have often said in public talks that astronomy is comparable to agriculture in terms of economic impact, and this report confirms that," Gal said. "When people talk about removing all the observatories, they should realize that would have the same economic impact of closing all the coffee, banana, pineapple farms — can they imagine doing that?"
I asked Gal whether he expects the numbers will drop during the pandemic years, as they have in most other sectors.
"The observatories did close for some time, so their purchasing probably decreased, but they maintained their employee base since facilities and instruments cannot just sit around, and technology development, software and hardware improvements could all continue," he said. "I suspect the pandemic will make little difference, except for a reduction in inter-island travel."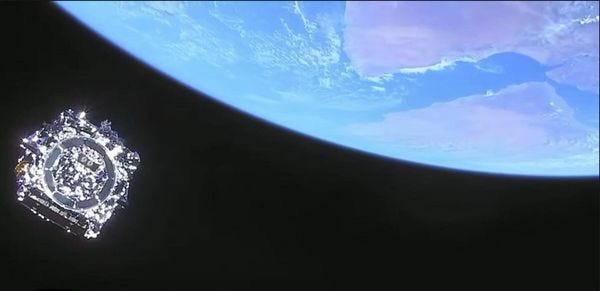 The James Webb Space Telescope.
Gal pointed out that the UHERO report, while comprehensive, still left out some big components that could have led to even larger numbers.
"I am surprised the study doesn't talk about the development of HAWAII-2RG infrared sensors that are aboard the Hubble Space Telescope (HST), James Webb Space Telescope (JWST), and observatories around the world, since that is a huge spillover," he said. "They also do not discuss the educational outreach IfA and the observatories do statewide, which is also a catalyst for local students to enter STEM fields."
"Nevertheless, what is described in the report is extensive and I suspect unknown to most people, including politicians, in the state," he said.
Header image by Christopher Chan/Getty Images.