Discover more from Hawaii Bulletin
Island innovation in focus. Hawaii-based science, technology, startups and entrepreneurs, featuring local leaders, creators, educators, and more.
Over 5,000 subscribers
Hawaii Book and Music Festival This Weekend

The sixth annual Hawaii Book & Music Festival takes place this weekend, Saturday and Sunday, May 14 & 15, on the municipal grounds between Honolulu Hale and the Fasi Building. It's a great event for kids and families, for sure, but also for any voracious reader. I look forward to it almost as much as I do the Friends of the Library book sale, pretty much the only time I buy paper books these days.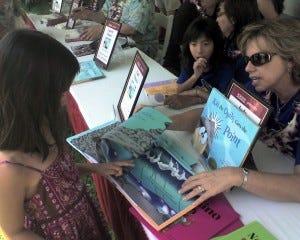 For keiki, the festival is a must. PBS Kids is a major partner, and is sponsoring live entertainment, hands-on activities, and wandering PBS children's show characters, including Curious George, Clifford the Big Red Dog, Word Girl, and the Cat in the Hat.
There will also be the usual array of small rides and inflatable bouncers in the "Keiki Fun Zone." This on top of the books, of course, of which there will be many.
But it's not just child's play. Booksellers Barnes & Noble, Native Books, and Revolution Books will be represented, as will be most of the major local publishers, including UH Press, Bamboo Ridge, Bishop Museum, Mutual Publishing, and Watermark Publishing.
There will also be presentations by nationally-notable authors, including Maxine Hong Kingston, James Rumford, and Maria Frazee. My wife and I are particularly excited to hear from Sarah Vowell, whose latest book, "Unfamiliar Fishes," tackles Hawaii history.
Maya Soetoro-Ng, sister of President Barack Obama, will also be featured as a children's author.
There are lots of great talks scheduled as well, on a range of topics like poetry, sovereignty, education, and sustainability. Sunday afternoon, right after Vowell's talk, there'll be a food panel featuring John Heckathorn, Wanda Adams, Ed Kenney and Gary Maunakea-Forth.
And yes, there is music at the Hawaii Book and Music Festival, with plenty of live performances by artists like Robert Cazimero, Cyril Pahinui, Kupaoa, Pierre Grill and Ginai.
Check out the official site for details. The official guide and schedule [PDF] has just been posted online.