Discover more from Hawaii Bulletin
Island innovation in focus. Hawaii-based science, technology, startups and entrepreneurs, featuring local leaders, creators, educators, and more.
Over 5,000 subscribers
Book and Music Festival This Weekend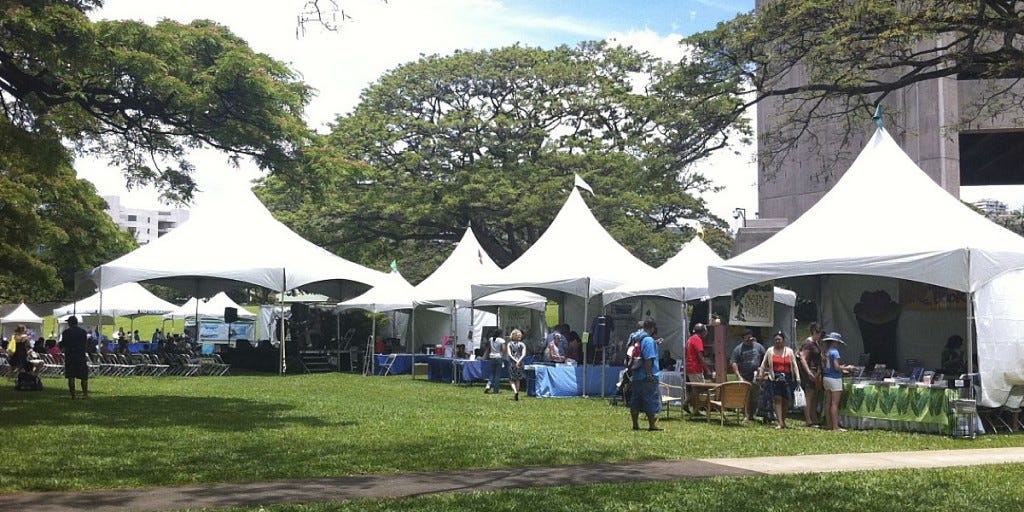 The Hawaii Book and Music Festival celebrates its 10th anniversary this year. It's an event my family and I try not to miss (you can check out some of my photos from last year), and my wife in particular has a very deep relationship with books. It is not an exaggeration to say that I sometimes risk being buried in a book avalanche just getting into bed.
Local authors are celebrated at the two-day event, held on the civic grounds near the Frank F. Fasi Municipal Building. They include the winners of the 2015 Ka Palapala Poʻokela Awards from the Hawaii Book Publisher's Association, and the Editor's Choice Award winners from Bamboo Ridge.
Notable island names on the program include Robbie Alm, a former civic and business leader who authored "The Faith of Leadership," educator and consultant Lyla Berg, who wrote "Leaving the Gilded Cage," Kauai-born, Maui grown crime writer Toby Neal, marine scientist and columnist Susan Scott, and magazine editor and prolific author Don Wallace.
The festival also brings in some prominent names in publishing beyond Hawaii shores. Prominent nature writer Barry Lopez, thrill master Michael Gruber, award winning fiction writer Kathryn Ma, and New York Times bestselling author Jay Asher.
There will be presentations and book signings, and attendees will be able to learn about and browse the offerings from established and small independent publishers alike. Of course you can buy books at the festival, or just trade them at the popular book swap.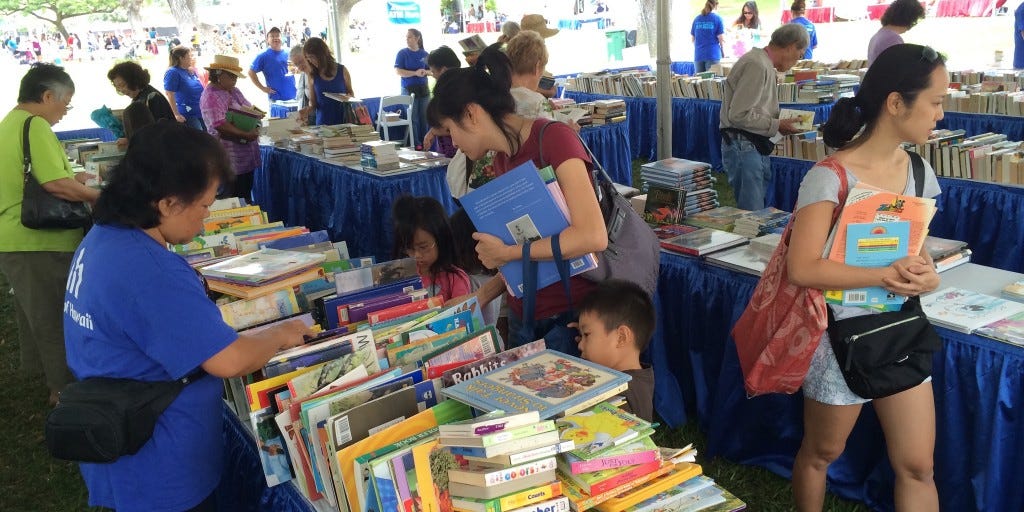 On the music side, the festival will feature three renown 'ukulele players: Kimo Hussey, Herb Ohta, Jr., and Derick Sebastian. There'll be a singer-songwriter competition hosted by talented musician and friend Kenneth Makuakane. And live musical performances ranging from the Royal Hawaiian Band to Brother Noland to Kūpaoa. And there will even be hula performances by kumu Tracie and Keawe Lopes, Michael Pili Pang, Mapuana De Silva, and Blaine Kamalani Kia.
For kids, "Mr. Steve," national host of PBS Kids, will perform at the festival (as a preview for upcoming shows at the Hawaii Theatre), and there will also be a Keiki Activities Pavilion, hosted this year by the popular local anime convention Kawaii Kon.
If you're looking for more serious conversation, there will be panel discussions addressing race and ethnicity in Hawaii, Hawaiian history, and Hawaiian sovereignty. Maya Soetoro-Ng will lead a discussion on encouraging children to read, and I'm also glad to see Hawaiian cultural practitioner and scientist Sam Ohu Gon III on the program, as well as a presentation on the Hōkūleʻa and its historic worldwide voyage.
And what would a family-friendly outdoor festival be without food? Vendors include Bonfire Pizza Company, Le Creperie, India Cafe Curry Co., and Beyond Burgers.
The Hawaii Book and Music Festival runs from 10 a.m. to 5 p.m. on Saturday and Sunday, May 2 and 3, next to Honolulu Hale. For more information, visit the official Hawaii Book & Music Festival website, which includes a map and program schedule, or connect with the event on Facebook.