Hawaii in Bottom Five for Business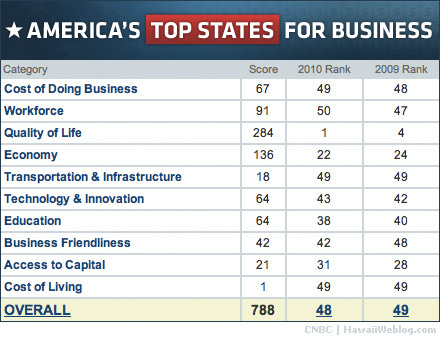 Hawaii is bad for business. The latest "Top States for Business" survey by CNBC ranked Hawaii 48th among all 50 states. The good news? Hawaii climbed a step from 2009, switching places with Rhode Island and staying ahead of Alaska. And while Hawaii did poorly in most of the categories CNBC used, Hawaii scored best in the nation for "Quality of Life."
Contributing to Hawaii's poor showing? We ranked dead last for "Workforce," which CNBC based on education level, availability, and union membership. We also came in 49th for "Cost of Doing Business," "Cost of Living," and "Transportation & Infrastructure."
Sadly, this ranking is not news for most people trying to do business in the Aloha State. In many ways, Hawaii is pro-employee, with widespread unionization (covering about 26 percent of all workers), aggressive health care requirements (sometimes cited as a possible model for the nation), and low unemployment. But those same factors, alongside extraordinarily high taxes, are definitely negatives for employers.
As an employee who definitely appreciates our high quality of life, despite the high cost of living, I can't complain. On the other hand, my inner entrepreneur probably left me for greener pastures ages ago.
See Also: Honolulu Among 'Recession-Proof' Cities