Hawaii Comic & Toy Expo on Sunday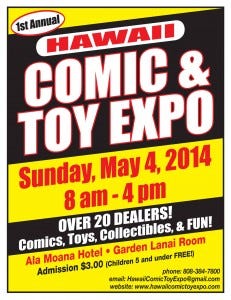 Hoping for a new chance to "relive our hanabatta days," three local organizers are launching what they hope to be an annual expo for comic and toy collectors this Sunday (perhaps fittingly, the day after "Free Comic Book Day").
The Hawaii Comic & Toy Expo is the brainchild of Francisco Figueiredo, Carey Ishizuka, and Steve Valenzon, and will take place on Sunday, May 4 at the Ala Moana Hotel. More than 20 dealers are participating, and there'll be a midday appearance by the Pacific Outpost of the 501st Legion (since it will also be "Star Wars Day").
Figueiredo sells vintage comics and toys on eBay and has participated in the Hawaii All-Collectors Show, and Ishizuka organized toy and card shows in the 1990s.
"[We] saw a need for a 'pure' comic and toy show where comic and toy dealers can sell their stuff and where collectors could find those hard to find items in one place or buy that toy they played with as a kid," Figueiredo says, something Hawaii hasn't seen for more than 20 years.
The expo is also aimed at showcasing local comic artists: Sam Campos (creator of Dragonfly & Pineapple Man), Kevin Sano, Theodore Lee, Andy Lee (Chinatown Cop), and Kanila Tripp — the latter two having also worked for Marvel Comics. They'll be sharing and selling artwork and even offering custom artwork.
Participating dealers include Jelly's and Charisma Industries, and attendees will be able to pick up comic books from the Silver Age to the Modern Age as well as vintage and contemporary toys like Hot Wheels, Maisto, and Matchbox die-cast vehicles; Star Wars, G.I. Joe, Transformers, Marvel, DC, Kikaida, Godzilla, and WWE Wrestling action figures; and more.
"The plan was to create a small show and let the public and collectors enjoy it, with plans to eventually grow the show and bring down other comic artists and celebrities from the mainland for next year and future shows," Figueiredo says. "But still keep in it small with focus on local talent, allowing them to feature their art and sketches."
Admission is $3 (free for children under age five). For more information visit the website, call (808) 384-7800, or email HawaiiComicToyExpo@gmail.com.