Discover more from Hawaii Bulletin
Island innovation in focus. Hawaii-based science, technology, startups and entrepreneurs, featuring local leaders, creators, educators, and more.
Over 5,000 subscribers
Bill to create license for cryptocurrency exchanges dies at Capitol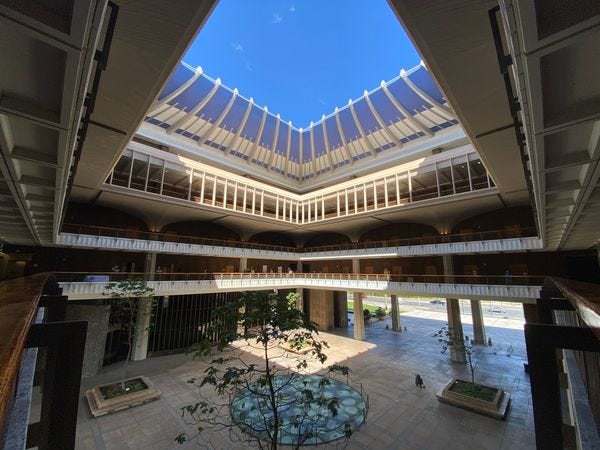 House Bill 2108, which would have allowed cryptocurrency exchanges to secure a license to officially operate in Hawaii, was deferred indefinitely in conference committee on Friday.
The bill was also seen as a critical bridge for cryptocurrency companies participating in the Digital Currency Innovation Lab, a regulatory sandbox that allowed them to service Hawaii customers in exchange for providing additional reporting to the state. That reporting was intended to help policymakers better understand the crypto space to develop laws like HB2108.
Without new law in place, Iris Ikeda, Commissioner of the State Division of Financial Institutions, confirmed to me this morning that "we did let all participants know, the DCIL will close on June 30, 2022."
It is an ignominious end to a legislative session that saw no fewer than six different bills introduced to expand cryptocurrency adoption in the Aloha State.
On a personal note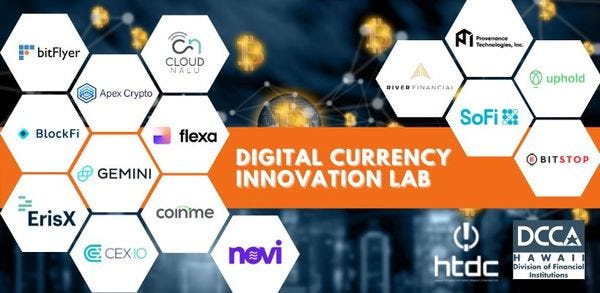 My personal interest in crypto and technology afforded me the wonderful opportunity to work with the Digital Currency Innovation Lab as a community engagement consultant. My role is to help the DCIL with outreach and community building to increase awareness and understanding of digital currencies in Hawaii, and to gather feedback for the program, all in support of three major goals:
Create economic opportunities for Hawaii through early adoption of digital currency

Offer consumer protection by providing guidance to issuers of digital currency

Provide data to shape legislation supporting digital currency
The DCIL was and is an innovative and important program, jointly managed by the DFI and the Hawaii Technology Development Council. We will continue to present webinars, host roundtables, connect stakeholders, and answer questions.
So I'd like to stress that this article (like this newsletter) represents my personal opinion, and could quite possibly include misunderstandings or misstatements that should be attributed solely to me. Also, politics is dark and mysterious, and I am certain there is a lot I don't know and a lot that could change in the future.
I kind of hope so.
What happened yesterday?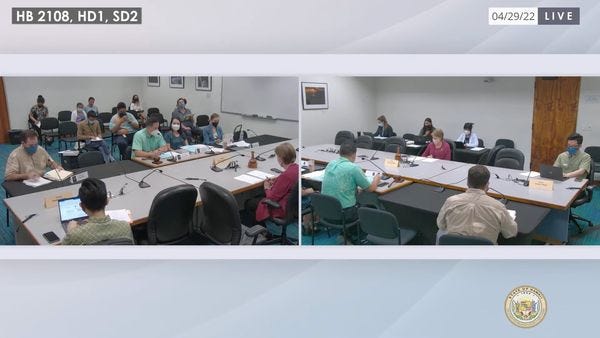 Since its introduction on January 26, 2022, HB2108 defied the odds, surviving the often torturous journey through committee hearings in both the House and Senate. The bill accumulated almost entirely positive public testimony and mostly thoughtful and constructive comments before affirmative floor votes in both chambers.
The conference committee process is one of the last steps in the formation of a new law, where representatives from the House and Senate meet to resolve differences between their respective versions of a bill.
Most bills survive conference, receive final floor votes, and are presented to the governor.
But sometimes, there are irreconcilable differences between the House and Senate. And sometimes, the conference committee simply decides to pull the plug.
HB2108 was pushed back four times, certainly not a good sign. And yesterday was the last day any bill could make it out of conference.
After thanking Commissioner Ikeda for her work on "potentially establishing a digital currency licensure regulatory scheme," Rep. Aaron Ling Johanson said:
"I think though, as we've discussed, if we're going to be first in the nation, there are some things that I still feel like still need to be reconciled to make sure that this $860 million industry in Hawaii as well as the 120,000 people who are served, that we don't inadvertently do harm, even though we have the best intentions. I think because there are for me still some unreconciled issues with this bill at this point, and because we have the task force in existence, I would recommend that we defer at this time."
And that was that. The bill was dead for this year.
Rep. Johanson's statement that the proposed license would be the "first in the nation" might be confusing, considering that Hawaii (and New York) are typically considered in last place when it comes to crypto law. That's because most states — including Hawaii — regulate cryptocurrency exchanges as money transmitters under existing law. It's just that Hawaii's money transmitter rules are especially onerous, and other states simply decided to exempt crypto from theirs.
If HB2108 had been signed by the governor, it would have indeed been one of the first state licenses created especially for crypto.
As for the statistics that crypto represents a $860 million industry in Hawaii, serving 120,000 people? Those numbers came from the DCIL, through its partner cryptocurrency exchanges. Impressive as they sound, they do not include the very significant number of Hawaii residents who are involved in the space outside of the pilot program.
Finally, there's the task force, which will be created by the only crypto bill to make it out of conference this year — if it's signed or allowed to become law by the governor.
The task force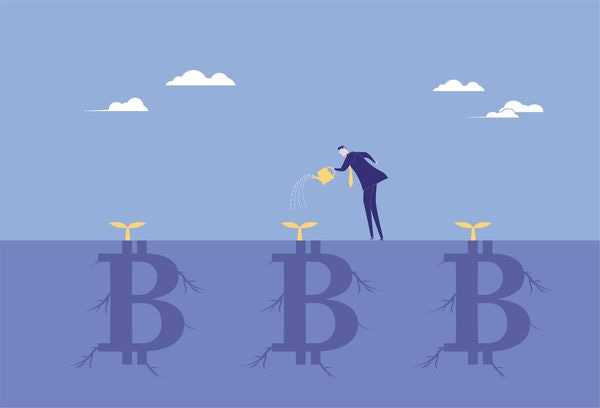 Senate Bill 2695 establishes a 15-member blockchain and cryptocurrency task force whose goals include:
Review the cryptocurrency industry throughout the country and develop a plan to expand blockchain adoption

Compile an overview of potential legislation

Solicit ideas and opinions of industry experts on additional legislation

Recommend appropriate licensure requirements and a regulatory framework
If those goals sound like the same reasons the now-expiring DCIL was created, I'd have to agree. But Sen. Bennette Misalucha, who was one of the key authors of the task force bill, said that the digital currency license law is simply not ready.
"[Commissioner Ikeda] has done a terrific job, an incredible job, a yeoman's job of pulling all this together, but it's still not the end," Misalucha told me.
"It's only now that a lot of the tech companies, the bigger tech companies, are coming to the table and in engaging — I think they're more aware and coming to Hawaii and having that conversation," she said. "[Rep. Johanson] and I just felt that there's further discussion that needs to happen, not just for the people who are in the sandbox, but for everyone."
Noting that she comes from a banking background, she said the proposed license was very reminiscent of complex bank regulations. And while the work of the DCIL will figure heavily in the deliberations of the task force, she said the DCIL's structure was "very prescriptive."
"The crypto companies actually like the fact that this is a task force, because it gives them a chance to engage now," she said. "It's an evolving industry, so it has to be more nimble, so this task force is only for one year, and they're supposed to come up with a recommendation."
Misalucha also cited President Biden's recent executive order on digital assets.
"The president already said that he was he wanted all the stakeholders to come together so that they can develop a national strategy," she said. "So it might be premature for Hawaii."
Slamming the door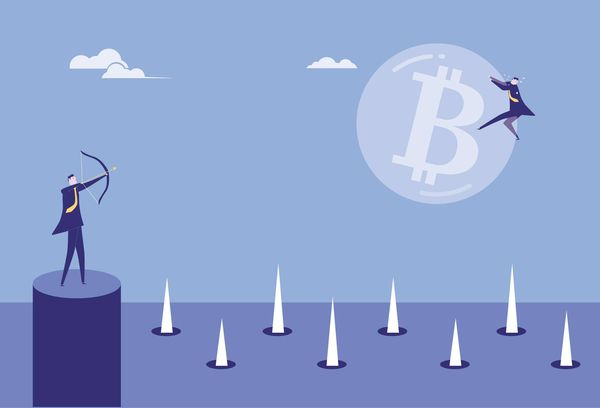 The fact that HB2108 failed, preventing the creation of a digital currency license, is disappointing but understandable. Few states have one, and the rules set forth in HB2108 was criticized for being too complex and stringent. If made law, crypto companies could still opt to exclude customers Hawaii.
But because Hawaii did establish the DCIL, and did open the door to cryptocurrency exchanges to service Hawaii customers, we're now looking at slamming that door shut again.
According to the DFI, no less than the attorney general weighed in on the DCIL, asserting that it could not be extended beyond June 30, 2022. The expected outcome of the "regulatory sandbox" was a regulatory regime ready to go on July 1.
So the DFI has notified the crypto companies participating in the program that it will end. And according to their agreements, they will have until the end of this year to "disengage customers, return funds, close accounts and cease operating."
So those 120,000 people will have to withdraw or move $860 million.
Of course, local people who don't comply with Hawaii law (and crypto exchanges that ignore it) won't be affected, punishing only parties that acted in good faith.
Hawaii cannot, and never did, "outlaw cryptocurrency." But it will again be difficult for the average person to invest and explore the space.
So you're saying there's a chance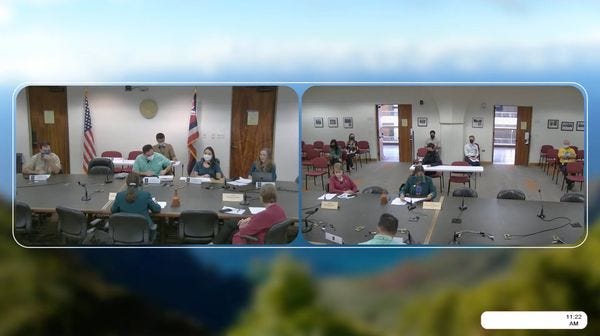 My understanding was that the end of the DCIL will set Hawaii back several years, drive cryptocurrency exchanges out of the state (again) and tangles up the finances of residents who took the state's short-lived onramp to crypto.
But I'm wondering if there might be a way out.
Not that I want to offer anyone false hope, but when the task force bill was passed on Thursday, Rep. Johanson said:
"It's the legislature's intent that activity continue in the state and that it's our hope, whether it's through... by whatever means the administration feels is appropriate to take with respect to this task force but also enabling the continuation of that commerce and that activity."
That... pause gave me pause.
Sen. Misalucha told me on Friday night that the 120,000 people who participated in the pilot "should be taken care of."
And when Commissioner Ikeda confirmed this morning that the sandbox was shutting down, she also wrote: "We are accessing the possible solutions."
So there are possible solutions?
How can you shut down the DCIL regulatory sandbox but sustain operations and services? The DCIL's own FAQ says that everything depends on "whether the State legislature passes law to enable reasonable licensing of this industry or exempt it from licensing."
We didn't pass a law to create a license. And a bill that would have exempted exchanges from the existing Money Transmitter Act failed earlier in the session.
It's a puzzle that I sure hope someone has a solution for.
Illustrations courtesy Wenjin Chen/Getty Images.