Drone Tech, Policy Evolving Quickly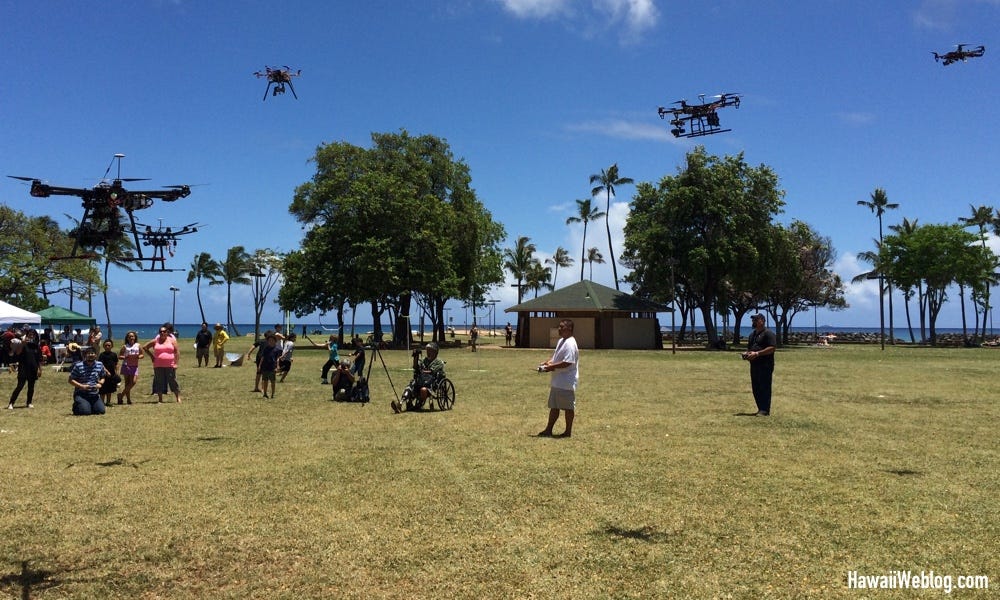 Education, certification, legislation. They are the three probable paths ahead as Unmanned Aerial Vehicles (UAVs), commonly but controversially called drones, continue to grow in popularity.
Quadcopters were a very popular Christmas gift this year... for better or worse. Since it had been almost exactly a year since drones were the topic of the day (on both our Hawaii Public Radio show and our morning news segment), Burt Lum and I hosted a conversation on HPR with drone enthusiasts, drone fans, and drone skeptics.
Well renown UAV expert Ted Ralston and avid quadcopter pilot John Johnson started things off by discussing the FAA's Temporary Flight Restriction (TFR) over Oahu during President Obama's vacation... a no-fly decree that not everyone knew about. Ralston talked about a successful program at the University of Hawaii at Hilo, where UAVs are being used to survey the Puna lava flow. And Johnson mentioned the "wearable selfie drone" unveiled this week at CES.
We also discussed the latest recipient of a coveted FAA exemption from the ban on commercial use: a real estate agent in Arizona can now use a drone to take aerial imagery for his business... provided he gets a pilot's certificate, a medical certificate, and has a dedicated spotter with him while his craft is in the air.
Callers had a lot to say, too. A Big Island resident talked about his UAV, which doesn't have propellers but rather wings that flap like a bird's wings. A Makiki resident, a Hawaii Kai resident, and @jlieu on Twitter all raised concerns over privacy. Yet another caller said we should worry more about governments using UAVs than fellow citizens.
The UAV community, which includes hobbyists, professionals, and researchers, are all still waiting for the FAA to establish guidelines for drone use. But Ralston emphasized that the federal agency is genuinely trying to collaborate with stakeholders to build a framework that ensures safety as well as commercial success.
Johnson noted that most hobbyists actually want some form of regulation, from requiring training or requiring a UAV or other pilot's license. And both Johnson and Ralston agreed that education is key for both pilots as well as the public.
Drone owners need to be aware of restrictions like the holiday TFR and common-sense practices like not flying over crowds. And the public needs to not overreact and try to ban a specific tool and focus instead on preventing their unethical or illegal use. After all, a selfie stick, lipstick camera, and telephoto lens can also help people take pictures that people don't want taken.
Drone owners, or would-be drone owners, can check out some of the following resources:
Of course, I also love drones (even though I don't own one... yet), and I have been posting photos, videos, and links to Hawaii Drones.
It was a good conversation, and you can listen to the drone segment above or download the entire show as an MP3.