Discover more from Hawaii Bulletin
Island innovation in focus. Hawaii-based science, technology, startups and entrepreneurs, featuring local leaders, creators, educators, and more.
Over 5,000 subscribers
"Hawaii Five-0" at Comic-Con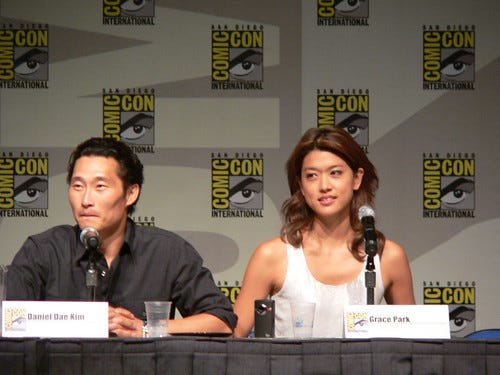 One of the highlights for me at this year's San Diego Comic-Con was the preview for the new "Hawaii Five-0" reboot on CBS. The event featured stars Daniel Dae Kim, who gets to stay in Hawaii following his six-year turn on "LOST," and Grace Park, a reboot veteran from "Battlestar Galactica." Also on hand were executive producers Alex Kurtzman, Roberto Orci, and Peter M. Lenkov, plus director Len Wiseman.
I've posted the full audio from the "Hawaii Five-0" session online. Among the questions posed:
How did Kim like the way "LOST" ended?

How does Park feel about jumping into another reboot?

How "real" will the depiction of Hawaii be?

Will we see more of Park in a bikini? Any eye-candy for the ladies?
One of the main topics tackled was the iconic "Hawaii Five-0" theme song. Kim quipped, "First of all, just let me say, I'm very happy to be on a show that has a theme song."
Kurtzman said:
"Look, it's one of the most, if not the most iconic television theme ever. And it was interesting because, of course, when you're going through something like this, you have to put it through the filter of, 'Do we adjust it somehow? Do we keep it the same?' There was some discussion early on about bringing in an incredibly talented rock star to do a guitar version of it. And we sort of attempted it. And it could not have been more wrong. It only affirmed for us that you cannot change it. You cannot change it. So what in fact we did was, we found the original musicians, brought them back to the studio, and we re-did the theme exactly like it was."
Great news, and the new recording sounds great. And this seems like a recent development. Back in May, I blogged about the new opening titles, and the version accompanying the video on YouTube seems to be the guitar version that's since been scrapped.
During the Comic-Con panel, CBS showed a behind-the-scenes video of the recording session. But the segment has been cut from CBS' official YouTube videos from the event. Fortunately, the ever resourceful Bruce Fisher has posted a bootleg video of what was shown on screen.