Review: 'Hawaii Five-0'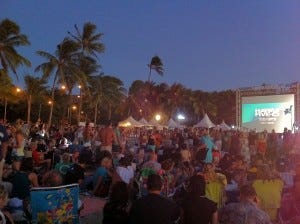 Tonight brings the national premiere of the re-imagined "Hawaii Five-0" on CBS, although my family and I were among the thousands who crammed onto Waikiki beach for a special "Sunset on the Beach" advance screening a week ago.
Though I'm not planning on covering "Hawaii Five-0" on this blog as obsessively as I covered "LOST," I'm still very interested in this new series -- both because it's a major production being filmed in Hawaii, and also because the show features "LOST" alum Daniel Dae Kim and sci-fi siren Grace Park.
Based on the premiere, here's my take.
The new "Hawaii Five-0" gets a lot right. It's definitely it's own animal, and not a slavish, reverent tribute to the original. Purists might balk at just how different this "reboot" is from the classic series, but the creators at the helm today would only have hurt themselves going for a "remake."
At the heart of any on-location cop show are the setting and the characters, and this latest take does well by both.
Hawaii looks great, of course. "LOST" fans will inevitably recognize several locations, including Kualoa Ranch, playing the mountainous jungles of Korea in the very first scene. The show obviously plays up the sand and surf, but also doesn't hesitate to depict the more rural and more urban side of Honolulu. Homes range from gated Portlock mansions to musty cottages on the beach, and industrial warehouses and shipping ports also figure prominently. One early scene takes place in the stirring, flag-draped shadows of Pearl Harbor... but the show is self-conscious enough for a character to comment on it.
Like most set-in-Hawaii mainstream ventures, though, some things never change. The new "Hawaii Five-0" has its share of clumsy injections of the Hawaiian language, and cringe-inducing attempts at sanitized pseudo-pidgin. You get fictional place names (Kukui High School) and character names (Sai-Min) that are sometimes so silly, they've got to be tongue-in-cheek in-jokes. Catching these will definitely be a cherished past-time of local viewers.
As with "LOST," it'll also be fun to spot locations (one home looks like it's two doors down from my dad's place in Aina Haina), and to chuckle when they inevitably show someone turning left off of Kalakaua Avenue in Waikiki onto a narrow lane in Kailua.
What will make or break "Hawaii Five-0," though, are the characters and actors. And I was surprised at how much I liked Alex O'Loughlin and Scott Caan, even though they were stepping into the iconic roles of Det. Steve McGarrett and Det. Danny "Danno" Williams.
The chemistry between them is very different from the staid, gentlemanly regard their namesakes exhibited in the 1960s. They get off on the wrong foot, and spend most of the pilot bickering and fighting. They even come to blows, and while Jack Lord and James McArthur would never stoop so low, it solidly sets up the gruffly charming pair. They brought much of the fun of the series premiere, and I hope they can sustain the love-hate mix for at least the first season.
The only false note for me is that O'Loughlin, like the original "Danno," is playing a local boy. He doesn't quite sell it, especially given the aforementioned pseudo-pidgin, so I'm hoping that he either gets more coaching or that his oft-cited "local cred" is minimized as a plot point.
The other two stars are Kim and Park, and it's certainly laudable that CBS filled half its core cast with Asians. But while Kim shines here, I'm afraid Park might be wasted.
After working on "LOST" for six years, Kim seems immensely comfortable on screen as disgraced cop Det. Chin Ho Kelly. It gives him a degree of ease that almost undercuts the edginess brought by O'Loughlin and Caan, and in some scenes, it feels like they're in different television shows. Kim definitely has no problem with Hawaiian words, and does the best job speaking pseudo-pidgin, so he will probably have to do the heavy lifting -- both on and off screen -- when it comes to "the real Hawaii."
With Park, the creators pulled a gender-switch for the original character of Kono Kalakaua (played in the '60s by the decidedly un-graceful Zulu). It's nothing new for her, as she played a female version of the character "Boomer" in the reboot of "Battlestar Galactica."
Here she's introduced as Kelly's younger cousin, a tough police cadet who doesn't hesitate to punch the lights out of a surfer that dropped in on her wave. And, surprise, she looks good in a bikini.
Compared to the bulky space suits of "Battlestar," I'm sure the wardrobe on "Hawaii Five-0" is liberating. But apart from the left hook and some tough-sounding lines, the premiere episode seemed to focus less on Park's strengths, and more on her skin. In fact, there's a second scene in which the story conveniently conspires to make her remove her clothes.
I sincerely hope they give her more to do each week than undress.
The supporting characters are good, or at least not distracting. The stern female governor and the jovial shave ice salesman are both people I expect to see again. The sneering bad guys? Not so much. The show tapped into central casting for the evil Asian human trafficker, so I'm hoping they get a little more creative going forward.
And the new "Hawaii Five-0" has plenty of action. The series opens with a bang, full of pyrotechnics and bullets, though I expect the weekly budget to be much more modest than the pilot. ("LOST" set the high watermark by blowing $10 million to crash a jumbo jet.) The stunts are solid, too... though a couple of the fight sequences were a little weak.
My favorite part of the new "Hawaii Five-0" is the humor. It's wry, mostly smart, and playful when it needs to be (given some of the story's darker moments). Things verge dangerously close to campy, but stop just short. The ringtone "Danno" uses for his ex-wife may never get old. And when "Danno" scolds a vanquished suspect for resisting arrest, he tosses off a question I've often asked myself.
I think my primary complaint about the show so far is that there were way too many automatic weapons. It didn't take long for the machine gun shootouts to get tiresome. From a dramatic standpoint, it's just lazy. From a story standpoint, it strains credibility to think that automatic weapons are whipped out on the slightest provocation. In Hawaii.
Even Hawaii's hardest criminals tend to stick with the classics: slaps and stabbings. A handgun shooting is front-page news.
The closing scene is full of promise (and a musical touch that seems to directly reference Michael Giacchino's score for "LOST"), as it probably was when they filmed the pilot several months ago. The newly formed team has yet to choose a name, but has already found its stride.
CBS has been blanketing the country in "Hawaii Five-0" marketing, and the show has the most hype of the new fall TV season. (Some have even suggested the ad blitz might backfire.) Fortunately, I think the show stands well on its own, and not on the shoulders of its beloved predecessor. It has the makings of a fun, colorful police procedural set in one of the most beautiful places on earth.
I fully expect ratings to rise when snow starts to fall on the Mainland.
Extra!
if you're a fan of the re-imagined 'Hawaii Five-0,' and also a hardcore geek, don't miss this great series of videos posted by CNET. Brian Cooley visited the "Hawaii Five-0" set, and asked all the questions a geek would ask, focusing on the technology behind and featured in the show.