Discover more from Hawaii Bulletin
Island innovation in focus. Hawaii-based science, technology, startups and entrepreneurs, featuring local leaders, creators, educators, and more.
Over 5,000 subscribers
Big Weekend, Big Night for 'LOST' Fans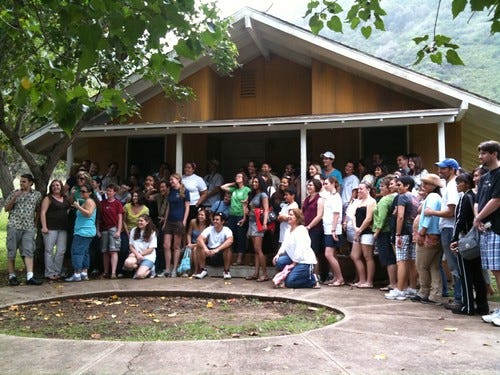 I'm exhausted. My body is aching. My mind is spinning. But with "LOST," these are good things. Tonight brings the Season 6 premiere, but I'm still thinking about the last few days. The "LOST" beach premiere on Saturday was fantastic, but I most cherished spending time with the fans and friends who joined my wife and I for our "LOST" travel package and tour, which spanned the weekend.
Over 100 people, coming from as far away as Norway, Turkey, Afghanistan and Germany were willing to spend several hours of their limited time in the islands with us, geeking out over the best show on television. We were thrilled. And humbled.
Thanks to Bruce Fisher of Hawaii-Aloha.com, Sakara Blackwell of DH Catering, and Hilton Blackwell of Island Adventures Tours & Travel for helping to make it all possible.
The incredible and unstoppable Christa Wittmier and the dancers of Iaora o Tahiti Nui made Friday's dinner special. The folks at the Park Shore let me show off my "LOST" goodies in their lobby, and fed our group brunch at Lulu's upstairs. And our all-day, island-wide "LOST" locations tour on Sunday? Incredible. June Matsumoto of the Hawaii Convention Center, Robin Naluai at Kualoa Ranch, Ed Kos of Kos Tours, the volunteers at the non-profit YMCA Camp Erdman, and my friend and radio co-host Burt Lum were among the many good people behind our great road trip.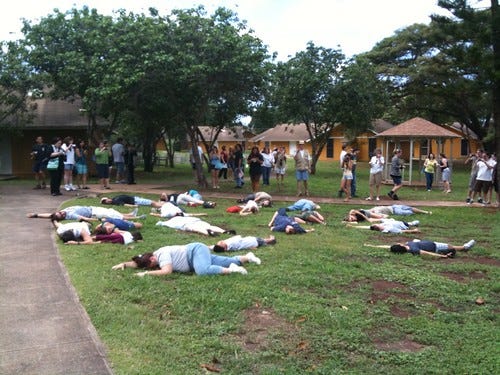 I was having such a great time, I barely took any photos. Fortunately, there were plenty of shutterbugs (like Cesar and Bonnie), bloggers, and Twitterers documenting the festivities.
I'm still trying to gather the strength to write up our entire "LOST" weekend... but the show stops for no one, and we'll soon be swept up by the show's sixth and final season beginning tonight, cruising nonstop through to the epic and bittersweet end. In the mean time, here's some notable press coverage of the weekend and of the premiere, including quotes from yours truly!
I also contributed to the Honolulu Advertiser's coverage of "LOST," including a "LOST" filming locations contest, which concluded Sunday. And, like last year, I'll be joining the morning crew at KITV, Hawaii's ABC affiliate, each morning after "LOST" to review the latest episode.
If you're a visiting fan still in Honolulu tonight, you should check out Giovanni Pastrami in Waikiki. They're going to be hosting "LOST" viewings every Tuesday, and would be happy to have you come and enjoy the season premiere tonight among fellow fans and friends! And after you've seen the episode, please share your thoughts for our "LOST" podcast this weekend.